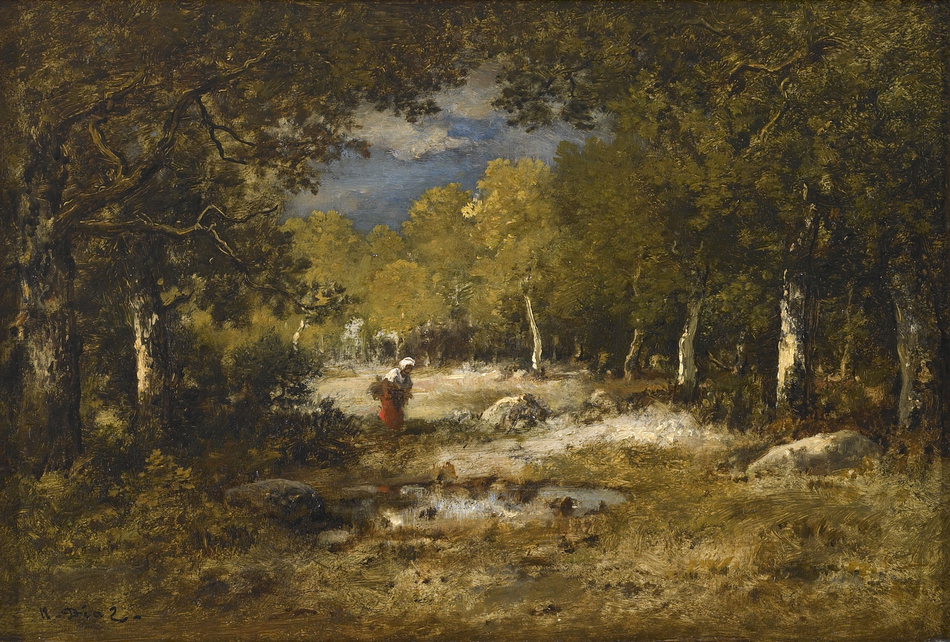 Narcisse Virgile Diaz de la Pena
French, 1807 - 1876
Wood Gatherer (Fagotière)
oil on panel
8 7/8 x 12 7/8 inches (22.54 x 32.7 centimeters)
Framed: 14 1/2 x 18 1/4 inches (36.83 x 46.36 centimeters)
Signed lower left: N Diaz
This painting is in the archives of Mme. Rolande Miquel and is to be included in the supplement to the catalogue raisonné, currently in preparation.
Narcisse Virgile Diaz de la Pena (French, 1807 - 1876)
Narcisse Virgile Diaz de la Pena was one of the foremost figures of the first generation of Barbizon artists. He, along with Rousseau, Millet, Daubigny, Corot, Dupré, Jacque and Troyon, established the Barbizon movement that drew hundreds of artists to the forest of Fontainebleau over the course of the nineteenth century. The heart of Barbizon art was direct study from nature, be it landscape or the human figure. Barbizon artists were the first to narrow the gap that had traditionally existed between the direct sketch and the finished studio picture.
Diaz was born to Spanish emigrant parents on August 20, 1807 in Bordeaux. At the young age of seventeen, Diaz went to work for a printer, then for a porcelain manufacturer, where he met the young Jules Dupré and Nicolas-Louis Cabat, both of whom would also later work at Fontainebleau Forest, as well as the painter Auguste Raffet. Immersed in this group, Diaz honed his skill at the higher arts with a few lessons from François Souchon (1787-1857) and by copying at the Louvre. The works of artists such as Pierre Paul Prud?hon and Correggio inspired him, and, following this vein, his early paintings of the 1830s were romantic visions of nymphs, bathers, or Oriental women in lush, wooded settings. These catered to the popular taste for 18th century style Rococo and resulted in financial success for the young artist.
Though figure painting would always remain important for Diaz, it is his landscapes of the 1850s, 60s, and 70s, particularly those of Fontainebleau Forest, for which the artist is most remembered. Diaz met Theodore Rousseau in 1837 and showed his first Fontainebleau landscape at the Salon of that year. He began to exhibit pure landscapes without figures only after 1848, and the success of these forest interior scenes, including one which won him a first class medal at the Salon of 1848, allowed him to discontinue exhibiting publicly at the Salon after 1859. Recognized as a superb colorist in his own day, his forest interiors are richly painted with warm browns, oranges, golds and silvery tree trunks and branches. Though the artist often applied paint loosely with a broad palette knife, his acute observation of nature and natural effects was nevertheless keen. He was officially decorated even after leaving the official exhibition system when he received the Legion d?honneur in 1881. Diaz?s financial success enabled him to lend a helping hand to his friends when in need, including Troyon, Rousseau, and Millet.
The artist died at Menton on November 18, 1876. Phillippe Burty, a well-respected critic and supporter of the Barbizon school wrote in his eulogy of the artist,
"The Forest of Fontainebleau loses in Diaz an artist who had the truest perception of its peculiar charm. He did not see it in its somber grandeur; he felt its delight and fascination. No one has so successfully caught the spirit of the pleasure parties that crowd its shady alleys in spring time and summer. No one has renderedwith such astonishing effect the bright flashes of slanting sunlight upon the trunks of its beeches and birch trees. No one, again, has translated with such force and brilliancy the velvet surface of its moss-grown rocks or the embrowned gold of its autumn foliage."1
Philippe Burty, quoted in J. Comyns Carr, Art in Provincial France: Letters written during the summer of 1882 to the Manchester Guardian (London: Remington and Co., 1883): p. 74
Selected Museum Collections:
Rijksmuseum and Municipal Museum, Amsterdam; Walters Art Museum, Baltimore; Musée départemental de l?Oise, Beauvais; Musée des Beaux-Arts de Béziers; Museum of Fine Arts, Boston; Musée des Beaux-Arts de Caen; Fitzwilliam Museum, Cambridge, UK; Musée Condé, Chantilly; Art Institute of Chicago; Musée d?Art et d?Histoire, Cholet; Cleveland Muesum of Art; Musée national du château, Compiègne; Detroit Intsitute of Arts; Musée Magnin, Dijon; National Gallery of Scotland, Edinburgh; Musée de Grenoble; National Gallery of Finland, Helsinki; Mesdag Museum, The Hague; Courtauld Institute of Art, Wallace Collection, Victoria and Albert Collection and National Gallery, London; Los Angeles County Museum of Art; Musée Grobet-Labadié and Musée des Beaux-Arts, Marseille; National Gallery of Victoria, Melbourne; Minneapolis Institute of Art; Tretiakoff Museum, Moscow; Musée des Beaux-Arts de Nantes; Metropolitan Museum of Art, New York; Petit Palais, Musée d?Orsay and Musée du Louvre, Paris; Norton Simon Museum, Pasadena; Philadelphia Museum of Art; Musée des Beaux-Arts de Rouen; Hermitage Museum, Saint Petersburg; Fine Arts Museums of San Francisco; Musée des Augustins, Toulouse; Musée des Beaux-Arts de Troyes; National Gallery of Art, Washington DC;
News on the artist
July 27, 2011 @ 2:40 PM UTC

Now in Glasgow:

#Millet #Barbizon

Pastel of "The Angelus" Allocated to Kelvingrove Art Gallery and Museum: http://t.co/soF2LMA via

@AddThis

August 1, 2011 @ 3:35 PM UTC

October 6, 2011 @ 3:00 PM UTC

October 20, 2011 @ 9:17 PM UTC

November 1, 2011 @ 3:38 PM UTC

November 3, 2011 @ 4:34 PM UTC

December 12, 2011 @ 10:53 PM UTC

When you visit the new 19th-century galleries

@ngadc

don't miss this

#Rousseau

http://t.co/Qgr6EWp5 and http://t.co/awPyBEDl

#Barbizon

January 30, 2012 @ 10:42 PM UTC

February 7, 2012 @ 10:14 PM UTC

March 16, 2012 @ 7:56 PM UTC

April 10, 2012 @ 2:50 PM UTC

April 10, 2012 @ 3:09 PM UTC

April 13, 2012 @ 9:22 PM UTC

April 13, 2012 @ 9:23 PM UTC

May 30, 2012 @ 7:40 PM UTC

July 2, 2012 @ 4:03 PM UTC

July 16, 2012 @ 8:01 PM UTC

August 29, 2012 @ 10:26 PM UTC

#Courbet

's Majestic Oak Painting Returns to Its Roots After Hometown Museum's $5-Million Purchase http://t.co/y2JTiZXo

#Barbizon #Realism

September 7, 2012 @ 3:07 PM UTC

November 19, 2012 @ 10:19 PM UTC

January 28, 2013 @ 11:44 PM UTC

February 14, 2013 @ 4:00 PM UTC

March 12, 2013 @ 3:27 PM UTC

March 21, 2013 @ 2:55 PM UTC

March 22, 2013 @ 9:14 PM UTC

Happy belated bday Theodore

#Rousseau

http://t.co/7UrhiBahm6 and Jules

#Dupre

http://t.co/ATFe97j3cs. Apr 15 -a great day for

#Barbizon

art

April 16, 2013 @ 4:05 PM UTC

June 10, 2013 @ 3:41 PM UTC

Now at Schiller & Bodo : MASTERWORKS OF THE BARBIZON SCHOOL, on view through November 27 http://t.co/pgDhaUAscc

#Barbizon #exhibitions

November 5, 2013 @ 4:10 PM UTC

April 15, 2014 @ 5:33 PM UTC

And Happy Birthday Jules

#Dupre

- April 15, 1811 - a great day for

#Barbizon

School painters! http://t.co/62PKvhJpN8

April 15, 2014 @ 7:03 PM UTC

May 1, 2014 @ 3:35 PM UTC

Here is our current

#exhibition

catalogue: A Romantic Vision, The

#Barbizon

School and its Contemporaries http://t.co/iemkJ4fmdG

May 5, 2015 @ 5:16 PM UTC

August 11, 2015 @ 2:52 PM UTC

January 14, 2016 @ 5:52 PM UTC

March 10, 2016 @ 5:50 PM UTC

March 15, 2016 @ 3:01 PM UTC

April 15, 2016 @ 7:09 PM UTC

June 17, 2016 @ 8:23 PM UTC

July 15, 2016 @ 7:30 PM UTC

July 13, 2017 @ 9:49 PM UTC

October 4, 2018 @ 5:43 PM UTC