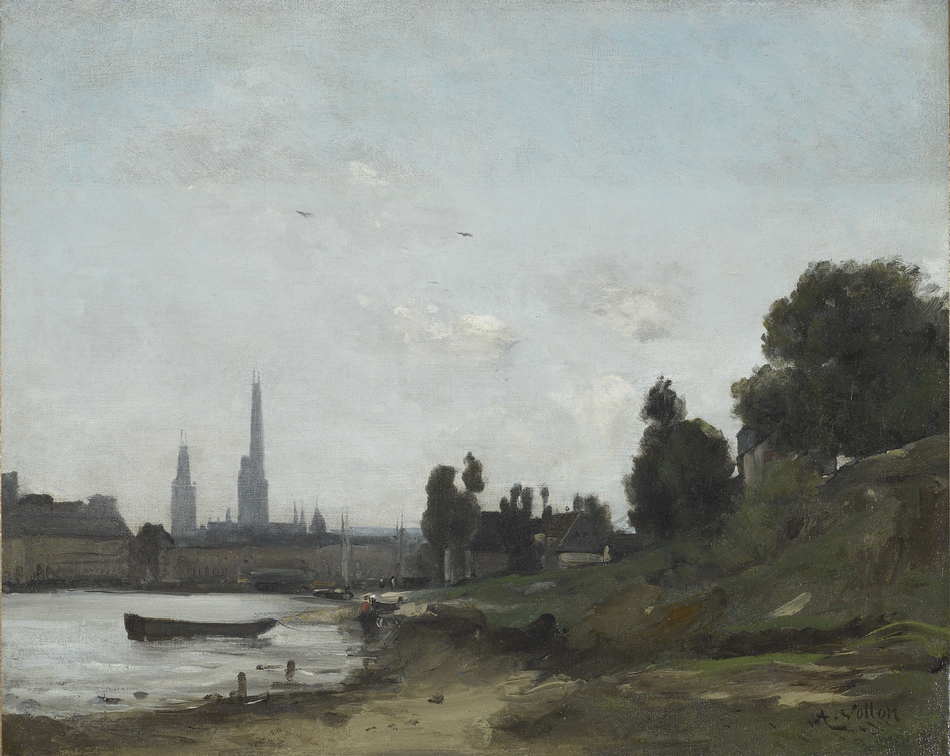 Antoine Vollon
French, 1833 - 1900
Vue de Rouen
Oil on canvas
13 x 16 1/8 inches (33.02 x 40.96 centimeters)
Framed: 19 1/2 x 23 inches (49.53 x 58.42 centimeters)
Signed lower right: A Vollon
SOLD
Provenance:
N.M. Vose Gallery, Providence RI, before 1924
Mrs. James E. Spiegelberg
Sale of the above: American Art Association / Anderson Galleries, NY, 4 Feb 1932, lot. 115
M. Newton (purchased from the above)
Thomas Colville Fine Art, NY
Private Collection, CA
Antoine Vollon (French, 1833 - 1900)
Antoine Vollon was a versatile painter whose work defies the typical labels and classifications that often define painters of 19th-century France. Often associated with Bonvin and Ribot and the resurgent interest in 17th-century Dutch painting initiated by the Realists, Vollon was also a close friend of Edouard Manet, whose influence was of great importance to his work. While Vollon is often associated with his richly-colored still-life paintings redolent of 17th-century taste, yet his oeuvre also includes a great number of street scenes, landscapes, and genre scenes, and during his lifetime he was considered an important painter of modern life.
Despite this range of his subjects, the strength and confidence of Vollon?s hand is evident throughout his work. The important critic Albert Wolff once wrote, ? If painting had not existed, Vollon would have invented it.?1 Vollon?s paintings show a lively brushwork and rich, thick surface that reveal?s the painter?s love of his medium.
E. Martin, Antoine Vollon, peintre (1833-1900), Marseille, 1923, p. 19, note 1; rpt in C. Tabler, Antoine Vollon, a painter?s painter (New York, Wildenstein, 2004): p. 10.
Select Bibliography:
Tabler, Carol, Antoine Vollon (1833-1900), A Painter?s Painter, Wildenstein, NY, 2004.
News on the artist
Musee de Colombes acquires painting by Theodule Ribot: http://t.co/vSa6waJ

#Realism

September 9, 2011 @ 4:25 PM UTC

September 22, 2011 @ 3:34 PM UTC

September 22, 2011 @ 4:21 PM UTC

Jules Breton's autobiography "The Life of an Artist" is available on GoogleBooks: http://t.co/bwugE8rZ

#Breton #Academic #Realism

September 30, 2011 @ 3:11 PM UTC

Birmingham Museum of Art presents the witty and incisive editorial cartoons of Jean-Honore

#Daumier

: http://t.co/irTgMNMY

#Realism

October 10, 2011 @ 5:09 PM UTC

November 1, 2011 @ 3:38 PM UTC

November 22, 2011 @ 10:17 PM UTC

February 10, 2012 @ 9:19 PM UTC

March 6, 2012 @ 7:31 PM UTC

June 11, 2012 @ 8:45 PM UTC

#Courbet

's Majestic Oak Painting Returns to Its Roots After Hometown Museum's $5-Million Purchase http://t.co/y2JTiZXo

#Barbizon #Realism

September 7, 2012 @ 3:07 PM UTC

March 12, 2013 @ 3:27 PM UTC

April 16, 2013 @ 4:36 PM UTC

June 10, 2013 @ 3:41 PM UTC

June 10, 2014 @ 8:31 PM UTC

June 10, 2016 @ 9:39 PM UTC

March 21, 2017 @ 8:36 PM UTC