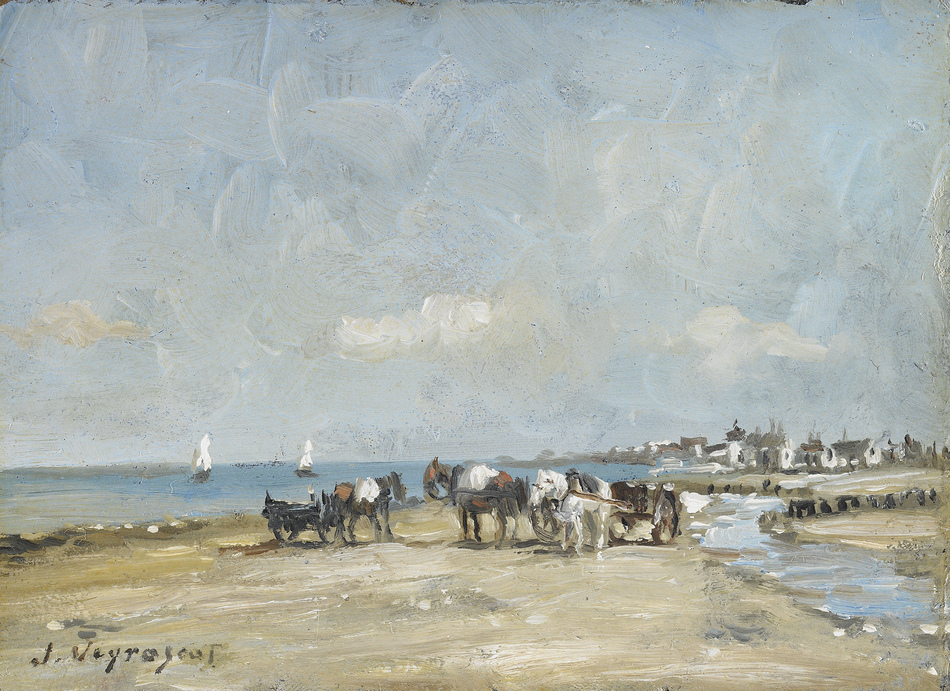 Jules Jacques Veyrassat
French, 1828 - 1893
Coastal Scene
oil on board
5 x 7 inches (12.7 x 17.78 centimeters)
SOLD
Jules Jacques Veyrassat (French, 1828 - 1893)
Jules Jacque Veyrassat was a painter of the pastoral French countryside, and most particularly of the work and peace of agricultural life. Veyrassat began his career as an engraver for L?Artiste, creating engravings of works of Daubigny, Decamps, Frère, and learning through this process of reproducing these elder masters. He debuted at the Paris Salon of 1848, in the days immediately following the Revolution of 1848; it was this Salon that marked the rise of the Realist movement in French painting. Much like his slightly older contemporaries Charles Jacque and Constant Troyon, Veyrassat painted rural farm work, focusing mainly on the powerful horses who pulled the plows and hay carts. He travelled to Normandy, the Forest of Fountainbleau, Brittany and the Landes, painting views of the fields, streams and harvests. His painted scenes are active and lively, with clear and bold colors that set him apart from many of his contemporaries. Veyrassat received Salon medals for engraving in 1866 and 1869 and for painting in 1872 and was made a Chevalier of the Légion d?Honneur in 1878.
Selected Museum Collections:
Musée d?Orsay, Paris; The Walters Art Museum, Baltimore; Blackburn Museum and Art Gallery, UK; Fogg Museum/Harvard University Art Museums, Cambridge, MA; Clark Art Institute, Williamstown, MA; Musée des Beaux-Arts, Chartres; Musée Magnin and Musée des Beaux-Arts de Dijon; Musée de la Chartreuse, Douai; Bowes Museum and Barnard Castle, County Durham, UK; Préfecture de l?Isère, Grenoble; Indianapolis Museum of Art; Musée Municipal, La Roche-sur-Yon; Manchester Art Gallery, UK; Musée Grobet-Labadié, Marseille; Musée des Beaux-Arts de Pau; Musée Alfred Danicourt, Péronne; Princeton University Art Museum, Princeton, NJ; Musée des Beaux-Arts de Reims; Musée des Beaux-Arts de Rennes; Musée des Beaux-Arts de Rouen; Sheffield Museums, UK; Musée de Soissons; Musée des Augustins, Toulouse;
Selected Bibliography:
Bénézit, E. Dictionnaire des peintres, sculpteurs, dessinateurs et graveurs, Vol. 10 (Librairie Gründ, Paris, 1976): pp. 484-485.
Harambourg, Lydia, Dictionnaire des Peintres Paysagistes Français au XIXe Siècle (Ides et Calendes, Neuchâtel, 1985): pp. 342-343.