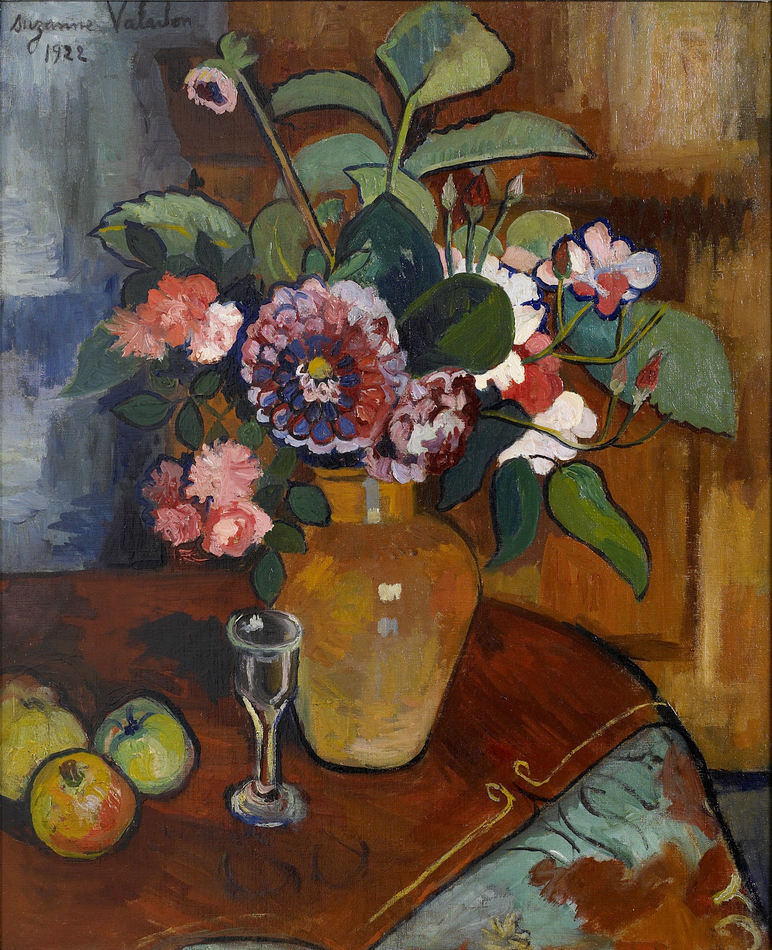 Suzanne Valadon
French, 1865 - 1938
Nature Morte
1922
oil on canvas
18 3/8 x 15 1/8 inches (46.67 x 38.42 centimeters)
Framed: 24 x 21 inches (60.96 x 53.34 centimeters)
signed and dated upper left: Suzanne Valadon 1922
SOLD
Provenance:
Private Collection, NY
Suzanne Valadon (French, 1865 - 1938)
Suzanne Valadon was a painter whose fascinating life was enmeshed and entwined with the Parisian avant-garde and whose story has such drama and harshness that her biography could have been a novel by Zola.
Born Marie-Clémentine Valadon, she was daughter of a laundress from Haute-Vienne in south-central France. Valadon and her mother moved to Paris when she was five years old and lived in a slum near La Bastille. Later the pair moved to Montmartre, and while her mother worked during the day, Suzanne would draw. Perhaps it is in Montmartre that Suzanne had her first exposure to the art world. She attended school only until age 11, at which time she began to work. By age 15, Suzanne began working as a circus acrobat, but a year later an accidental fall from a trapeze ended this career. Thus began Suzanne?s career as an artist?s model. She modeled for Toulouse-Lautrec, Puvis de Chavannes, Renoir, and later for Degas (the former nicknamed her ?Suzanne? after Susanna and the Elders). She appears in many masterpieces of the period, including Renoir?s Dance at Bougival (Museum of Fine Arts, Boston) and Danse à la Ville (Musée d?Orsay), both from 1883. In December of this same year, Suzanne gave birth to a son, Maurice Utrillo, whose paternity was uncertain, but who was recognized by Suzanne?s friend Miguel Utrillo.
During her time as an artist?s model, Suzanne learned to paint by watching the artists and reading books in Lautrec?s studio. Her earliest works include an 1892 portrait of Erik Satie, with whom she had a brief affair. By 1894, her transition from model to artist became complete when she became the first woman painter admitted to the Société Nationale des Beaux-Arts. Degas bought a drawing from her in the same year, and wrote to her, addressing her as ?La terrible Maria?.
Over the next 44 years of her career, Suzanne produced around 300 drawings and over 450 paintings. She produced a varied oeuvre that included self-portraits, portraits, still-lifes, landscapes and, notably, nudes. While the nude was considered an inappropriate subject for most female artists, Valadon?s unique start as a model who emerged as an artist within a circle of prominent male artists allowed her to paint an otherwise taboo subject. Valadon had a unique perspective on her approach to the female nude, given her background as an artist?s model and thus, an object of the male gaze. Her works are painted in rich color with firm, open brushwork.
Selected Museum Collections:
Metropolitan Museum of Art and Museum of Modern Art, NY; Musée d?Orsay, Paris; National Gallery of Art and National Museum of Women in the Arts, Washington DC; Fine Arts Museums of San Francisco; Musée des Beaux-Arts de Besançon; Musée des Beaux-Arts de Caen; Harvard University Art Museums, Cambridge; Art Institute of Chicago; Cleveland Museum of Art; National Gallery of Denmark, Copenhagen; Dallas Museum of Art; Indianapolis Museum of Art; Musée des Beaux-Arts de Lyon; Milwaukee Art Museum; Musée des Beaux-Arts de Nantes; Princeton University Art Museum; Musée de l?Annonciade, Saint-Tropez; Museu de Arte de Sao Paulo; San Diego Museum of Art; Musée Greuze, Tournus; Musée Paul Dini, Villefranche-sur Saône;