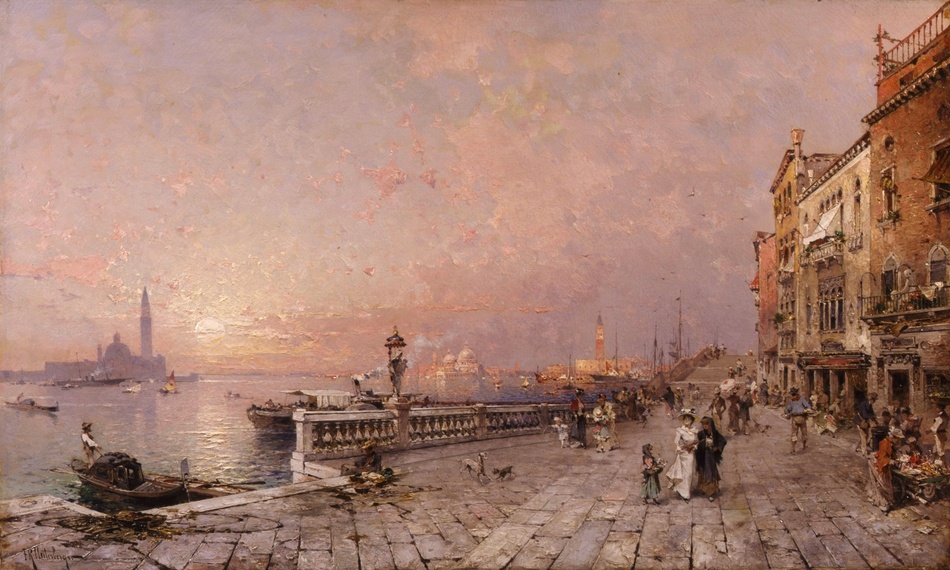 Franz Richard Unterberger
Austrian, 1838 - 1902
Schiavoni – Venice
Oil on canvas
23 3/4 x 39 1/2 inches (60.33 x 100.33 centimeters)
Signed lower left: F R Unterberger
Signed and titled on rear: Schiavoni-Venidig, F R Unterberger – Bruxelles
SOLD
Provenance:
Mr. & Mrs. Wm. Skinner, Holyoke, MA, 1910s-1960
Mrs. Robert S. Kilborne III, 1960 -
thence by descent to Robert S. Kilborne, by 2004
Charles Sherman, 2004
Franz Richard Unterberger's best-known works are colorful views of Venice and Naples, painted in a romantic haze that gives them a lively and vibrant air. This view of the Schiavoni, the historical center of Venice, is an excellent example of this tendency. Painted in Brussels after 1864, it depicts a hot, late afternoon along the Riva degli Schiavoni, the most popular promenade in Venice. Elegantly dressed Venetians stroll casually along the promenade and shop at the market. Playing children, barking dogs, and a bustling row of vendors add life, color and movement to an otherwise lazy time of day.
Franz Richard Unterberger (Austrian, 1838 - 1902)
Unterberger was born in Innsbruck in 1838 and studied at the Academy of Munich with Albert Zimermann at Weimar, and with A. Achenbach at Dusseldorf. Known primarily as a painter of Italian views, Unterberger?s first trip to Italy was in 1858, when he spent a number of months in Milan. A year later, he followed his teacher Achenbach on a long trip to Norway and Denmark, where he completed many calm, northern landscapes. He established himself in Brussels in 1864 and made the Venetian landscape the focal point of his artistic output. It is during this period that Unterberger?s sparkling views of Italy began to be exhibited internationally.
Selected Museum Collections:
Musée d?art, d?archéologie et de sciences naturelles, Troyes; Ferdinandeum Museum, Innsbruck;