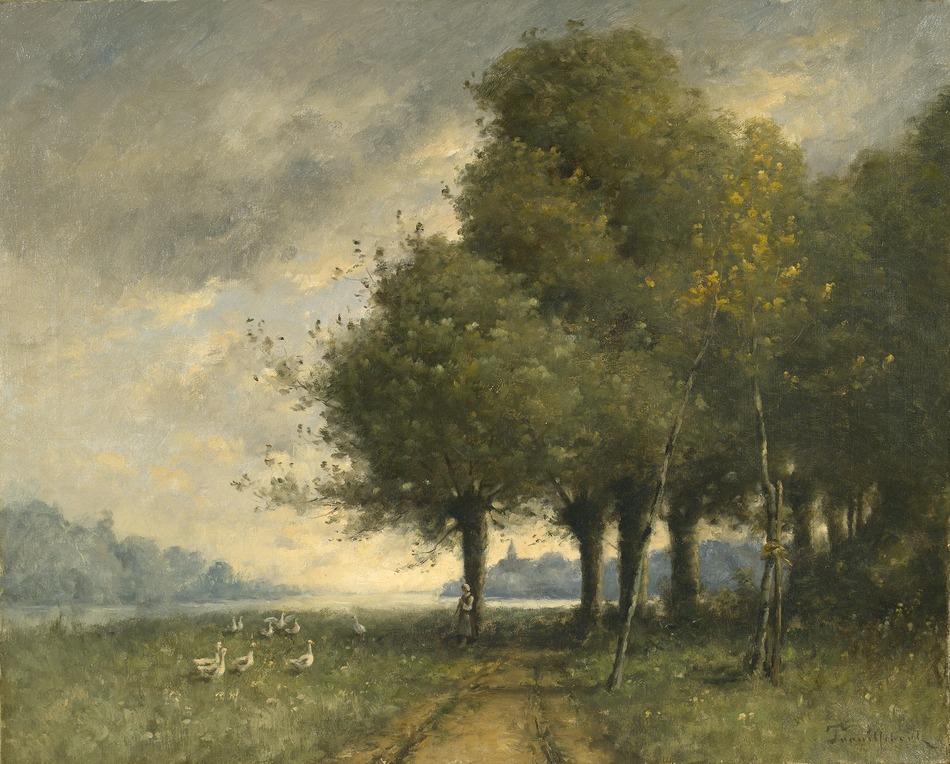 Paul Désiré Trouillebert
French, 1829 - 1900
Le Matin sur la Vienne (Vienne a Candes)
Oil on canvas
25 3/4 x 32 inches (65.41 x 81.28 centimeters)
Framed: 37 x 43 1/2 inches (93.98 x 110.49 centimeters)
signed lower right: Trouillebert
SOLD
Provenance:
Possibly in Vente Madame Trouillebert, Hotel Drouot, Paris, 23-24 November 1921, no. 42, entitled Le Matin. Environs de Chinon, 65 x 81 cm, (Exposition Trouillebert, 1901).
Exhibited:
Possibly in 1900, Paris, Galerie Haussmann, "Exposition des oeuvres de Trouillebert," no. 39, titled Le Matin sur la Vienne.
Paul Désiré Trouillebert (French, 1829 - 1900)
Paul Desire Trouillebert was born in Paris in 1829. In addition to being a landscapist, he also painted portraits and nudes. The great influence of Jean-Baptiste-Camille Corot is very much evident in his works. In fact, Trouillebert first came into the limelight when one of his paintings was sold to Alexandre Dumas?s son as a work by Corot. The younger Dumas was mislead by the similarities in the compositions and styles of the two painters. Trouillebert made his Salon debut in 1865 and continued to enter paintings in the Salon competitions for many years thereafter.
Select Museum Collections:
Metropolitan Museum of Art, New York; Musée d?Orsay, Paris; The Walters Art Museum, Baltimore; Palais Fesch Musée des Beaux-Arts, Ajaccio; Musée des Beaux-Arts de Beaune; Museo Nacional de Bellas Artes, Buenos Aires; Cleveland Museum of Art; Musée Crozatier, Le Puy-en-Velay; Musée des Beaux-Arts de Dijon; Musée des Beaux-Arts de Dole; Musée Cantini, Marseille; Musée des Beaux-Arts de Nice; Norton Simon Museum, Pasadena; Musée des Beaux-Arts de Rouen; Hermitage Museum, Saint Petersburg; Beecroft Art Gallery, Westcliff-on-Sea, UK; National Gallery of Armenia, Yerevan;
News on the artist
July 27, 2011 @ 2:40 PM UTC

Now in Glasgow:

#Millet #Barbizon

Pastel of "The Angelus" Allocated to Kelvingrove Art Gallery and Museum: http://t.co/soF2LMA via

@AddThis

August 1, 2011 @ 3:35 PM UTC

October 6, 2011 @ 3:00 PM UTC

October 20, 2011 @ 9:17 PM UTC

November 1, 2011 @ 3:38 PM UTC

November 3, 2011 @ 4:34 PM UTC

December 12, 2011 @ 10:53 PM UTC

When you visit the new 19th-century galleries

@ngadc

don't miss this

#Rousseau

http://t.co/Qgr6EWp5 and http://t.co/awPyBEDl

#Barbizon

January 30, 2012 @ 10:42 PM UTC

February 7, 2012 @ 10:14 PM UTC

March 16, 2012 @ 7:56 PM UTC

April 10, 2012 @ 2:50 PM UTC

April 10, 2012 @ 3:09 PM UTC

April 13, 2012 @ 9:22 PM UTC

April 13, 2012 @ 9:23 PM UTC

May 30, 2012 @ 7:40 PM UTC

July 2, 2012 @ 4:03 PM UTC

July 16, 2012 @ 8:01 PM UTC

August 29, 2012 @ 10:26 PM UTC

#Courbet

's Majestic Oak Painting Returns to Its Roots After Hometown Museum's $5-Million Purchase http://t.co/y2JTiZXo

#Barbizon #Realism

September 7, 2012 @ 3:07 PM UTC

November 19, 2012 @ 10:19 PM UTC

January 28, 2013 @ 11:44 PM UTC

February 14, 2013 @ 4:00 PM UTC

March 12, 2013 @ 3:27 PM UTC

March 21, 2013 @ 2:55 PM UTC

March 22, 2013 @ 9:14 PM UTC

Happy belated bday Theodore

#Rousseau

http://t.co/7UrhiBahm6 and Jules

#Dupre

http://t.co/ATFe97j3cs. Apr 15 -a great day for

#Barbizon

art

April 16, 2013 @ 4:05 PM UTC

June 10, 2013 @ 3:41 PM UTC

Now at Schiller & Bodo : MASTERWORKS OF THE BARBIZON SCHOOL, on view through November 27 http://t.co/pgDhaUAscc

#Barbizon #exhibitions

November 5, 2013 @ 4:10 PM UTC

April 15, 2014 @ 5:33 PM UTC

And Happy Birthday Jules

#Dupre

- April 15, 1811 - a great day for

#Barbizon

School painters! http://t.co/62PKvhJpN8

April 15, 2014 @ 7:03 PM UTC

May 1, 2014 @ 3:35 PM UTC

Here is our current

#exhibition

catalogue: A Romantic Vision, The

#Barbizon

School and its Contemporaries http://t.co/iemkJ4fmdG

May 5, 2015 @ 5:16 PM UTC

August 11, 2015 @ 2:52 PM UTC

March 10, 2016 @ 5:50 PM UTC

March 15, 2016 @ 3:01 PM UTC

April 15, 2016 @ 7:09 PM UTC

June 17, 2016 @ 8:23 PM UTC

July 15, 2016 @ 7:30 PM UTC

July 13, 2017 @ 9:49 PM UTC

October 4, 2018 @ 5:43 PM UTC