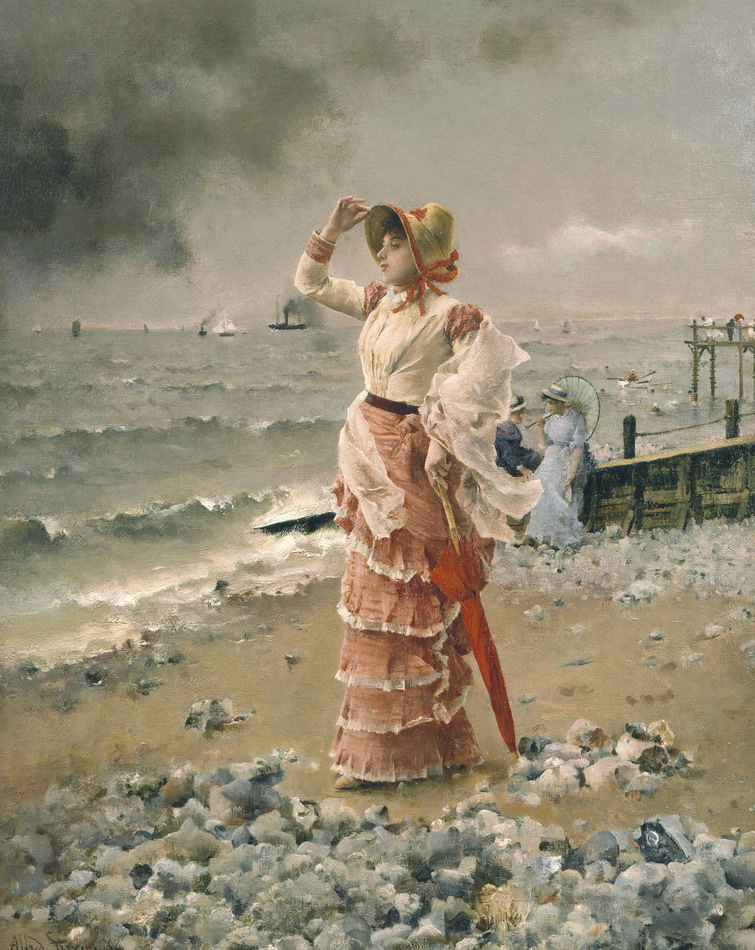 Alfred Stevens
Belgian, 1823 - 1906
Au Havre
1884
Oil on canvas
36 1/4 x 28 3/4 inches (92.08 x 73.03 centimeters)
Framed: 45 x 38 inches (114.3 x 96.52 centimeters)
signed and dated lower left: Alfred Stevens 84 and titled on reverse
SOLD
Provenance:
Sent by the artist to Van der Donck, 18 October 1884
Sale, E. Le Roy, 14 Dec 1886
Georges I. Seney, his sale, American Art Association, NY, 13 Feb 1891, no. 252.
Posthumous sale G. I. Seney, American Art Association, NY, 7-9 Feb 1894, no. 299.
Ketelaers, his sale, Galerie Giroux, 9 Feb 1921, no. 44.
Private collection, Belgium
Exhibited:
1891, American Art Galleries, NY, coll. Seney
1894, American Art Galleries, NY, succession Seney
Literature:
Christiane Lefebvre, Alfred Stevens, 1823-1906, Paris: Brame & Lorenceau Editions, 2006, ill. p. 157 (listed as Regardant filer un vapeur).
Probably no. 49, Vue du havre, 1884, in Gustave Van Zype, Les Freres Stevens, Brussels, 1936, p. 102. (Listed as in Coll. Bender, Paris, but given without dimensions.)
At the beginning of the 1880's, Alfred Stevens' career was at its peak. In 1880 he had sold the sumptuous Le salon de l'artiste to William K. Vanderbilt for 50,000 francs, then a princely sum. He had been forced to sell his elegant house and garden on the Rue des Martyrs, owing to the city's public works program, but he had received 300,000 francs in compensation and was, one would assume, flush from the sale. One slight cloud on the horizon was that his physician, Dr. Peter, had told him to seek the sea air for his health. Hence for the next six years he went to Sainte-Adresse for two months of the year. This was a blessing in disguise, for he was offered a contract by Georges Petit for his annual production of marine paintings at 50,000 francs a year. The agreement was presumably for the small marines which were executed very rapidly at all times of day and in all kinds of weather, usually looking out to sea, sometimes with figures on the shore. They represent Stevens at his most impressionistic.
There were other more important pictures, however, that drew upon his more sustained seaside observations. The most famous was La veuve et ses enfants which was commissioned by the Brussels Museum and was delivered in 1888. At least one other version of this popular picture exists. Another is In Deep Thought of 1881 (St. Louis Art Museum). These pictures show several ladies against the sea with ships in the distance.
But a richer and livelier dimension of Stevens' marine paintings was introduced by the reappearance on the market of La villa des Falaises à Sainte-Adresse in 1996. This picture depicts a dozen persons engaged in a variety of activities at a holiday villa by the seaside, with the sea in the distance. At the center of that picture stands a woman whom we view from behind as she looks out to sea. She wears a striking cream and salmon colored dress with matching hat. On a chair beside her lies a matching scarf and on the floor next to the chair stands an upturned oriental parasol.
This same figure dominates the canvas of a companion piece Au Havre, a slightly larger picture from this fruitful year (1884), which has also reappeared after many years in a private collection. Now the model is seen close up from the left-front side, her face depicted in profile. Here she wears a scarf, which matches the blouse of her dress and leans on a reddish parasol close in tone to her skirt. The oriental parasol now shades a girl sitting and conversing in the middle distance. The day is breezy, the sea choppy, and the sky is cloudy, suggesting an approaching storm. The girl looks out to see, not in apprehension, but boldly surveying the animated scene. Stevens was a well-known painter of modern life, whose works fetched very large prices. He was good friends with the Impressionist painters and was familiar with the contemporary advances in the rendering of color and light. The year before he had been a pallbearer at Manet's funeral and in the year Au Havre was painted he was on the Manet exhibition committee. But unlike the Impressionists he did not sacrifice form to the rendering of light. Therefore in Au Havre we have another example of Stevens' consummate draftsmanship, as well as his beautiful rendering of color and exquisite taste in costume and detail. Like its companion piece La villa des Falaises, Au Havre is a wonderful glimpse of the Belle Époque on holiday, as recorded by one of its most brilliant painters in what was to be virtually the last decade of his active career.
We are grateful to Professor William A. Coles for his assistance with this note.
Alfred Stevens (Belgian, 1823 - 1906)
Selected Museum Collections:
Musée d?Orsay and Petit Palais, Paris; Royal Museums of Fine Arts of Belgium and Musée Charlier, Brussels; Van Gogh Museum, Amsterdam; Koninklijk Museum voor Schone Kunsten, Antwerp; Walters Art Museum, Baltimore; Museum of Fine Arts, Boston; Szépmüvészeti Múzeum, Budapest; Fitzwilliam Museum, Cambridge; Musée national du Château de Compiègne; Dallas Museum of Art, TX; Museum voor Schone Kunsten, Ghent; The National Gallery, London; Speed Art Museum, Louisville, KY; Musée des Beaux-Arts, Marseilles; Bayerische Staatsgemäldesammlungen, Neue Pinakothek, Munich; Musée des Beaux-Arts Jules Chéret, Nice; Musée des Beaux-Arts, Reims; Ringling Museum of Art, Sarasota, FL; Musée des Beaux-Arts et de la Céramique, Verviers; Sterling and Francine Clark Art Institute, Williamstown;