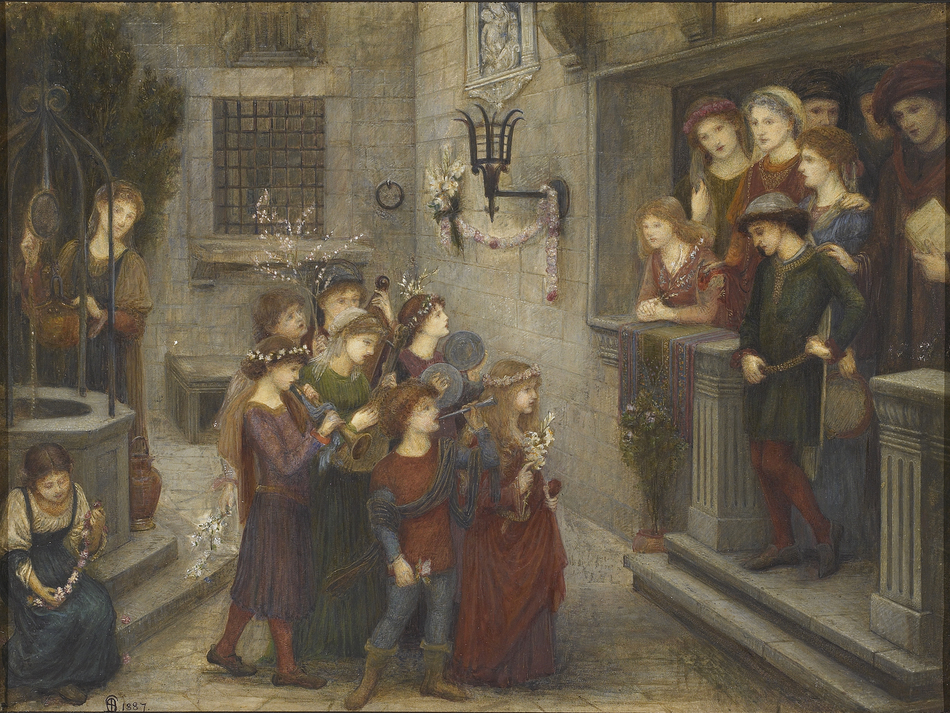 Marie Spartali-Stillman
British, 1844 - 1927
A May Feast at the house of Folco Portinari, 1274
1887
watercolor on paper
15 x 20 1/8 inches (38.1 x 51.12 centimeters)
Framed: 21 1/2 x 26 1/2 inches (54.61 x 67.31 centimeters)
monogrammed lower left and dated 1887
SOLD
Provenance:
Sotheby's London, 1 Mar 1984, lot 508
Private Collection, South America
Exhibited:
London, Grosvenor Gallery, 1887, no. 319
Literature:
Marsh, Jan and Pamela Gerrish Nunn. Women Artists and the Pre-Raphaelite Movement (London: Virago Press, 1989): 104.
Marsh, Jan. "The Old Tuscan Rapture': The Response to Italy and Its Art in the Work of Marie Spartali Stillman." In Unfolding the South: Nineteenth-Century British Women Writers and Artists in Italy. Ed. Alison Chapman and Jane Stabler (New York: Manchester University Press, 2003): 173
This work is one of three paintings that Spartali-Stillman sent to the Grosvenor Gallery in 1887, after her first full year of living in Rome. She was inspired by subjects from Dante and in 1887 painted four works in this vein. The current work depicts a May Day gathering at the home of the Florentine Banker Folco Portinari. Portinari was the father of Beatrice Portinari, who has been commonly identified as the Beatrice of Dante Alighieri's Divine Comedy. According to Dante, he first met Beatrice when his father took him to the Portinari house for a May Day gathering, and it is likely that this is the gathering depicted in the present work. At the time of their meeting, Dante was eight years old, and Beatrice a year younger. Beatrice leans over the balustrade, a flowering branch in her hands, and the young Dante, dressed in a green tunic, stands next to her, his father's hand resting on his shoulder. Dante was instantly taken with Beatrice, and remained so throughout her life. After Beatrice's death in 1290, at the age of 24, Dante withdrew into study and began composing poems dedicated to her memory. The collection of these poems, along with others that he had previously written about her became Dante's La Vita Nuova. The present work was painted as a pair to Spartali Stillman's Upon a day came sorrow unto Me, a scene depicting Dante in his study on the day of Beatrice's death.
Marie Spartali-Stillman (British, 1844 - 1927)
Maria Spartali-Stillman was the most prominent female artist of the Pre-Raphaelite group. Marie Spartali was the daughter of Michael Spartali, the Consul-General for Greece in London and an active patron of the arts. She had her first access to the artistic milieu of the day by way of social gatherings at her family home. When Marie was 19, James McNeill Whistler, George du Marurier, Alphonse Legros and the poet Algernon Charles Swinburne attended a Sunday gathering at her family home, leading Swinburne to write, ?She is so beautiful that I want to sit down and cry.? Moving in such circles awoke Marie?s desire to paint and she soon began studies under Ford Madox Brown. Her striking appearance also made a sought-after sitter and she modeled for Rossetti, Ford Madox Brown, Julia Margaret Cameron and Spencer Stanhope. Spartali Stillman?s artistic career spanned five decades, and during her career she embraced Pre-Raphaelitism, Aestheticism, and landscape painting of the Italian School. She exhibited at the Royal Academy, Society of British Artists, New Watercolor Society, as well as Grosvenor Gallery and the New Gallery.
Bibliography:
Frederick, Margaretta S. and Jan Marsh, Poetry in Beauty: The Pre-Raphaelite Art of Marie Spartali Stillman (Delaware Art Museum, 2015).
Johnson, Jane, Works Exhibited at the Royal Society of British Artists, 1824-1893 and The New English Art Club, 1888-1917 (Antique Collectors Club, 1975): p. 444.
Wood, Christopher, The Dictionary of Victorian Painters (Antique Collectors Club, Woodbridge, Suffolk, 1978): p. 453.