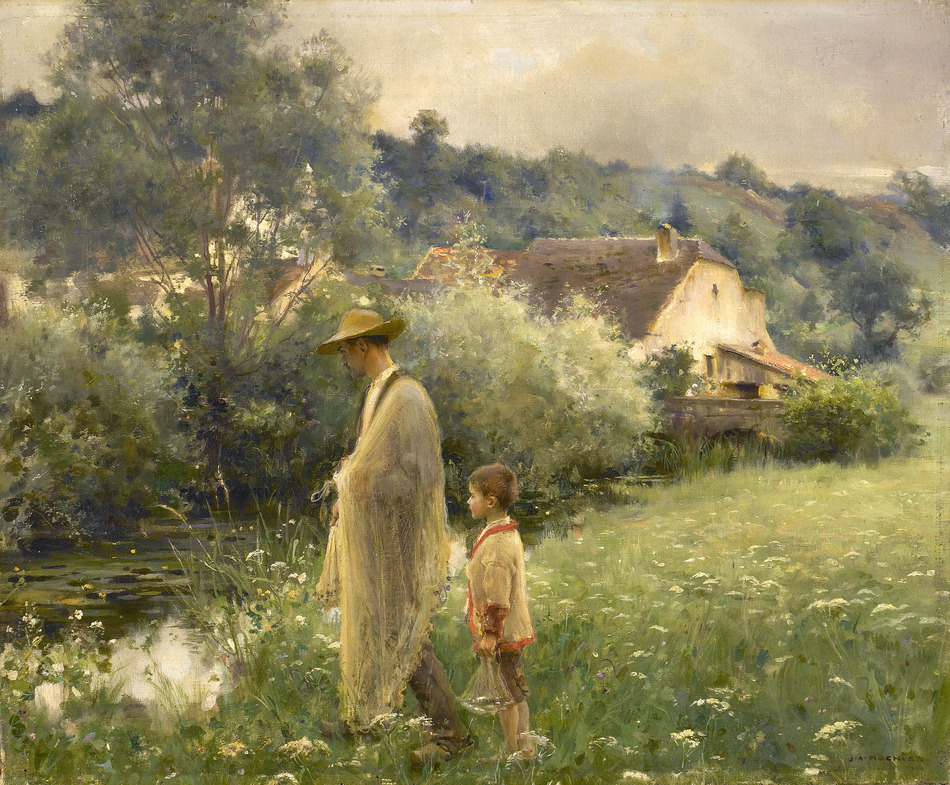 Jules-Alexis Muenier
French, 1863 - 1942
Net Fishing in the Brook, Bonnaud
Oil on canvas
15 x 18 1/4 inches (38.1 x 46.36 centimeters)
Framed: 26 x 29 inches (66.04 x 73.66 centimeters)
Signed lower right: J A Muenier
SOLD
Provenance: Private collection, France
Jules-Alexis Muenier (French, 1863 - 1942)
Jules-Alexis Muenier was among the group of young artists who followed the lead of Jules Bastien-Lepage in the creation of sensitively rendered Naturalist images of the lives of the common people of the French countryside. The movement dominated the Salons of the late 1880s and 1890s, particularly following the untimely death of its leading painter, Bastien-Lepage (1848-1884). Jules-Alexis Muenier, along with P. A. J. Dagnan-Bouveret, Emile Friant and others participated in this international Naturalist movement, which focused on natural light effects and the use of modern methods, such as photography, to capture honest depictions of the lives of common peasants, farmers, workers or beggars.

In his book, Beyond Impressionism: The Naturalist Impulse, Dr. Gabriel Weisberg writes:
Muenier?s rapid rise at the Paris Salon, beginning with Le Bréviaire (The Breviary) in 1887 and reaching a crescendo in 1891 with The Catechism Lesson, caused considerable consternation in the artistic community. Numerous artists wondered how this painter from the provinces could complete works of such delicate precision without associating with Paris artists. Few were aware of his ties with Dagnan [-Bouveret], and little was known of his training when he exhibited The Catechism Lesson at the Salon of 1891. That work established his reputation: it attracted the attention of collectors, both private and in the government.

Few realized that The Catechism Lesson was the product of Muenier?s ultimate use of photography and of his glass studio. In constructing the image, he took an extensive series of photographs of this models in a garden in Coulevon?. The exiting glass-plate negatives prove that Muenier utilized photographs much like drawings. To retain all details in sharp focus, especially the flowers at the right and the background landscape, he took close-up photographs of them. Once he had transferred these elements to the canvas, he reassembled his models in the studio, where he concentrated on the tonal and color relationships that contributed to his painting?s popular success.
In Le Figaro Salon, Albert Wolff wrote that Muenier had ?achieved a series of charming heads [for the children] that had been sensitively observed?. What a beautiful sense of tranquility reigns between the landscape and the figures.? A similar sense of profound respect was apparently generated among the visitors to the Salon, many of whom wrote directly to the artist with firm offers to purchase the work, or at least have him make a copy for them?. Ultimately the French government purchased the work and exhibited it at the Luxembourg Museum. 1
Selected Museum Collections:
Musée d?Orsay and Assemblée Nationale, Paris; Musée des Beaux-Arts, Besançon; Musée de Grenoble; Musée d?art, d?archéologie et de sciences naturelles, Troyes;
1 Gabriel P. Weisberg, Beyond Impressionism: The Naturalist Impulse (New York: Harry N. Abrams, 1992): p. 77.