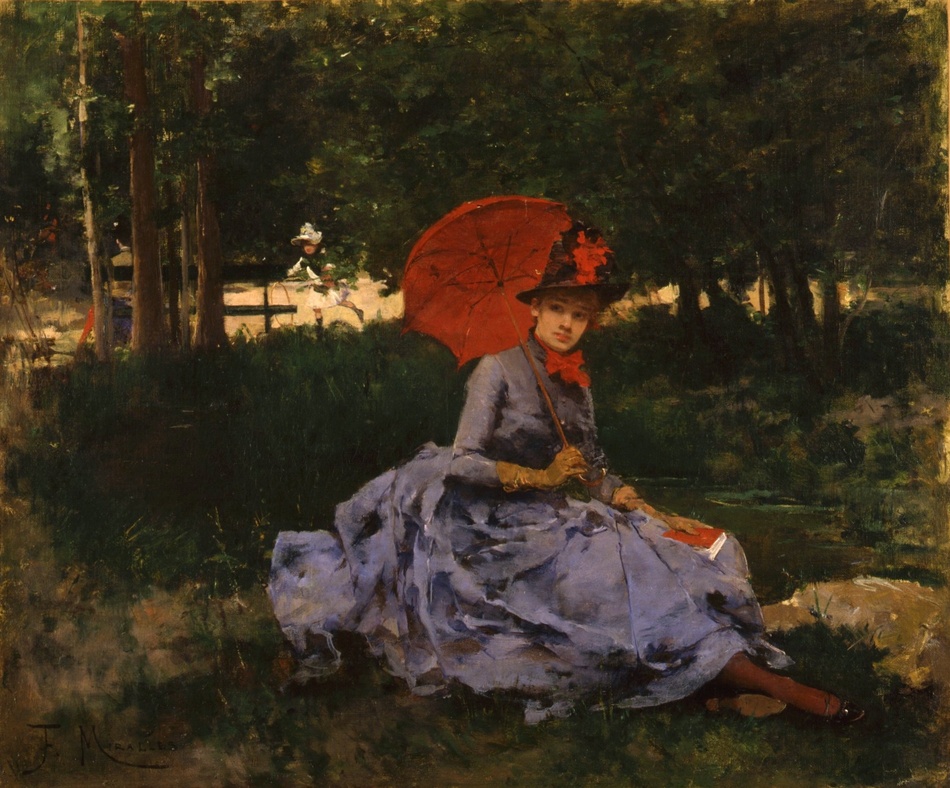 Francisco Miralles y Galup
Spanish, 1848 - 1901
The Red Parasol
c. 1880
Oil on canvas
20 x 23 3/4 inches (50.8 x 60.33 centimeters)
Framed: 25 x 29 inches (63.5 x 73.66 centimeters)
signed lower left: F Miralles
SOLD
Provenance:

Armand du Vannes, Los Angeles.
Private Collection, Los Angeles, 1968-2004
The present work belongs to what Carols González and Montse Martí have called the third major stage of Miralles' artistic career and the one that brought him the most fame (González and Martí, Spanish Painters in Paris, Barcelona, 1989). During this time, Miralles painted scenes of Parisian society at leisure, often enjoying a picnic, an outing to the seashore, or a day at the races. Many of the most popular artists of the time – Monet, Boudin and Courbet – brought their canvases to the fashionable beach of Trouville where ladies dressed in their best finery and gathered to have their portraits painted against the sea.
The Parisian ladies with their parasols, gloves and feathered hats were consciously distinguishing themselves from the local, rural populace. Robert Herbert describes the social scene, "The underlying complexity of this conception of decorous leisure is exposed by the parasol, that curious device to protect middle- and upper-class women from the effects of natural sunlight and therefore their social standing from that of fisher-women and peasants" (Herbert, Robert, Monet on the Normandy Coast, New Haven, Yale University Press, 1994, p. 58).
While the outdoor setting endows the picture with a spontaneous feel, the colors are well-balanced with a bold, Manet-like use of paint. Manet's influence is also apparent in the composition as Miralles positions the figure at the foreground edge of the picture. She dominates the canvas with her bold blue frock contrasted against the green park scene in the background. The painting is an excellent example of 19th century society's desire to see itself immortalized on canvas.
Francisco Miralles y Galup (Spanish, 1848 - 1901)
Born in Valencia, Miralles moved to Paris in 1866 to study under Arturo Canela. The well-known French dealer, Adolphe Goupil, also promoted Miralles and greatly assisted in the growing popularity of his work. Miralles exhibited regularly at the Paris Salons, at the Sala Parés in Barcelona, and in numerous international exhibitions in London, Berlin and America.
Selected Museum Collections:
Museu d?Art Modern de Barcelona; Musée Carnavalet, Paris;