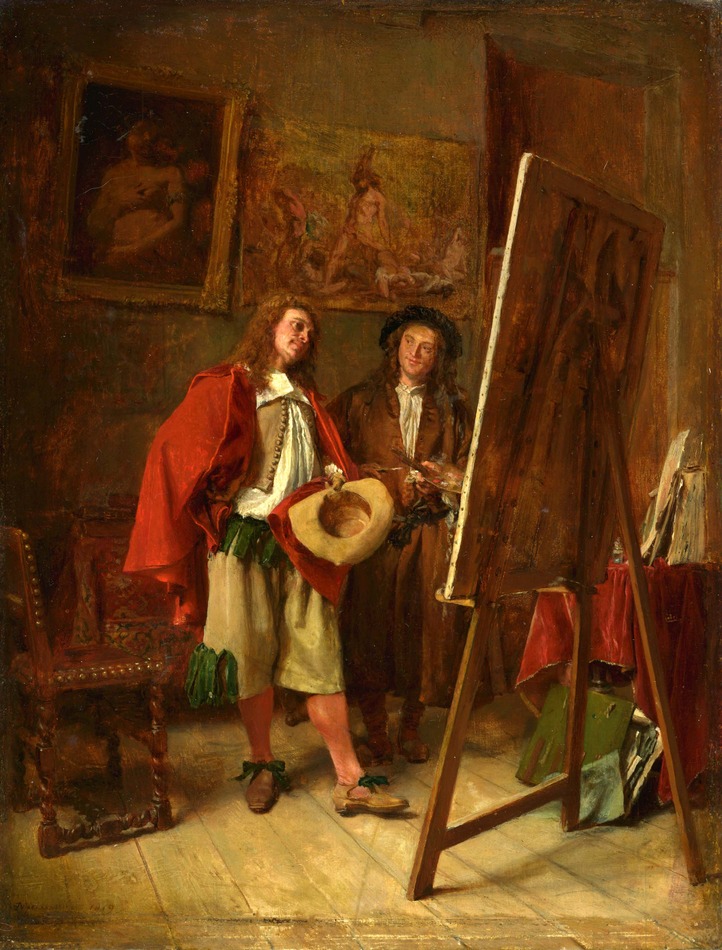 Jean-Louis-Ernest Meissonier
French, 1815 - 1891
Connoisseur at the Artist's Studio
1859
Oil on panel
9 1/2 x 7 1/2 inches (24.13 x 19.05 centimeters)
signed and dated lower left: Meissonier1859
SOLD
Provenance:
M. Leroy, Paris
Ernst Secrétan
vente Secretan, Paris, 1 Jul 1889, no. 42.
Knoedler and Company (no. 56969)
Private Collection, CT (by descent since the 1920s)
Exhibited:
Galerie Georges Petit, Paris, "Meissonier," 1884, no. 46.
Literature:
Gréard, V. C. O., Meissonier, ses souvenirs; ses entretiens precedes d'une etude sur sa vie et son oeuvre (Paris and London, Hachette 1897); p. 231.
cf: Amateur de tableaux chez un peintre, Musée des Beaux-Arts, Lille (P607)
Jean-Louis-Ernest Meissonier (French, 1815 - 1891)
An artist who became one of the bright stars of the Parisian art world in the 1850s, Ernest Meissonier initially made his reputation with works of moderate size and intricate detail depicting elegant scenes of 17th and 18th century life. Salon goers crowded around his small canvases each year to marvel at the minute detail, excellent execution and accuracy of his work. By the 1860s, despite his established fame, Meissonier, a perfectionist par excellance who believed in the nobilizing role of fine art, decided to move away from genre subjects and to adopt "higher," subject matter. To this end, he began to focus his compositions on scenes of Napoleonic glory. Executed with the same fine brushwork and acute attention to detail as his earlier subjects, these scenes from the great days of the French Empire eventually made Meissonier's works the highest-grossing, most sought-after paintings of any living artist. The largest and most-ambitious of these works, 1807, Friedland, now in the Metropolitan Museum of Art, sold for 380,000 francs, more than triple the highest price ever paid for a painting by a living artist. While Friedland was a large-scale composition which took that artist fourteen years to complete, the majority of Meissonier's grand battle scenes and quiet interiors were painted small scale.
Selected Museum Collections:
Walters Art Museum, Baltimore; Musée des Beaux-Arts de Bordeaux; Museum of Fine Arts, Boston; Musée Condé, Chantilly; Art Institute of Chicago; Cleveland, Museum of Art; Musée national du château, Compiègne; Dallas Museum of Art; Musée Magnin, Dijon; Musée de Grenoble, Grenoble; Musée des Beaux-Arts de Lille; National Gallery and Wallace Collection, London; Los Angeles County Museum of Art; Musée des Beaux-Arts de Lyon; Currier Museum of Art, Manchester, NH; City Art Gallery, Manchester, UK; Metropolitan Museum of Art, New York; Joslyn Art Museum, Omaha; Ashmolean Museum, Oxford; Musée du Louvre and Musée d'Orsay, Paris; Philadelphia Museum of Art; Musée des Beaux-Arts de Rouen; Hermitage Museum, Saint Petersburg; Fine Arts Museums, San Francisco; Musée national du château Versailles; National Gallery of Art, Washington DC;