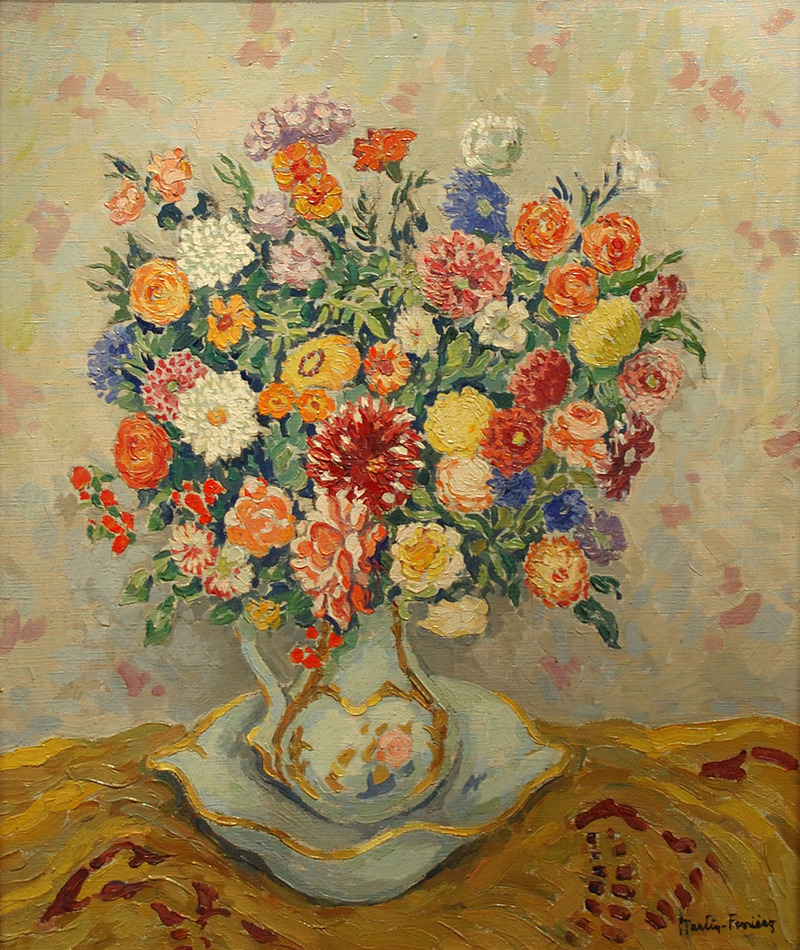 Jacques Martin-Ferrières
French, 1893 - 1972
Still Life, Bouquet in a Pitcher
Oil on canvas
25 3/4 x 21 3/8 inches (65.41 x 54.29 centimeters)
Framed: 38 x 33 inches (96.52 x 83.82 centimeters)
Signed lower right: Martin- Ferrières
SOLD
Provenance:
Christies NY, 18 Feb 1988, lot 24
Robert Mede Gallery, Toronto
The authenticity of this work has kindly been confirmed by Cyrille Martin.
Jacques Martin-Ferrières (French, 1893 - 1972)
A painter remarkable for his highly personal portraits, still-life and landscape views, Jacques Martin-Ferrières was the son of the great Post-Impressionist painter Henri Martin (1860-1943). He studied with his father and with Frederic Cormon (1845-1924). Like his father, Martin-Ferrières became a master at reproducing the scintillating effects of light on canvas. Despite his father?s strong influence, though, Jac developed a technique that was uniquely his own: paint is applied in swift and short brushstrokes of opaque color, at times overlapping and at times separated, revealing a pale ground layer and producing a mosaic-like surface.
Martin-Ferrières was awarded many national prizes, including an honorable mention at the Salon of 1920, a silver medal in 1923, the National Prize in 1925, and a Gold Medal and Legay-Lebrun Prize in 1928. He was a regular and respected exhibitor at the annual Salon des Artistes Français. Martin-Ferrieres interrupted his painting career to serve in the French resistance movement during World War II. Although he lost an eye while a prisoner of war, he resumed his art efforts around 1950. His works were shown in Paris in 1965 at an exhibition of landscapes and snow paintings, displaying his use of the thick, impastic surface which gave his paintings depth and a shimmering quality. A retrospective of his work in Paris in 1965 confirmed his respected status.
Selected Museum Collections:
Boca Raton Museum of Art; Musée Malraux, Le Havre