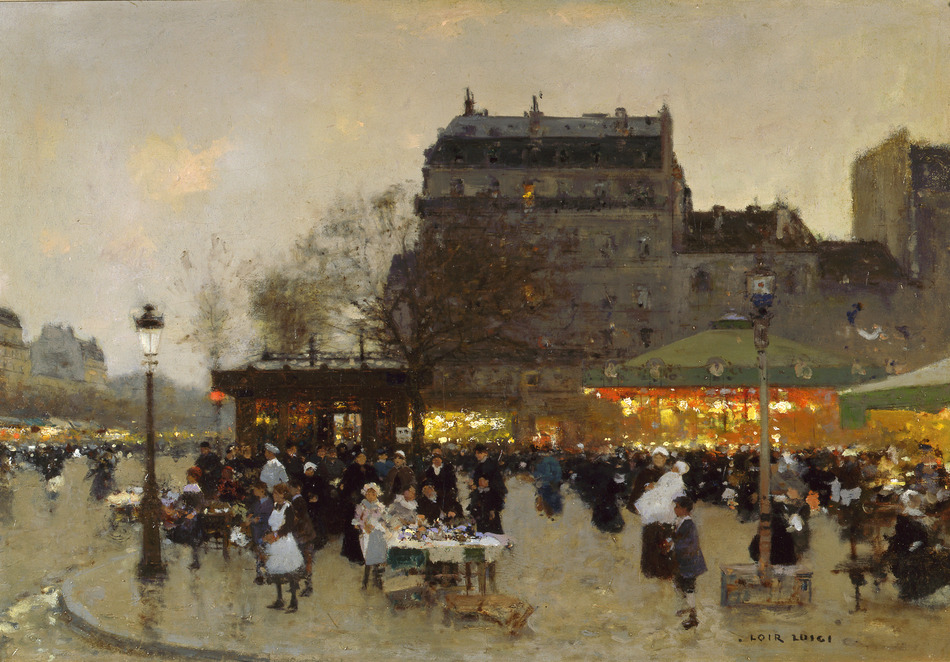 François-Joseph Luigi Loir
French, 1845 - 1916
Carousel at the Porte Dorée
Oil on canvas
19 3/4 x 28 3/4 inches (50.17 x 73.03 centimeters)
Framed: 26 3/4 x 35 1/2 inches (67.95 x 90.17 centimeters)
Signed lower right: Loir, Luigi
SOLD
Provenance:
Private Collection, NY, 1970s-2009
This work is to be included in vol. II of the Luigi Loir catalogue raisonné in preparation by Noé Willer.
Luigi Loir was a painter enamoured with the visual experience of Paris. After leaving the studio of his instructor Pastelot in 1870, Loir concentrated his oeuvre on scenes of the city. Although he painted views of Paris at all hours of the day, he excelled at painting at the margins of daylight, or when cloudy skies or misty rain create a cool atmosphere through which sparkle electric lights and sunny reflections. In his painting of the Carousel at the Porte Dorée, although the square is crowded with mothers, children, vendors and wanderers, a uniformity of tone creates a sense of calm stillness. One's attention is drawn not to the movement of people, but to the flickering motion of electric lights. Glowing bands of yellow, red and orange jump against the violet-blue evening, balanced only by a slight warm light reflecting on the clouds. The bright transparency of the lights gives life to the rotating carousel or busy cafes that line the street, while the harmonious tone and dense atmosphere lend a pleasing stability to the view.
François-Joseph Luigi Loir (French, 1845 - 1916)
Luigi Loir was born December 22, 1845 in Goritz, Austria and he died February 9, 1916 in Paris. He began his first formal art education in 1853 at the Ecole des Beaux-Arts of Parma. Ten years later he moved to Paris, where he enrolled to study with the mural painter Jean Amable Amedée Pastelot (1810-1870). Upon finishing his studies in 1865, Loir made his debut at the Paris Salon with Paysage à Villiers-sur Seine, for which he received high acclaim. Due to his studies with Pastelot, he also became a very popular ceiling and mural painter: one of Loir's first commissions was to paint the murals and ceilings at the Chateaux du Diable in 1866.
After 1870 Loir concentrated exclusively on painting views of Paris. In these works, Loir caught and expressed the many faces of Paris at all hours of the day. These displayed Loir?s exceptional powers of observation and craftsmanship and it is with these that he ultimately made his reputation. In 1879 Loir was awarded the third class medal at the Salon. A second-class medal followed at the Salon of 1889, as well as a gold medal at the Exposition Universelle in the same year. Loir was inducted into the Legion of Honor in 1898.
Selected Museum Collections:
Musée des Beaux-Arts de Bordeaux; Art Institute of Chicago; Tretiakoff Gallery, Moscow; Musée du Louvre and Petit Palais, Paris; Musée Crozatier, Le Puy-en-Velay; Musée des Beaux-Arts de Rouen; Fine Arts Museums of San Francisco; Clark Art Institute, Williamstown, MA;