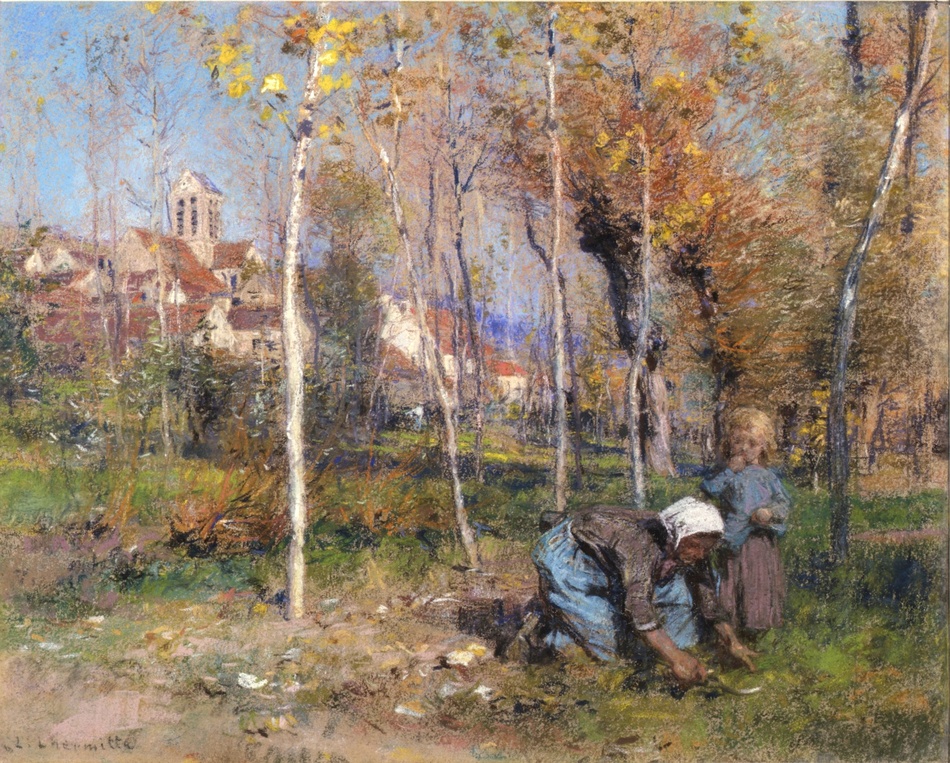 Léon Augustin Lhermitte
French, 1844 - 1925
Vue de Chartèves à l'Automne ou Les Derniers beaux jours
1887-89
Pastel on paper
15 x 19 inches (38.1 x 48.26 centimeters)
Framed: 26 1/4 x 30 1/4 inches (66.68 x 76.84 centimeters)
signed lower left: L Lhermitte
SOLD
Provenance:
Boussod, Valadon & Cie., no. 14474
Collection Montaignac
Richard Green, London
Exhibited:
Exposition des Pastellistes, Paris, 1890, no. 86 (titled les Derniers beaux jours)
Literature:
Desclinville, Journal de l'Aisne, 10 Apr 1890.
Deuzem, L'Art et la mode, 13 Apr 1890
Monique Le Pelley Fonteny, Léon Augustin Lhermitte (1844-1925) catalogue raisonné, (Editions Cercle d'Art, Paris, 1991): p. 292, no. 782.
Léon Augustin Lhermitte (French, 1844 - 1925)
Leon Lhermitte was born in 1844 and was still executing works in the French rural tradition at his death in 1925, making him the last in an illustrious group of artists. He showed artistic talent at a young age and in 1863 left his home at Mont-Saint-Pêre, Aisne for the Petite Ecole in Paris where he studied with Horace Lecoq de Boisbaudran. Lecoq was known for his program of training the visual memory of his students, and his theories had a profound effect on Lhermitte. It was in his studio that Lhermitte formed a life-long friendship with Cazin and also became acquainted with Legros, Fantin-Latour and Rodin. Lhermitte sent his initial entry to the Salon in 1864 when he was nineteen, and continued to exhibit charcoal drawings and paintings regularly, and pastels after 1885, winning his first medal in 1874 with La Moisson (Musée de Carcassone). Other prizes and honors came to Lhermitte throughout his long career, including the Grand Prix at the Exposition Universelle, 1889, the Diplome d'honneur, Dresden, 1890, and the Legion of Honor. He was a founding member of the Société Nationale des Beaux-Arts.
Lhermitte's subject matter rarely deviated from the peasants and rural life of his youth. The most profound influence upon his work was certainly Jean François Millet who, like Lhermitte, was equally adept with pastel as with oil. While one could not characterize Lhermitte as an innovator, it is fair to say that he remained true to his own artistic conscience, creating beautiful, light-filled works in the Barbizon tradition while reinforcing the dignity of peasant life and the glory of the French rural landscape in the face of encroaching technology. He has been accused of simply marrying traditional academic practices to the brighter colors of the Impressionists for the sake of his considerable commercial success, but this criticism is probably unjust. He was a talented artist, much admired by his peers. Van Gogh wrote "He (Lhermitte) is the absolute master of the figure, he does what he likes with it -- proceeding neither from the color nor the local tone but rather from the light - as Rembrandt did--there is an astonishing mastery in everything he does, above all excelling in modeling, he perfectly satisfies all that honesty demands."
Selected Museum Collections:
Musée des Beaux-Arts de Amiens; Van Gogh Museum, Amsterdam; Museum of Fine Arts, Boston; The Brooklyn Museum; Musée des Beaux-Arts de Carcassonne; Musée Jean de La Fontaine, Château-Thierry; Art Institute of Chicago; Cincinnati Art Museum; Cleveland Museum of Art; Detroit Institute of Arts; The Bowes Museum, County Durham, UK; Hood Museum of Art, Hanover, NH; Victoria and Albert Museum, London; Thyssen-Bornemisza Museum, Madrid; Manchester City Art Gallery; Metropolitan Museum of Art, New York; Musée d'Orsay and Musée du Petit-Palais, Paris; Philadelphia Museum of Art; Carnegie Museum of Art, Pittsburgh; Saint Louis Art Museum; Hermitage Museum, Saint-Petersburg; Musée Antoine Lécuyer, Saint-Quentin; Musée des Beaux-Arts de Saintes; Fine Arts Museums of San Francisco; Frye Art Museum, Seattle; Chi-Mei Museum, Taiwan; National Museum of Western Art, Tokyo; National Gallery of Art, Washington D.C.;
News on the artist
March 21, 2017 @ 8:36 PM UTC

October 14, 2016 @ 8:39 PM UTC

June 10, 2016 @ 9:39 PM UTC

January 14, 2016 @ 5:52 PM UTC

June 10, 2014 @ 8:31 PM UTC

June 10, 2013 @ 3:41 PM UTC

April 16, 2013 @ 4:36 PM UTC

March 12, 2013 @ 3:27 PM UTC

#Courbet

's Majestic Oak Painting Returns to Its Roots After Hometown Museum's $5-Million Purchase http://t.co/y2JTiZXo

#Barbizon #Realism

September 7, 2012 @ 3:07 PM UTC

June 11, 2012 @ 8:45 PM UTC

March 6, 2012 @ 7:31 PM UTC

February 10, 2012 @ 9:19 PM UTC

November 22, 2011 @ 10:17 PM UTC

November 1, 2011 @ 3:38 PM UTC

Birmingham Museum of Art presents the witty and incisive editorial cartoons of Jean-Honore

#Daumier

: http://t.co/irTgMNMY

#Realism

October 10, 2011 @ 5:09 PM UTC

Jules Breton's autobiography "The Life of an Artist" is available on GoogleBooks: http://t.co/bwugE8rZ

#Breton #Academic #Realism

September 30, 2011 @ 3:11 PM UTC

September 22, 2011 @ 4:21 PM UTC

September 22, 2011 @ 3:34 PM UTC

Musee de Colombes acquires painting by Theodule Ribot: http://t.co/vSa6waJ

#Realism

September 9, 2011 @ 4:25 PM UTC