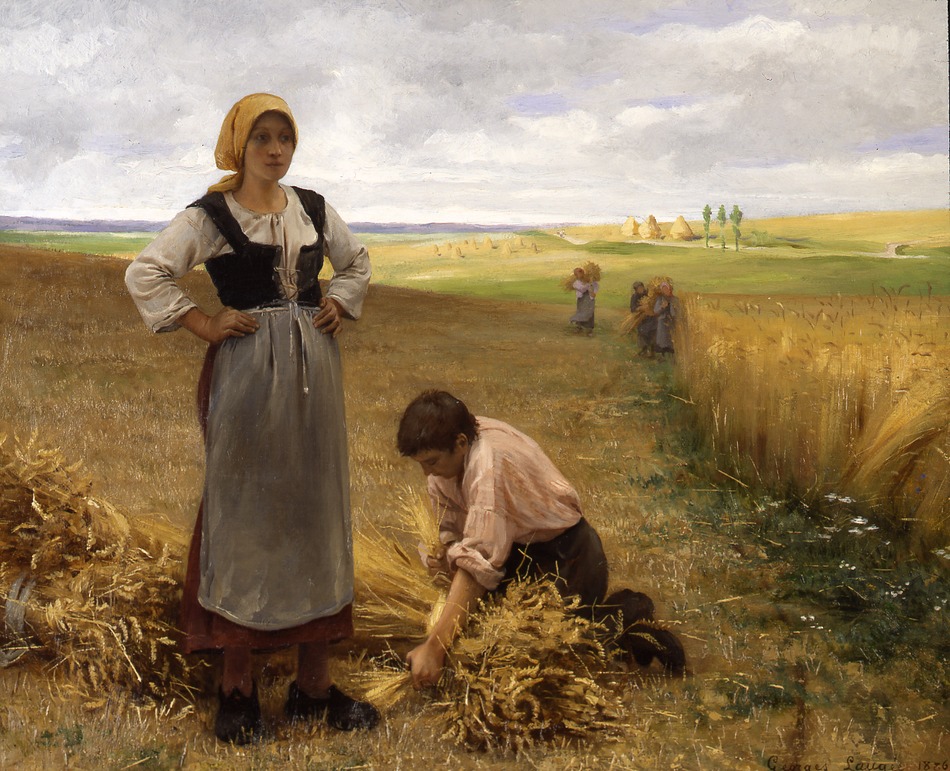 Georges Laugée
French, b. 1853
Harvesting the Fields
1886
Oil on canvas
21 1/2 x 26 1/4 inches (54.61 x 66.68 centimeters)
Framed: 34 1/4 x 39 inches (87 x 99.06 centimeters)
signed and dated lower right: Georges Laugée 1886
SOLD
Georges Laugée (French, b. 1853)
Georges Laugée was a painter of peasant subjects, following one of the dominant trends within nineteenth-century French painting. While many painters of this genre were beginning to take a more naturalistic approach, Laugée followed the lead of such masters as Jules Breton and William Bouguereau, and imbued his figures with a noble composure and monolithic presence.
Laugée began his studies under his father, Désiré-François Laugée, entering the Ecole des Beaux-Arts at age eighteen to study with Isidore Pils and Henri Lehmann. One can see the influence of his father in his depictions of peasants in the landscape, as well as the quality of line that he acquired from Lehmann. Laugée showed in the annual Salons beginning in1877. He obtained a third class medal in 1881, a bronze medal at the 1889 Exposition Universelle, and a silver medal at the 1900 Exposition Universelle. He served as a member of the committee and the jury for the Salon as well.
The Musée des Beaux-Arts in Nantes owns a painting by the artist, entitled LE PRÉFÉRÉ, and the Museum in Saintes, France has Laugee?s ENTERREMENT D?UNE JEUNE FILLE À ETRICOURT in its permanent collection.