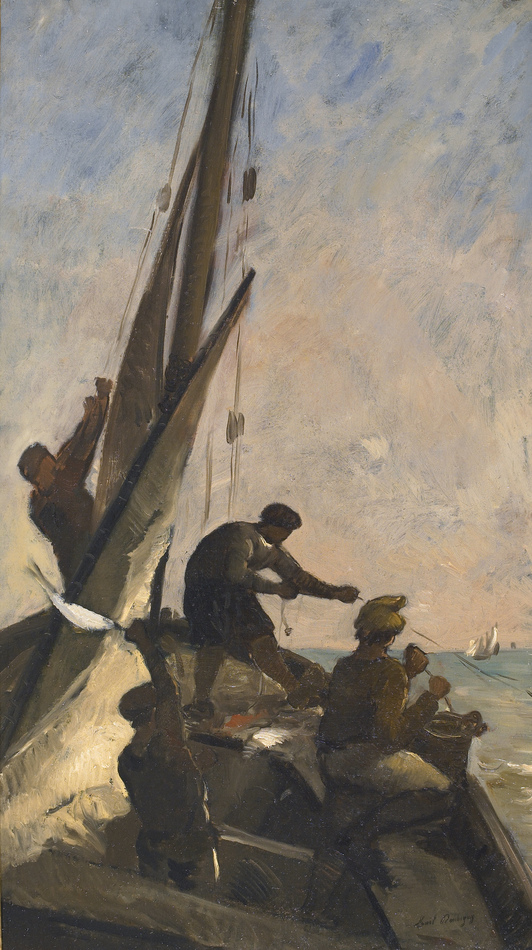 Karl Pierre Daubigny
French, 1846 - 1886
Pêcheurs à bord d'un bateau
Oil on canvas
39 1/2 x 23 3/8 inches (100.33 x 59.37 centimeters)
Framed: 49 x 31 1/2 inches (124.46 x 80.01 centimeters)
signed lower right: Karl Daubigny
SOLD
While Karl Daubigny is often associated with an aesthetic much like that of his father, the famous Charles François Daubigny, he also completed numerous seascapes and marines, painted in a broad, free, Impressionist manner. The influence of Impressionism is not surprising; the elder Daubigny was one of the greatest supporters of Monet and the Impressionists in the early years of the movement. In fact, Karl and his father made a painting trip with Monet to the canals of Zaandam during 1871 and 1872. Karl's approach at this time emulated the freedom, the imapastic surface and the palette of Monet's depictions of Zaandam. The current work is one such example. The power of the sailors in the process of raising the sails and drawing in the nets is matched by the vigor of Daubigny's brushwork.
Karl Pierre Daubigny (French, 1846 - 1886)
Born in Paris in 1846, Karl Pierre Daubigny was the son of, Charles Francois Daubigny, one of the original eight Barbizon painters and one of the leading landscapists of his time. Taught by his father and embracing a similar aesthetic, Karl Daubigny traveled the French countryside painting, working primarily in Auvers, Normandy and Fontainebleau. At the age of 17, Karl debuted at the Paris Salon with the painting Le Sentier et l?Ile de Vaux-sur-l?Oise. By the age of 22 he had already won several medals at the Salon.
Karl Daubigny died prematurely at the age of 40. His prolific contribution to the second generation of Barbizon painters is evident in his ability to convey, through his painting, his devotion to and love of nature.
Selected Museum Collections:
Musée d?Orsay, Paris; Musée des Beaux-Arts de Blois; Château-Musée, Dieppe; Musée de l?Ancien Evêché, Evreux; Musée de Grenoble; Musée des Beaux-Arts de Pau;
News on the artist
July 27, 2011 @ 2:40 PM UTC

Now in Glasgow:

#Millet #Barbizon

Pastel of "The Angelus" Allocated to Kelvingrove Art Gallery and Museum: http://t.co/soF2LMA via

@AddThis

August 1, 2011 @ 3:35 PM UTC

October 6, 2011 @ 3:00 PM UTC

October 20, 2011 @ 9:17 PM UTC

November 1, 2011 @ 3:38 PM UTC

November 3, 2011 @ 4:34 PM UTC

December 12, 2011 @ 10:53 PM UTC

When you visit the new 19th-century galleries

@ngadc

don't miss this

#Rousseau

http://t.co/Qgr6EWp5 and http://t.co/awPyBEDl

#Barbizon

January 30, 2012 @ 10:42 PM UTC

February 7, 2012 @ 10:14 PM UTC

March 16, 2012 @ 7:56 PM UTC

April 10, 2012 @ 2:50 PM UTC

April 10, 2012 @ 3:09 PM UTC

April 13, 2012 @ 9:22 PM UTC

April 13, 2012 @ 9:23 PM UTC

May 30, 2012 @ 7:40 PM UTC

July 2, 2012 @ 4:03 PM UTC

July 16, 2012 @ 8:01 PM UTC

August 29, 2012 @ 10:26 PM UTC

#Courbet

's Majestic Oak Painting Returns to Its Roots After Hometown Museum's $5-Million Purchase http://t.co/y2JTiZXo

#Barbizon #Realism

September 7, 2012 @ 3:07 PM UTC

November 19, 2012 @ 10:19 PM UTC

January 28, 2013 @ 11:44 PM UTC

February 14, 2013 @ 4:00 PM UTC

March 12, 2013 @ 3:27 PM UTC

March 21, 2013 @ 2:55 PM UTC

March 22, 2013 @ 9:14 PM UTC

Happy belated bday Theodore

#Rousseau

http://t.co/7UrhiBahm6 and Jules

#Dupre

http://t.co/ATFe97j3cs. Apr 15 -a great day for

#Barbizon

art

April 16, 2013 @ 4:05 PM UTC

June 10, 2013 @ 3:41 PM UTC

Now at Schiller & Bodo : MASTERWORKS OF THE BARBIZON SCHOOL, on view through November 27 http://t.co/pgDhaUAscc

#Barbizon #exhibitions

November 5, 2013 @ 4:10 PM UTC

April 15, 2014 @ 5:33 PM UTC

And Happy Birthday Jules

#Dupre

- April 15, 1811 - a great day for

#Barbizon

School painters! http://t.co/62PKvhJpN8

April 15, 2014 @ 7:03 PM UTC

May 1, 2014 @ 3:35 PM UTC

Here is our current

#exhibition

catalogue: A Romantic Vision, The

#Barbizon

School and its Contemporaries http://t.co/iemkJ4fmdG

May 5, 2015 @ 5:16 PM UTC

August 11, 2015 @ 2:52 PM UTC

March 10, 2016 @ 5:50 PM UTC

March 15, 2016 @ 3:01 PM UTC

April 15, 2016 @ 7:09 PM UTC

June 17, 2016 @ 8:23 PM UTC

July 15, 2016 @ 7:30 PM UTC

July 13, 2017 @ 9:49 PM UTC

October 4, 2018 @ 5:43 PM UTC