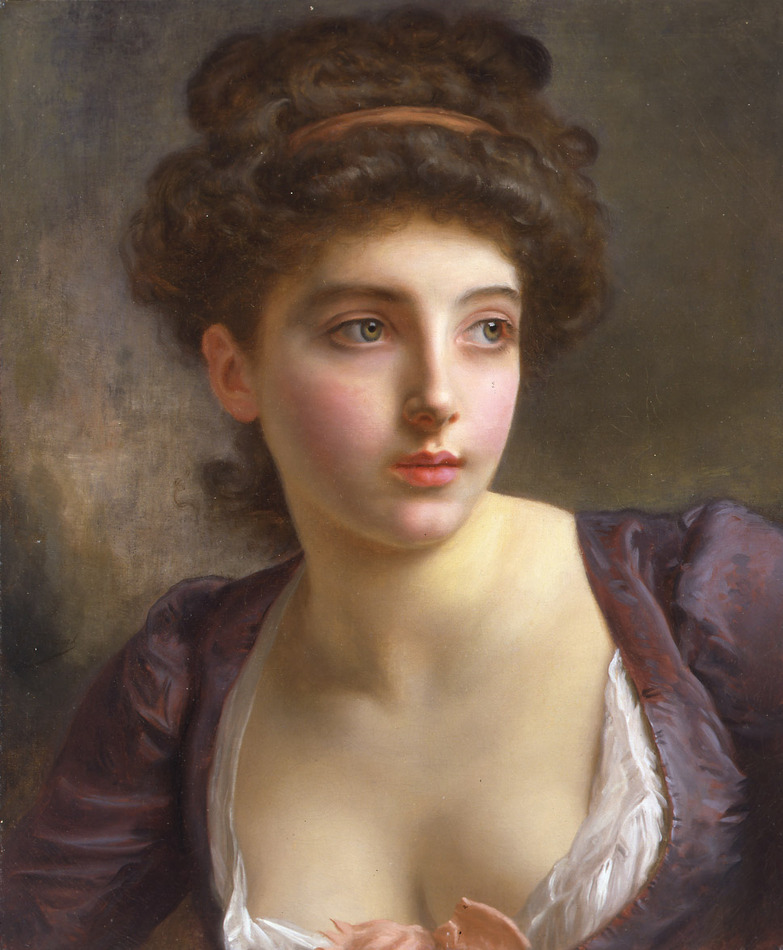 Gustave Jean Jacquet
French, 1846 - 1909
A Court Beauty
Oil on canvas
18 1/4 x 15 1/8 inches (46.36 x 38.42 centimeters)
Framed: 23 3/8 x 25 inches (59.37 x 63.5 centimeters)
Signed middle left: G. Jacquet
SOLD
Jacquet's mastery of a supremely delicate, yet highly finished style, as well as his blend of present and past eras are clearly evident in A Court Beauty. The work is a bust-length portrait of a young woman dressed in late 18th-century costume. With a serene expression, she glances away from the viewer. Her wavy hair is pulled back off of her face and shoulders, accentuating the soft lines and clean tones of her cheek and long neck. A violet silk dress with plunging bodice exposes her fleshy décolletage, further revealing the artist's ability at recreating the translucency of flesh and the soft texture of fabric. Despite her 18th-century dress, the expressiveness of the woman gives the painting a unique immediacy and presence. It is this ability to give freshness to such historical subjects that set Jacquet apart from other painters of his generation.
Gustave Jean Jacquet (French, 1846 - 1909)
Gustave Jacquet?s first and only official teacher was William Adolphe Bouguereau, whose influence was evident in Jacquet?s early work. The young artist debuted at the Salon of 1865 with an allegory, The Dream, a painting that one could easily mistake for a Bouguereau. In the following years he developed his own unique style of genre painting based on the technical mastery he had acquired from his teacher. The works were small and evoked in great detail the elegant life of the l6th, l7th and l8th centuries. In his review of the 1878 Exposition Universelle, Edward Strahan said of Jacquet ?s method:
His painting, as full of sweetness as of science, is mounted equally on two epochs. He prepares observations on present things and plunges them into the past?. He culls the good out of every age?. He steals from the Venetians the splendor of flesh and the beauty of tissues. He takes from the Spaniards the firmness of line and the warmth of their tone. He bears off from the gallant painters of the eighteenth century their melting shapes, their graceful light and flowery color. Every master can teach him something, down to Bouguereau, in whose atelier he received his education?.
In 1868 Jacquet was awarded a 3rd class medal for his Departure of the Army in the 16th Century. Around this same time he began doing fine portraits, sometimes dressing his sitters in costumes from earlier eras.

In 1875 Jacquet obtained a 1st class medal and, after positive reception at the 1878 Exposition Universelle, was decorated by the Legion of Honor in 1879, a clear indication of his success.
Jacquet?s career was consistent throughout his life. He was a tireless worker, producing many paintings, each one done with beautiful and caring detail. His nudes were particularly gracious and feminine and his portraits capture the character and elegance of his sitters. Although his paintings weren?t filled with drama, they always showed sensitivity to delicate taste and beauty.
Works by Jacquet are housed in many important public and private institutions throughout the world, including institutions in Blois, Chateau-Thierry, Rouen, Paris, and Sheffield (England), as well as important American museums: The Brooklyn Museum of Art, The Art Institute of Chicago, and The New York Metropolitan Museum of Art.