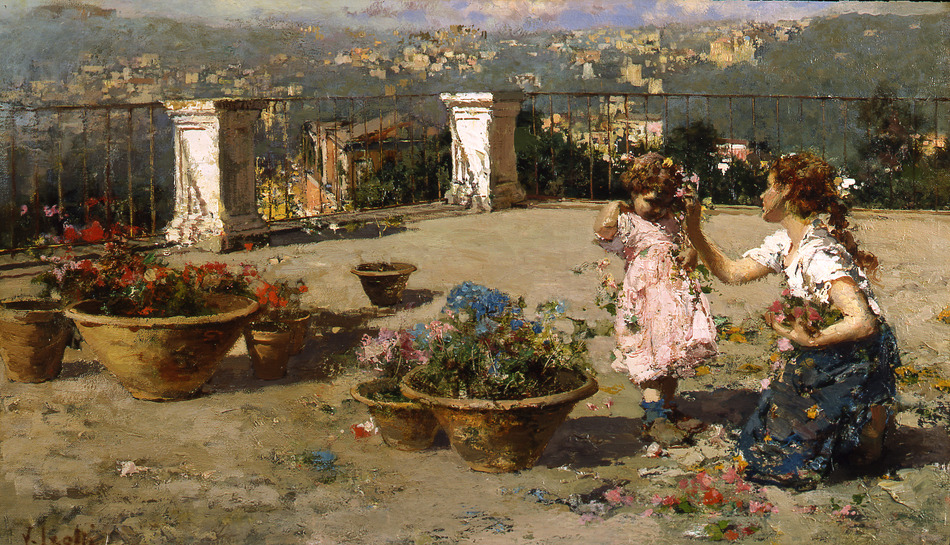 Vincenzo Irolli
Italian, 1860 - 1949
On the Terrace
Oil on canvas
20 1/2 x 34 1/4 inches (52.07 x 87 centimeters)
Framed: 30 x 44 inches (76.2 x 111.76 centimeters)
Signed lower left: V. Irolli
SOLD
Provenance:
Private collection, Marion, Ohio since the turn of the century
Thence by descent to private collection, Marysville, Ohio
A painter who successfully integrated traditional Italian domestic subjects with a modern approach to light, color, and paint application, Vincenzo Irolli created a unique and very personal style. The present work, an image of a sister and young child on a Neapolitan terrace, is a wonderful example both of Irolli's vibrant color and spontaneous brushwork, and of his tendency toward warm and lyrical genre subjects.
Vincenzo Irolli (Italian, 1860 - 1949)
Born in Naples the 30th of September 1880, Irolli studied at the Instituto di Belle Arti at Naples under the guidance of Gioacchino Toma and Federicco Maldarelli. Rather than relying solely on academic guidance, Irolli alternated his coursework with long trips to the countryside to paint. These trips reveal tendencies that persisted throughout Irolli?s career: his independent approach to his craft and the importance he placed on natural lighting effects. At the young age of nineteen, Irolli began his public career when a work entitled Happy Remembrance was accepted to the Esposizione della Promotrice ?Salvator Rosa? in Naples. This was the beginning of a long, international public career: Irolli exhibited in Rome (1883), Turin (1884), Venice (1887), Monaco (1890), Berlin (1892), London (1888-1904), Milan (1906-1910), Venice (1922), Angers, and Barcelona.
News on the artist
Happy birthday Vincenzo Irolli, b. 1860 http://t.co/3REbsp9g

#Irolli

September 30, 2011 @ 8:26 PM UTC