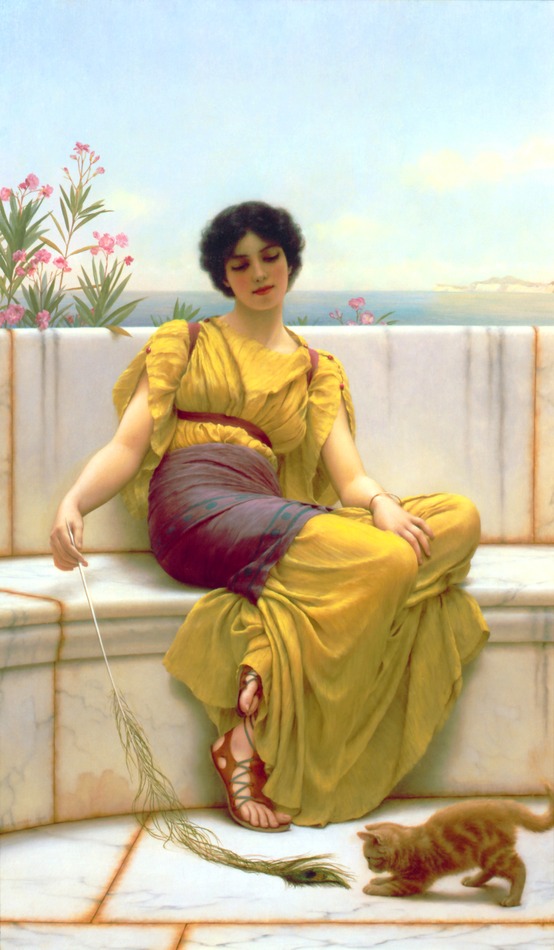 John William Godward
British, 1861 - 1922
Idleness (Girl with a Kitten)
1900
Oil on canvas
39 1/2 x 23 1/2 inches (100.33 x 59.69 centimeters)
Framed: 48 x 32 inches (121.92 x 81.28 centimeters)
Signed and dated lower left: J. W. Godward. 1900
SOLD
Provenance:
Messrs. Thomas Mclean, London, 12 Nov 1900, lot 67.
G. Beatson-Blair, London
Sold by the above, Christie's London, 13 Dec 1946
Rayner MacConnal Works of Art, London
Sotheby's London, 22 Nov 1988, lot 31.
Richard Green Fine Paintings, London
Sotheby's London, 5 Jun 1996
Christie's New York, 1 May 2000, lot 58
Private Collection, New York
Literature:
Vern G. Swanson, Classical Realism Journal (vol. 3, spring 1997): ill. p. 50.
Vern G. Swanson, John William Godward: The Eclipse of Classicism, Wappingers Falls, NY: Antique Collectors Club, 1997: no. 1900.7, p.202, ill. p. 66.
One of the foremost British painters of classical genre themes in the 19th century, John William Godward painted the current work, Idleness, at the height of his career. Returning to a theme that he had treated in his 1891 work entitled Playtime, that of a girl teasing a kitten with a peacock feather, Godward paints a work impressive in its smooth, cool finish and intimate in its effect. While the earlier painting was a multi-figure composition, set in lush gardens on a terrace, here Godward reduces the composition to a single young woman on a marble bench and her kitten. The girl, dressed in a fine yellow dress and violet sash, has a look of quiet contentment as she trails the end of a peacock feather across the ground, playing with a soft, striped kitten. Every detail and surface, from he thin folds of her dress, her wavy, black hair, the gold bracelet around her wrist to the colorful strands of the feather and silky coat of the kitten, are painted in meticulous detail with a clean finish that obscures all brushstroke or mark of the artist. The model for the work was one of Godward's primary Italian models, appearing in numerous paintings from the late 1890s and early 1900s. She leans back against the cool marble and gazes at the fluffy creature. Behind her stretches a pale blue stretch of Mediterranean, with an island obscured by white atmosphere in the distance. The peaceful, intimate tone of the work reflects the artist's renowned quiet, retiring personality, and Vern Swanson, expert on the painter, refers to it as "one of the most effective of his oils."
The work was painted in 1900 at a time when Godward was earning recognition as one of the most significant painters of classical genre subjects. A regular exhibitor at the Exhibitions of the Royal Academy and the Institute of Painters in Oil Color, as well as a participant at the Paris Salon of the previous year, Godward was secure enough in his position to gradually begin to withdraw from public exhibitions. The painter preferred to work with his long-standing London dealer, Messrs. Thomas M. McLean, sending works to him for exhibition, reproduction in engraving, and sale. The present work was sent to McLean in about November of 1900 and sold later the same month.