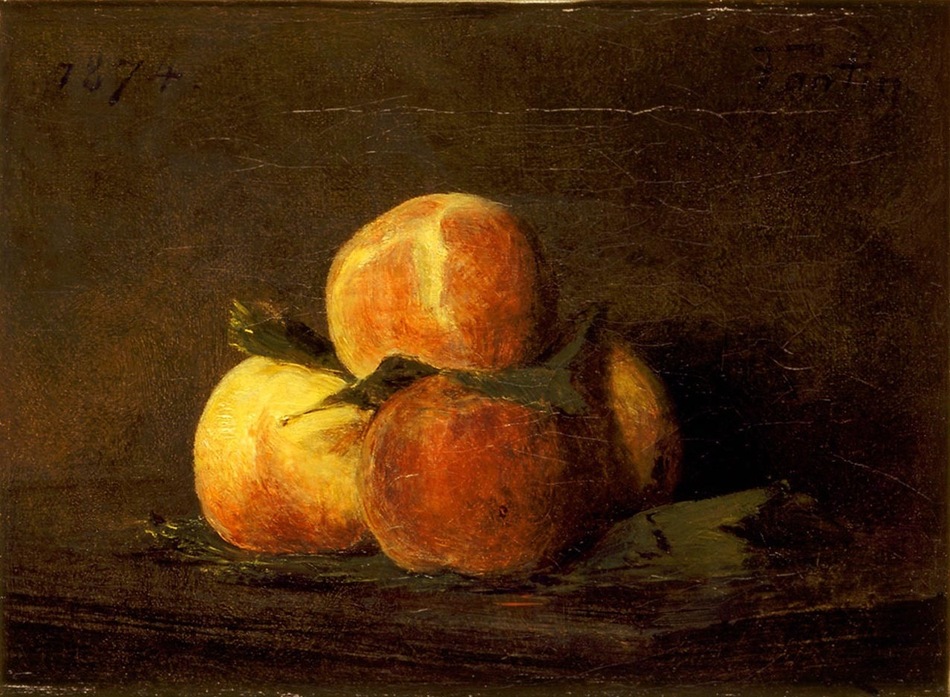 Henri Fantin-Latour
French, 1836 - 1904
Quatre Pêches sur une Table (Four Peaches on a Table)
1874
oil on canvas
8 x 11 inches (20.32 x 27.94 centimeters)
Framed: 15 1/4 x 18 1/4 inches (38.74 x 46.36 centimeters)
signed upper right: Fantin
dated upper left: 1874
SOLD
Provenance:
Edwin Edwards, London
Gustave Tempelaere, Paris
Louis Kerchner, Paris
Estate sale. Drouot, Paris, 13 Mar 1902, no. 14
Henri Duhem, Douai
Wildenstein, London
Private Collection, acquired from the above, July 1970
Private Collection, MN
Exhibited:
Art Museum of South Texas, Corpus Christi, Ideas for the Collector, Feb – Mar 1968
Literature:
Mme. Fantin-Latour, Catalogue de l'oeuvre complet de Fantin-Latour, Henri Floury Editeur, Paris, 1911, p. 80, no. 728.
Galerie Brame & Lorenceau will include this painting in their forthcoming Fantin-Latour catalogue raisonné of paintings and pastels.
Henri Fantin-Latour (French, 1836 - 1904)
Henri Fantin Latour is best known for his allegorical and still life subjects. Allegorical pieces gave the artist his most fruitful an outlet for his aesthetic concerns, and Still life subjects provided him with the broad appeal that allowed for a comfortable living. Fantin also created several important group portraits in a representational academic style. Works including A Studio at Batignoles (1870, Musée d?Orsay), which portrayed Claude Monet, Pierre-Auguste Renoir and others in Edouard Manet's studio, serve as historical documents today and demonstrate the group with which Fantin found the greatest artistic affinities. Fantin spent much of his later career exploring lithography, and used the medium to enjoy another art form. An enthusiast of music, he created highly imaginative prints illustrating the work of Richard Wagner and other Romantic composers.