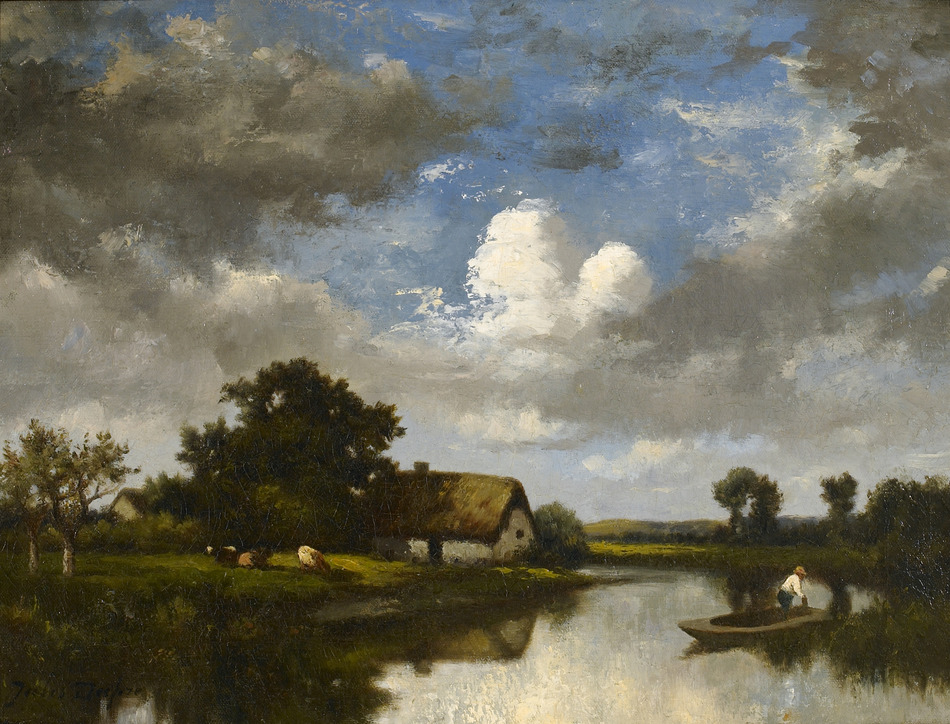 Jules Dupré
French, 1811 - 1869
Landscape with figure in a boat
Oil on canvas
16 1/2 x 22 1/2 inches (41.91 x 57.15 centimeters)
Framed: 25 x 30 inches (63.5 x 76.2 centimeters)
Signed lower left: Jules Dupré
SOLD
Provenance:
William Thompson Walters, Baltimore
Gift from the above to John H. Schaefer and J. William Schaefer
Flora Lambert, née Flora Sophia Schaefer
John Lambert
Thence by descent to private collection, USA
The current work once belonged to William Thompson Walters of Baltimore, MD, whose collection eventually established the Walters Art Museum. Walters began to collect art during the late 1850s, taking an interest in contemporary European painters. At the outbreak of the American Civil War in 1861, Walters took his family to Paris for the duration of the War. With George A. Lucas, a Baltimorean who four years earlier had moved to France, as their guide, William and Ellen Walters toured the major museums and visited artists' studios. Although his income was limited at the time, Walters patronized contemporary French artists much as he had in Baltimore and New York, commissioning works from Gérôme, Honoré Daumier, and Antoine-Louis Barye, among others. Upon his return home after the war he continued to expand his art collection, focusing on two fields, contemporary European painting and Asian art. Buying at auctions in New York, and relying on Lucas in Paris to transact purchases abroad, he specialized in French landscape and historical genre paintings.
It seems that Mr. Walter gave the current work, Landscape with figure in a boat to John H. Schaefer and J. William Schaefer in partial payment, along with a bronze by Barye, for photographic work. The father and son team were prominent portrait and landscape photographers in Baltimore in the late 19th century. They operated the Gallery of Artistic Photography in Baltimore, and the younger Schaeffer made something of a mark by making panoramic views of Baltimore, especially following the great Baltimore fire in the early 1900's.
Jules Dupré (French, 1811 - 1869)
Jules Dupré was born in Nantes on April 15, 1811. His father was an artist who decorated porcelain and held the position of director at several porcelain manufactories. In 1822, Dupré worked for his father as an apprentice porcelain decorator. His early training as an artist was in the industrial arts, as it was for many of his contemporaries. While working with his father, he also executed drawings and paintings from nature.
Dupré was influenced by his close association with DeMarne and Bertin and in 1829 he went to Paris where he further developed as an artist through his friendship with Cabat. Associations with the artists Decamps, Jeanron, and Huet were also formed at this time.
Traveling to Great Britain in 1831, Dupré made a study of the paintings by English landscape artists. He also sketched and returned to France with a portfolio of imagery. His travels did not stop there though and the French provinces also provided great inspiration for the young artist. Early success came when he began exhibiting in the 1830?s and especially in 1833 when four of his works were accepted into the Salon. Official recognition came in 1835 when he exhibited four landscapes at the Salon and received a third-class medal. He also included works in regional exhibitions, which were becoming increasingly important as they supported and promoted local painters and upcoming Parisian artists.
It was at this time that Dupré became a key figure in the Barbizon group. He developed close ties with other Barbizon painters and began to promote relations with independent art dealers. When Dupré showed seven paintings at the 1839 Salon, it was to be his last exhibition, until 1852, and a turning point in his career. This was due to the insensitivity of the jury and the lack of understanding of many of his colleagues. Together with Cabat, Huet, Isabey, Corot, and Rousseau, Dupré organized a petition to change the jury system.
After the 1848 Revolution Dupré became a member the commission created to reorganize the Salon. In 1849, he received the Legion d?honneur and continued to achieve financial success. At this time he reentered the Salon as an exhibitor. In 1867 he exhibited at the Exposition Centennale.
Jules Dupré had fully developed as an artist by the 1870?s and was considered one of the leading landscapists of his time. He continued to paint until his death in 1889.
Selected Museum Collections:
Baltimore, Walters Art Museum; Boston, Museum of Fine Arts, McMullen Museum of Art; Chicago, DePaul University Museum; Cincinnati, Art Museum; Cleveland, Museum of Art; London, National Gallery, Wallace Collection; Minneapolis, Institute of Art; New York, Frick Collection, Metropolitan Museum of Art; Paris, Louvre, Mobilier National, Musée d?Orsay; Pasadena, CA, Norton Simon Museum; Rennes, Musée des Beaux-Arts; Saint Petersburg, Hermitage; San Francisco, Fine Arts Museums; Toronto, Art Gallery of Ontario; Vic-sur-Seille, Musée Départemental Georges de la Tour; Washington D.C., National Gallery of Art; West Palm Beach, FL, Norton Museum of Art;
News on the artist
July 27, 2011 @ 2:40 PM UTC

Now in Glasgow:

#Millet #Barbizon

Pastel of "The Angelus" Allocated to Kelvingrove Art Gallery and Museum: http://t.co/soF2LMA via

@AddThis

August 1, 2011 @ 3:35 PM UTC

October 6, 2011 @ 3:00 PM UTC

October 20, 2011 @ 9:17 PM UTC

November 1, 2011 @ 3:38 PM UTC

November 3, 2011 @ 4:34 PM UTC

December 12, 2011 @ 10:53 PM UTC

When you visit the new 19th-century galleries

@ngadc

don't miss this

#Rousseau

http://t.co/Qgr6EWp5 and http://t.co/awPyBEDl

#Barbizon

January 30, 2012 @ 10:42 PM UTC

February 7, 2012 @ 10:14 PM UTC

March 16, 2012 @ 7:56 PM UTC

April 10, 2012 @ 2:50 PM UTC

April 10, 2012 @ 3:09 PM UTC

April 13, 2012 @ 9:22 PM UTC

April 13, 2012 @ 9:23 PM UTC

May 30, 2012 @ 7:40 PM UTC

July 2, 2012 @ 4:03 PM UTC

July 16, 2012 @ 8:01 PM UTC

August 29, 2012 @ 10:26 PM UTC

#Courbet

's Majestic Oak Painting Returns to Its Roots After Hometown Museum's $5-Million Purchase http://t.co/y2JTiZXo

#Barbizon #Realism

September 7, 2012 @ 3:07 PM UTC

November 19, 2012 @ 10:19 PM UTC

January 28, 2013 @ 11:44 PM UTC

February 14, 2013 @ 4:00 PM UTC

March 12, 2013 @ 3:27 PM UTC

March 21, 2013 @ 2:55 PM UTC

March 22, 2013 @ 9:14 PM UTC

Happy belated bday Theodore

#Rousseau

http://t.co/7UrhiBahm6 and Jules

#Dupre

http://t.co/ATFe97j3cs. Apr 15 -a great day for

#Barbizon

art

April 16, 2013 @ 4:05 PM UTC

Happy belated bday Theodore

#Rousseau

http://t.co/7UrhiBahm6 and Jules

#Dupre

http://t.co/ATFe97j3cs. Apr 15 -a great day for

#Barbizon

art

April 16, 2013 @ 4:05 PM UTC

June 10, 2013 @ 3:41 PM UTC

Now at Schiller & Bodo : MASTERWORKS OF THE BARBIZON SCHOOL, on view through November 27 http://t.co/pgDhaUAscc

#Barbizon #exhibitions

November 5, 2013 @ 4:10 PM UTC

April 15, 2014 @ 5:33 PM UTC

And Happy Birthday Jules

#Dupre

- April 15, 1811 - a great day for

#Barbizon

School painters! http://t.co/62PKvhJpN8

April 15, 2014 @ 7:03 PM UTC

And Happy Birthday Jules

#Dupre

- April 15, 1811 - a great day for

#Barbizon

School painters! http://t.co/62PKvhJpN8

April 15, 2014 @ 7:03 PM UTC

May 1, 2014 @ 3:35 PM UTC

Here is our current

#exhibition

catalogue: A Romantic Vision, The

#Barbizon

School and its Contemporaries http://t.co/iemkJ4fmdG

May 5, 2015 @ 5:16 PM UTC

August 11, 2015 @ 2:52 PM UTC

March 10, 2016 @ 5:50 PM UTC

March 15, 2016 @ 3:01 PM UTC

April 15, 2016 @ 7:09 PM UTC

June 17, 2016 @ 8:23 PM UTC

July 15, 2016 @ 7:30 PM UTC

July 13, 2017 @ 9:49 PM UTC

October 4, 2018 @ 5:43 PM UTC