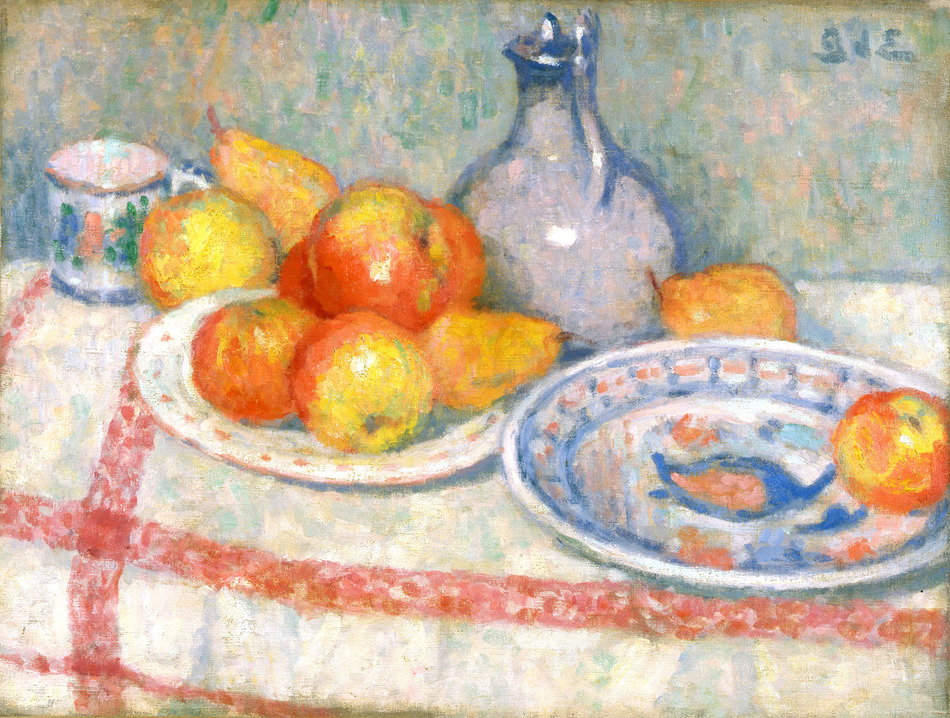 Georges d?Espagnat
French, 1870 - 1950
Still Life, Apples and Pears (Nature Morte, Pommes et Poires)
1899
Oil on canvas
14 3/8 x 24 inches (36.51 x 60.96 centimeters)
Framed: 22 1/2 x 32 inches (57.15 x 81.28 centimeters)
Monogrammed upper right: G d E
SOLD
Provenance:
Galerie Durand-Ruel, Paris (acquired from the artist, 4 Jul 1899);
Durand-Ruel Galleries, NY;
Acquired from the above by the previous owner, 1950s;
This painting is accompanied by a certificate of authenticity from M. Jean Dominique Jacquemond.
Georges d?Espagnat (French, 1870 - 1950)
An artist who created a diverse oeuvre, Georges d?Espagnat constantly strove for originality and independence, marking a place for himself among the modern masters. While he was associated with Renoir, the Fauvists and the Nabis, d?Espagnat remained on the outside of these movements, creating a body of work that was uniquely personal.
Born in Melun in 1870, Georges d?Espagnat?s family moved to Paris when he was a young man. A strongly independent student, he rejected the traditional places of artistic education available in the capital, claiming to have spent only four hours at the Ecole des Beaux-Arts. Instead he attended classes at the free academy and drew at the Louvre. D?Espagnat began his public career at the Salon des Refusées in 1891, and later exhibited at the Salon of the Société Nationale and the Salon des Independents, both venues known for their openness to modern trends. In 1903 d?Espagnat, along with the architect Frantz Jourdain and critic Ivanhoe Rambosson, founded the Salon d?Automne with the purpose of creating an alternative exhibition venue for young artists and for retrospectives of the modern artists who had been rejected at the end of the earlier century.
D'Espagnat became closely acquainted with many of the Impressionists and Post-Impressionists including Renoir, Vuillard, Andre, Bonnard and Denis. Between 1905-10, he stayed with Renoir on several occasions accompanied by Valtat, and visited Italy, Spain, Portugal London, Dresden, Munich and Antwerp.
Selected Museum Collections:
Musée d?Orsay, Musée Eugène Delacroix, Bibliotheque Nationale and Palais de l?Institut, Paris; Metropolitan Museum of Art, New York; Musée des Beaux-Arts de Angers; Musée d?Art Moderne, Céret; Musée de la Chartreuse, Douai; Musée de Grenoble; Indianapolis Museum of Art; Spencer Museum of Art, Lawrence, KS; Mueso Thyssen-Bornemisza, Madrid; Musée des Beaux-Arts, Rouen; Musée de l?Annonciade, Saint-Tropez; Musée d?Art Moderne et Contemporain, Strasbourg; Musée Lambinet, Versailles;