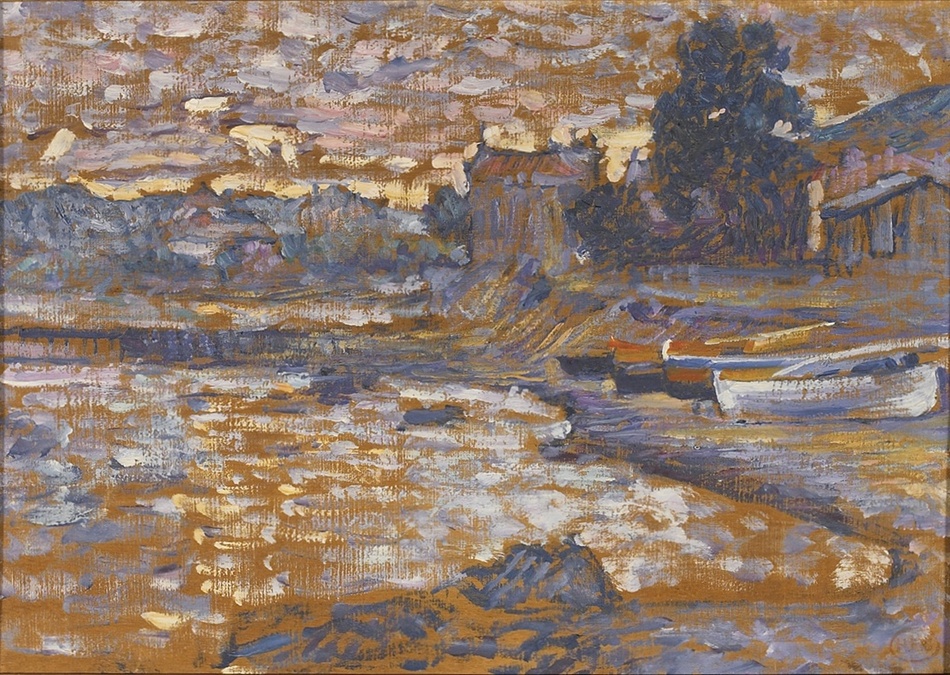 Henri Edmond Cross
French, 1856 - 1910
Paysage
c. 1908-09
Oil on panel
7 5/8 x 10 5/8 inches (19.37 x 26.99 centimeters)
Framed: 13 1/8 x 16 1/8 inches (33.34 x 40.96 centimeters)
SOLD
Provenance:
Bernheim Jeune & Cie, Paris
Sale: Galerie Charpentier, Paris, 10 Dec 1959, lot 34
Private Collection, NY
Wildenstein & Co, NY
Mrs. Edward G. Robinson
Christie's NY, 17 May 1983, lot 33 (sold by the above)
Exhibited:
Galerie Bernheim Jeune, Exposition retrospective Henri Edmond Cross, 1937, no. 51.
Literature:
Isabelle Compin, H. E. Cross, 1964, no. 227E, catalogued p. 335.
Henri Edmond Cross (French, 1856 - 1910)
Henri Edmond Cross was among the leading Neo-Impressionist artists and held immense influence over Matisse and the early Fauvist painters. He was originally destined for a career in law rather than art. In 1876 he began studying law in Lille, but simultaneously attended courses at the local art academy. By 1878 he devoted himself solely to an artistic career and moved to Paris, where he entered the studio of Francis Bonvin.
Cross befriended the Neo-Impressionist painters Georges Seurat and Paul Signac in the 1880s, but did not adopt their Divisionist style until 1891. He spent the winters of 1883 through 1891 in the south of France, settling there permanently in 1891. Enchanted by the area, he described his response in a letter to Signac: ?Hills with pines and cork-oaks melt slowly into the sea?. Charming and intimate nooks swarm next to magical and picturesque views. Yes, these two terms are the most accurate to describe the sensations I have experienced here until now.? (1)
Françoise Baligand et al, Henri-Edmond Cross (1856-1910) (Paris, 1998): 30, note 9.
Selected Museum Collections:
Musée d?Orsay, Paris; MoMA and Metropolitan Museum of Art, NY; Kunstmuseum Basel; Brooklyn Museum; Harvard University Art Museum, Cambridge, MA; Art Institute of Chicago; Cleveland Museum of Art; Wallraf-Richartz Museum, Cologne; Statens Museum for Kunst, Copenhagen; Musée de Grenoble; Finnish National Gallery, Helsinki; Honolulu Academy of Arts; Indianapolis Museum of Art; Musée Malraux, Le Havre; Los Angeles County Museum of Art; Thyssen-Bornemisza Museum, Madrid; Allen Memorial Art Museum, Oberlin College, OH; Kröller-Müller Museum, Otterlo; Hermitage Museum, Saint Petersburg; Musée de l?Annonciade, Saint-Tropez; Fine Arts Museums of San Francisco; Tel Aviv Museum of Art; National Gallery of Art, Washington DC;