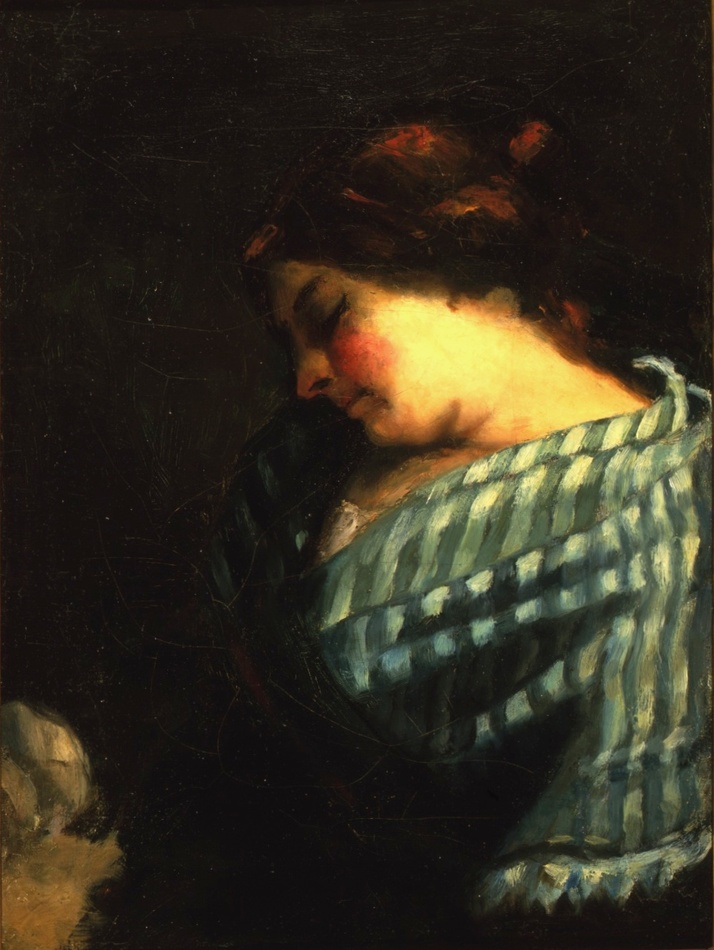 Gustave Courbet
French, 1819 - 1877
Study for "La fileuse endormie"
c. 1853
Oil on canvas
13 x 9 1/2 inches (33.02 x 24.13 centimeters)
SOLD
Provenance:
Hotel Drouot, Paris, 27 October 1999, no. 14, ill.
Pierre Jouffroy Collection, Monbeliard
Private Collection, France
Exhibited:
Paris, Galerie Daber, La joie de peindre, 1974, No. 12, Fig. 4. illus.
Paris, Galerie Daber, Courbet, October 15-November 15, 1975, No. 3, illus.
Hamburger Kunstallee, Courbet und Deutschland, October 19-December 17, 1978
Frankfurt am Main, Stadische Galerie im Stadelschen Kunstinstitut, January 17-March 18, 1979, No. 236, illus.
Literature:
Pierre Courthion, L'opera completa di Courbet, Milan, 1985, no.127
_______________, Tout l'ouevre peint de Courbet, Paris 1987, no. 127 (1.)
The present work is a preparatory study for Courbet's painting, La fileuse endormie, dated 1853, now in the collection of the Musée Fabre, Montpellier. Another study, similar to the present work, is in the Musée National de Château de Compiègne.
The present painting was first published in the catalogue of the exhibition titled "La Joie de Piendre, de Corot a Vuillard," held at Galerie Daber in Paris in 1974. The following year Daber showed it again in an exhibition devoted exclusively to the work of Courbet. In each exhibition catalogue, Daber refers to this study in the context of another which portrays the same subject -- the top half of the shawled figure in Courbet's well-known painting, La Fileuse endormie, a major work that had been bought out of the Salon of 1853 by Alfred Bruyas of Montpellier and bequeathed by him to the Museé Fabre in Montpellier. The related image, also referred to as an etude, was, at 50 x 60 centimeters, considerably larger than the present picture. It had been in the Polignac collection in Paris in 1949 when Daber included it in the exhibition, "Courbet", that year and reproduced it in the catalogue.
The present painting appears to have the characteristic feel of a study from the model, with the artist more interested in the set of the head and the hair than in the specific features. He appears particularly interested in the visual challenge of the patterns created by the boldly striped shawl, which is folded several times and which therefore reflects light in different ways. The attack of the brush is strong and the flesh is solid. Although small studies for large paintings are not common in Courbet's oeuvre, the present composition is a convincing example.
We would like to thank Sarah Faunce for her assistance in cataloguing this picture.
Gustave Courbet (French, 1819 - 1877)
Courbet, a farmer's son, was born June 10, 1819, in Ornans. He went to Paris about 1840, ostensibly to study law; instead, he taught himself to paint by copying masterpieces in the Louvre, Paris. In 1850 he exhibited The Stone Breakers (1849, formerly Gemäldegalerie, Dresden, destroyed 1945), a blunt, forthright depiction of laborers repairing a road. In it, Courbet deliberately flouted the precepts of the romantics?champions of emotionally charged exoticism?and of the powerful academics?guardians of the moralizing Beaux-Arts traditions. He further outraged them with his enormous Burial at Ornans (1850, Musée d'Orsay, Paris), in which a frieze of poorly clad peasants surrounds a yawning grave. Courbet compounded his defiance of convention in another huge painting, The Artist's Studio (1855, Musée d'Orsay), which he subtitled A True Allegory Concerning Seven Years of My Artistic Life. In it, Courbet sits painting a landscape center stage, attended by a small boy, a dog, and a voluptuous female nude; at left a group of figures, potentially subjects for his paintings; at right a lively, spirited crowd of his friends admires his work. At the same time he issued a provocative manifesto detailing his social realist credo of art and life. By this time he enjoyed widespread popularity.
By then Courbet's distinctive painting style was fully developed, marked by technical mastery, a bold and limited palette, compositional simplicity, strongly modeled figures, and heavy impasto?thick layers of paint?often applied with a palette knife.
As radical in politics as he was in painting, Courbet was placed in charge of all art museums under the revolutionary 1871 Commune of Paris and saved the city's collections from looting mobs. Following the fall of the Commune, however, Courbet was accused of allowing the destruction of Napoleon's triumphal column in the Place Vendôme; he was imprisoned and condemned to pay for its reconstruction. He fled to Vevey, Switzerland, in 1873, where he continued to paint until his death on December 31, 1877.
Selected Museum Collections:
Musée du Louvre, Paris; Musée d?Orsay, Paris; National Gallery, London; National Gallery of Art, Washington, DC; Rijksmuseum, Amsterdam; Van Gogh Museum, Amsterdam; Walters Art Museum, Baltimore, MD; Kunstmuseum, Basel; Musée des Beaux-Arts et d?Archéologie, Besançon; Museum of Fine Arts, Boston, MA; Chateau Musée, Boulogne-sur-mer; Brooklyn Museum, Brooklyn, NY; Musées royaux des Beaux-Arts de Belgique, Brussels; National Museum of Art of Romania, Bucharest; Museo Nacional de Bellas Artes, Buenos Aires; Albright-Knox Art Museum, Buffalo, NY; Musée des Beaux-Arts, Caen; Fitzwilliam Museum, University of Cambridge; Harvard University Art Museums, Cambridge, MA; National Gallery of Australia, Canberra; Ackland Art Museum, University of North Carolina, Chapel Hill; Art Institute of Chicago, Chicago; Cincinnati Art Museum, Cincinnati, OH; Cleveland Museum of Art, Cleveland, OH; Wallraf-Richartz Museum, Cologne; New Carlsberg Glyptotek, Copenhagen; Dallas Museum of Art, Dallas, TX; Detroit Institute of Arts, Detroit; Musée national Magnin, Dijon; Musée de la Chartreuse, Douai; The Bowes Museum, County Durham, UK; National Gallery of Scotland, Edinburgh; Kimbell Art Museum, Fort Worth, TX; Städel Museum, Frankfurt; Musée de Grenoble, Grenoble; Museum of Fine Arts, Houston, TX; Fondation de l?Hermitage, Lausanne; Palais des Beaux-Arts, Lille; Victoria and Albert Museum, London; J. Paul Getty Museum, Los Angeles; Musée des Beaux-Arts, Lyon; Thyssen-Bornemisza Museum, Madrid; Musée des Beaux-Arts, Marseilles; Musée Cantini, Marseilles; National Gallery of Victoria, Melbourne; Milwaukee Art Museum, Milkwaukee, WI; Minneapolis; Institute of Art, Minneapolis, MN; Musée Fabre, Montpellier; Neue Pinakothek, Munich; Musée des Beaux-Arts, Nantes; Yale University Art Gallery, New Haven, CT; Metropolitan Museum of Art, New York; National Gallery of Canada, Ottawa; Ashmolean Museum, University of Oxford; Musée Carnavalet, Paris; Musée National Picasso, Paris; Norton Simon Museum, Pasadena, CA; Philadelphia Museum of Art, Philadelphia, PA; Carnegie Museum of Art, Pittsburgh, PA; Hermitage Museum, Saint Petersburg; Fine Arts Museums of San Francisco; Art Gallery of New South Wales, Sydney; National Museum of Western Art, Tokyo; Art Gallery of Ontario, Toronto; Musée des Augustins, Toulouse; Centraal Museum, Utrecht; Osterreichische Galerie Belvedere, Vienna; Clark Art Institute, Williamstown, MA; National Gallery of Armenia, Yerevan, Armenia; E. G. Bührle Collection, Zurich
News on the artist
Musee de Colombes acquires painting by Theodule Ribot: http://t.co/vSa6waJ

#Realism

September 9, 2011 @ 4:25 PM UTC

September 22, 2011 @ 3:34 PM UTC

September 22, 2011 @ 4:21 PM UTC

Jules Breton's autobiography "The Life of an Artist" is available on GoogleBooks: http://t.co/bwugE8rZ

#Breton #Academic #Realism

September 30, 2011 @ 3:11 PM UTC

Birmingham Museum of Art presents the witty and incisive editorial cartoons of Jean-Honore

#Daumier

: http://t.co/irTgMNMY

#Realism

October 10, 2011 @ 5:09 PM UTC

November 1, 2011 @ 3:38 PM UTC

November 22, 2011 @ 10:17 PM UTC

February 10, 2012 @ 9:19 PM UTC

March 6, 2012 @ 7:31 PM UTC

June 11, 2012 @ 8:45 PM UTC

#Courbet

's Majestic Oak Painting Returns to Its Roots After Hometown Museum's $5-Million Purchase http://t.co/y2JTiZXo

#Barbizon #Realism

September 7, 2012 @ 3:07 PM UTC

November 19, 2012 @ 10:19 PM UTC

March 12, 2013 @ 3:27 PM UTC

March 12, 2013 @ 3:27 PM UTC

April 16, 2013 @ 4:36 PM UTC

Imaging and Imagining the French Peasant: Gustave

#Courbet

and Rural Physiologies -19th-century Art Worldwide Article http://t.co/enjtULvEE9

May 21, 2013 @ 9:56 PM UTC

June 10, 2013 @ 3:41 PM UTC

June 10, 2014 @ 8:31 PM UTC

June 10, 2014 @ 8:31 PM UTC

#Courbet

The Swiss Years now on view at the Musée Rath, Geneva until Jan. 5, 2014. http://t.co/24sJ3jKetV

September 24, 2014 @ 8:32 PM UTC

August 11, 2015 @ 2:52 PM UTC

January 14, 2016 @ 5:45 PM UTC

June 10, 2016 @ 9:39 PM UTC

March 21, 2017 @ 8:36 PM UTC