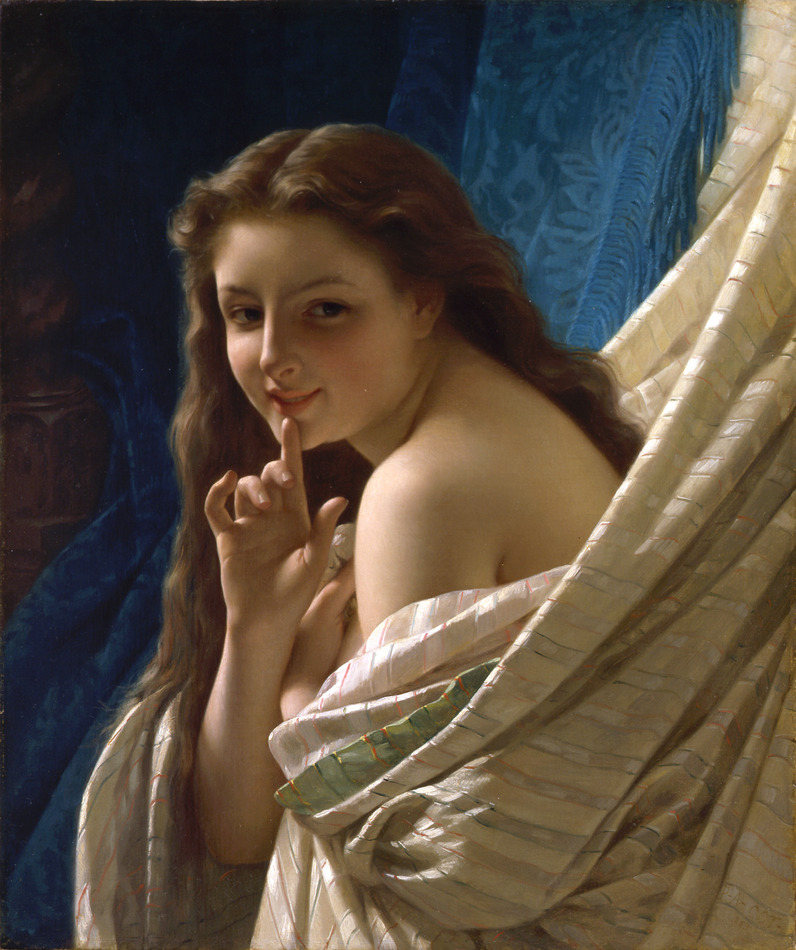 Pierre-Auguste Cot
French, 1837 - 1883
Portrait of a Young Woman
1869
Oil on canvas
25 3/4 x 21 5/8 inches (65.41 x 54.93 centimeters)
Signed and dated lower right: P. A. Cot 1869
SOLD
Provenance:
Estate of Josephine W. Hall, PA
Pierre-Auguste Cot (French, 1837 - 1883)
?Pierre-Auguste Cot received his early artistic training in the Ecole des Beaux-Arts of Toulouse before settling in Paris in the 1850s. In Paris, Cot studied under Alexander Cabanel (1823-1899), Léon Cogniet (1794-1880), and William Bouguereau. Throughout the 1860s and 1870s, Cot established himself through his participation in the annual Salon, eventually winnin several medals for his mythological, historical, and allegorical paintings, as well as his portraits. Toward the end of his career, he was awarded the Chevalier of the Legion of Honor (1874) and was elected to the juries of the Salon (1881) and the Prix de Rome (1883).
Although he was influenced by multiple academic sources, Cot based much of his artistic output on the subjects and style of his hugely successful teacher Bouguereau. Cot, along with a handful of French students as well as the American Elizabeth Gardiner, was part of a small, informal group of Bouguereau pupils who closely modeled their art on the master?s. A few, such as Emile Munier (1810-1895), even helped complete reductions of Bouguereau?s works. Cot maintained a close, almost familial relationship with Bouguereau. Years after Cot?s death, Bouguereau painted a portrait of Cot?s daughter, Gabrielle (private collection), the only known uncommissioned portrait by Bouguereau that is not of his own family. 1?
1 Damien Bartoli, Nineteenth-Century European Art (New York: Sotheby?s, October 26, 2004), lot no. 71, pp. 112-13.
The above essay is reproduced from James F. Peck, et. al., *In the Studios of Paris: William Bouguereau and his American Students, (Yale University Press, New Haven and London, 2006): p. 124.
Selected Museum Collections:
Metropolitan Museum of Art, NY; Musée des Beaux-Arts, Chambery;