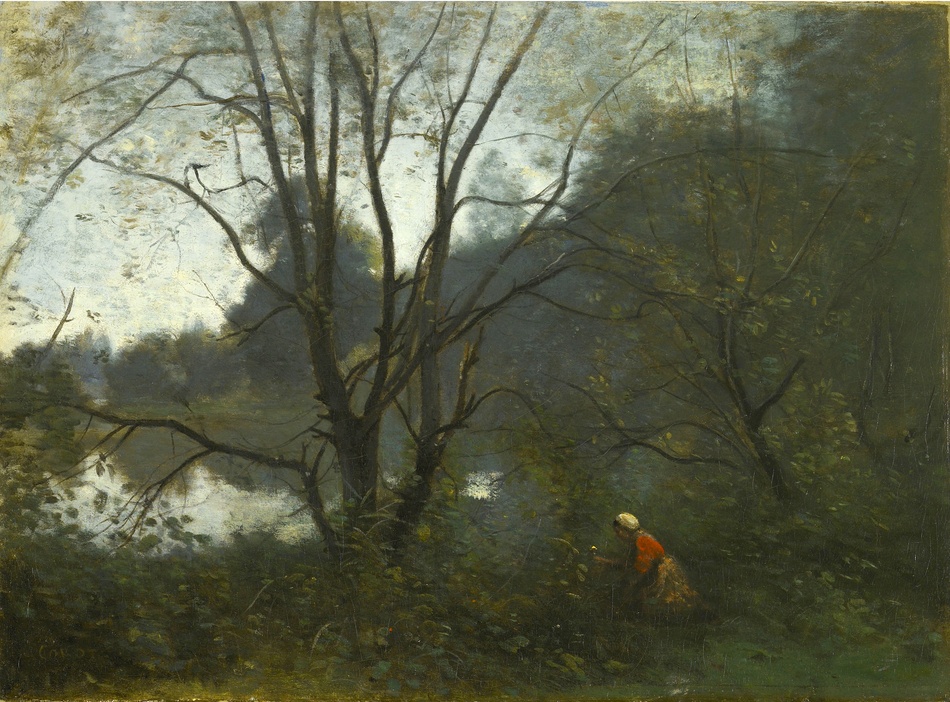 Jean-Baptiste-Camille Corot
French, 1796 - 1875
Ville d'Avray, Fourré au bord de l'étang avec une Paysanne a genoux (Ville d'Avray, Thicket at the edge of a pond with a kneeling peasant)
c. 1855-60
Oil on canvas
16 3/4 x 22 1/2 inches (42.55 x 57.15 centimeters)
Framed: 27 x 31 inches (68.58 x 78.74 centimeters)
SOLD
Provenance:
RKO Theater, 1958 (per Knoedler Gallery, NY, label no. 56582)
Freeman Collection, Rhode Island
Literature:
Alfred Robaut, L'Oeuvre de Corot, Catalogue Raisonné et illustré, Paris, 1965, vol II, pp. 292-293, no. 939, illustrated.
This painting is accompanied by a letter confirming authenticity from Martin Dieterle.
In 1817 Corot's parents purchased a house in Ville d'Avray; the region would provide subjects for many of Corot's most recognizable landscape paintings. He painted at Ville d'Avray as early as 1825, before his first trip to Italy, and he returned to depictions of its bucolic landscape after his return to France in 1828. Painted at the height of Corot's career, the current painting portrays a peasant woman gathering wildflowers from the edge of a pond. The twisting branches of a tree behind her form a strong silhouette against the silvery pond and misty atmosphere, creating a strong perspective into the distant landscape. Corot's entry to the 1870, which represented another treatment of this same subject, belonged to the well-known collector Catharine Lorillard Wolfe and is now housed in the Metropolitan Museum of Art.
Jean-Baptiste-Camille Corot (French, 1796 - 1875)
Jean Baptiste Camille Corot was born in Paris on July 16, 1796. His first teacher was Achille Etna Michallon, a landscapist who studied in Rome. The time Corot spent with Michallon was brief, as Michallon died later that same year. His influence, however, was immense, for it was he who had suggested to Corot that he carefully study out-of doors. Corot afterwards studied with Jean Victor Bertin, who had also been Michallon?s teacher. In 1817, Corot?s father bought a country home in Ville d?Avray, and the countryside became a tremendous source of inspiration for the young artist. With the financial support of his family, Corot traveled to Italy in 1825; his simple, direct interpretations of what he saw caused a stir among his colleagues. Corot left Rome in 1826 and traveled throughout much of Italy, returning to France in 1828. It was then that Corot began to establish his pattern of spending the warm months painting out of doors, and the winter in his studio, preparing his large canvases for the official Salon where he exhibited regularly beginning in 1831. Corot returned to Italy in 1834, and, in 1835, passed his first warm season in Fontainebleau. Official recognition soon followed, and the French government purchased Little Shepherd from him in 1840. After one more trip to Italy in 1843, Corot spent most of his time in France painting the landscape of his native country, especially at the family property at Ville d?Avray. By the late 1840s, Corot knew Rousseau, Millet, Troyon, Diaz and Dupré, and met them often at Fontainebleau. His freshly painted canvases done in plein-air attracted a wide circle of painters, and it can be said that Corot became the father of landscape painting in France.
Selected Museum Collections:
Musée du Louvre and Musée d?Orsay, Paris; Metropolitan Museum of Art and Frick Collection, New York; National Gallery, London; National Gallery of Art, Washington DC; Rijksmuseum, Amsterdam; Hermitage Museum, St. Petersburg; Museum of Fine Arts, Boston; Fitzwilliam Museum, Cambridge; National Gallery of Australia, Canberra; Art Institute of Chicago; New Carlsberg Glyptotek, Copenhagen; Dallas Museum of Art; Detroit Institute of Arts; National Gallery of Scotland, Edinburgh; Los Angeles County Museum of Art; Courtauld Institute of Art, the British Museum, and The Wallace Collection, London; Thyssen-Bornemisza Museum, Madrid; Musée des Beaux-Arts, Marseilles; Pushkin Museum of Fine Arts, Moscow; Neue Pinakothek, Munich; Chrysler Museum, Norfolk, VA; Philadelphia Museum of Art; Fine Arts Museums of San Francisco; Chi-Mei Museum, Taiwan; National Museum of Western Art, Tokyo; Musée des Augustins, Toulouse; Österreichische Galerie Belvedere, Vienna
News on the artist
July 27, 2011 @ 2:40 PM UTC

Now in Glasgow:

#Millet #Barbizon

Pastel of "The Angelus" Allocated to Kelvingrove Art Gallery and Museum: http://t.co/soF2LMA via

@AddThis

August 1, 2011 @ 3:35 PM UTC

October 6, 2011 @ 3:00 PM UTC

October 20, 2011 @ 9:17 PM UTC

November 1, 2011 @ 3:38 PM UTC

November 3, 2011 @ 4:34 PM UTC

December 12, 2011 @ 10:53 PM UTC

When you visit the new 19th-century galleries

@ngadc

don't miss this

#Rousseau

http://t.co/Qgr6EWp5 and http://t.co/awPyBEDl

#Barbizon

January 30, 2012 @ 10:42 PM UTC

February 7, 2012 @ 10:14 PM UTC

February 28, 2012 @ 9:04 PM UTC

March 16, 2012 @ 7:56 PM UTC

April 10, 2012 @ 2:50 PM UTC

April 10, 2012 @ 3:09 PM UTC

April 13, 2012 @ 9:22 PM UTC

April 13, 2012 @ 9:23 PM UTC

May 30, 2012 @ 7:40 PM UTC

July 2, 2012 @ 4:03 PM UTC

July 16, 2012 @ 8:01 PM UTC

August 29, 2012 @ 10:26 PM UTC

#Courbet

's Majestic Oak Painting Returns to Its Roots After Hometown Museum's $5-Million Purchase http://t.co/y2JTiZXo

#Barbizon #Realism

September 7, 2012 @ 3:07 PM UTC

November 19, 2012 @ 10:19 PM UTC

January 28, 2013 @ 11:44 PM UTC

February 14, 2013 @ 4:00 PM UTC

March 12, 2013 @ 3:27 PM UTC

March 21, 2013 @ 2:55 PM UTC

March 21, 2013 @ 10:04 PM UTC

March 22, 2013 @ 9:14 PM UTC

Happy belated bday Theodore

#Rousseau

http://t.co/7UrhiBahm6 and Jules

#Dupre

http://t.co/ATFe97j3cs. Apr 15 -a great day for

#Barbizon

art

April 16, 2013 @ 4:05 PM UTC

June 10, 2013 @ 3:41 PM UTC

Now at Schiller & Bodo : MASTERWORKS OF THE BARBIZON SCHOOL, on view through November 27 http://t.co/pgDhaUAscc

#Barbizon #exhibitions

November 5, 2013 @ 4:10 PM UTC

April 15, 2014 @ 5:33 PM UTC

And Happy Birthday Jules

#Dupre

- April 15, 1811 - a great day for

#Barbizon

School painters! http://t.co/62PKvhJpN8

April 15, 2014 @ 7:03 PM UTC

May 1, 2014 @ 3:35 PM UTC

Here is our current

#exhibition

catalogue: A Romantic Vision, The

#Barbizon

School and its Contemporaries http://t.co/iemkJ4fmdG

May 5, 2015 @ 5:16 PM UTC

August 11, 2015 @ 2:52 PM UTC

January 14, 2016 @ 5:45 PM UTC

March 10, 2016 @ 5:50 PM UTC

March 15, 2016 @ 3:01 PM UTC

April 15, 2016 @ 7:09 PM UTC

June 17, 2016 @ 8:23 PM UTC

July 15, 2016 @ 7:30 PM UTC

October 14, 2016 @ 8:39 PM UTC

July 13, 2017 @ 9:49 PM UTC

Happy Birthday Jean Baptiste Camille

#Corot

born July 16, 1796. Your landscapes and figure paintings continue to move and inspire us.

July 16, 2018 @ 4:11 PM UTC

October 4, 2018 @ 5:43 PM UTC