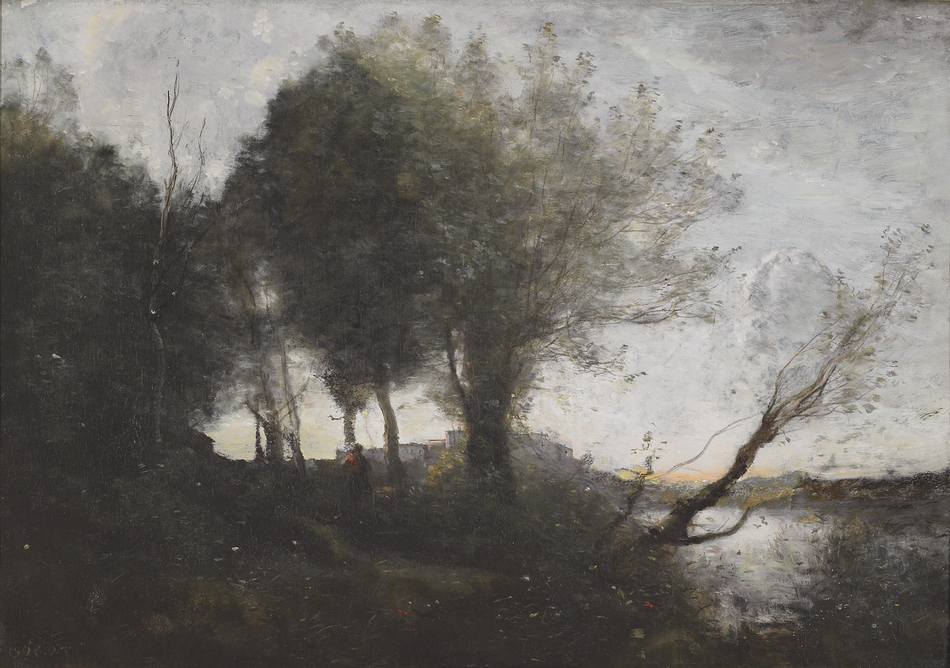 Jean-Baptiste-Camille Corot
French, 1796 - 1875
Souvenir des Bords du Lac de Garde
c. 1865-1872
Oil on cradled panel
17 x 24 inches (43.18 x 60.96 centimeters)
Framed: 26 x 33 inches (66.04 x 83.82 centimeters)
SOLD
Provenance:
Boussod et Valadon, Paris, 1880, no. 30386
Ernest Dreux, Paris, 1881
Vente Dreux, Paris, 5 Dec 1911, no. 4
Boussod et Valadon, E. Le Roy, Knoedler, Paris, 1911
Elbert H. Gary
Estate Sale of the above, American Art Association, NY, April 20, 1928, lot 23.
Emil Winter
Estate Sale of the above, Sotheby Parke Bernet, NY, 15 Jan 1942, no. 216
Hannah D. Rabinowitz, New York
Sale: Sotheby Parke Bernet, NY, 12 Nov 1970, no. 2
Sale: Sotheby Parke Bernet, NY, October 17, 1973, lot 44
Private Collection, U. S. (Acquired at the above sale)
Schiller & Bodo European Paintings, NY
Private Collection, New Jersey
Exhibited:
Philadelphia Museum of Art, Corot, 1946, no. 77, illus. in catalogue.
Museo di Riva del Garda, Italy, Corot e Canella: La nostalgia del lago, July – October 2008, no. 5 (illus. in catalogue)
Literature:
Marina Botteri Ottaviani, Giorgio Marini and Fernando Mazzocca Corot e Canella: La nostalgia del lago. (Riva del Garda, Italy, Museo Riva del Garda, 2008): no. 5, pp. 46-47.
Alfred Robaut, L'Oeuvre de Corot, Catalogue Raisonne et illustre, 1905, vol. III, No. 2328, illus. p. 365.
Note:
Etched by Leterrier (published by Boussod, Valadon et Cie.)
This painting is accompanied by a letter of authenticity from Martin Dieterle and Claire Lebeau (14 March 2007).
The lac du Garde, or Lago di Garda in Italian, is the largest lake in Italy, located between Lombardy and Venice. Renowned for its beauty and mild climate, the lake is bordered by numerous vineyards, as well as high cliffs at its northern tip, where it meets the Alps. Corot first visited the area in 1834, staying at Riva, a picturesque village situated at the northern end of the lake. He submitted a view of the lake to the Salon of 1835, and returned to the subject again in his paintings of the 1860s. It is in these landscapes of the late 1860s that the views of the lac de Garde lose their Italian clarity and take on the misty, silver, poetic quality so prevalent in Corot's "souvenir" works of this period. In the present composition, the surface of the lake and sky are tones of pale silver, set off by the dark sepia, black and green of trees and grass in the foreground. A whisper of orange sunlight emanates from the horizon, drawing attention to the mountains in the distance and casting an orange glow on a village on a high bank beyond the trees. The exact location of the site is not identified, and the settlement serves to conjure up an idyllic Mediterranean setting, rather than to situate the scene in a particular location. As Josine Smits observes, "the more Corot's memories of Italy were transformed into a pastoral dream, the more the architectural motifs receded towards a faint horizon, shrinking in importance to become vague symbols of a culture and locality." 1
1 J. Smits, The Architectural Landscapes of Jean-Baptiste-Camille Corot (Phd diss.), 2 vols, (Stanford, 1991): p. 295; rpt. in exh. cat., Corot, (New York, Metropolitan Museum of Art, 1996): p. 312.
Jean-Baptiste-Camille Corot (French, 1796 - 1875)
Jean Baptiste Camille Corot was born in Paris on July 16, 1796. His first teacher was Achille Etna Michallon, a landscapist who studied in Rome. The time Corot spent with Michallon was brief, as Michallon died later that same year. His influence, however, was immense, for it was he who had suggested to Corot that he carefully study out-of doors. Corot afterwards studied with Jean Victor Bertin, who had also been Michallon?s teacher. In 1817, Corot?s father bought a country home in Ville d?Avray, and the countryside became a tremendous source of inspiration for the young artist. With the financial support of his family, Corot traveled to Italy in 1825; his simple, direct interpretations of what he saw caused a stir among his colleagues. Corot left Rome in 1826 and traveled throughout much of Italy, returning to France in 1828. It was then that Corot began to establish his pattern of spending the warm months painting out of doors, and the winter in his studio, preparing his large canvases for the official Salon where he exhibited regularly beginning in 1831. Corot returned to Italy in 1834, and, in 1835, passed his first warm season in Fontainebleau. Official recognition soon followed, and the French government purchased Little Shepherd from him in 1840. After one more trip to Italy in 1843, Corot spent most of his time in France painting the landscape of his native country, especially at the family property at Ville d?Avray. By the late 1840s, Corot knew Rousseau, Millet, Troyon, Diaz and Dupré, and met them often at Fontainebleau. His freshly painted canvases done in plein-air attracted a wide circle of painters, and it can be said that Corot became the father of landscape painting in France.
Selected Museum Collections:
Musée du Louvre and Musée d?Orsay, Paris; Metropolitan Museum of Art and Frick Collection, New York; National Gallery, London; National Gallery of Art, Washington DC; Rijksmuseum, Amsterdam; Hermitage Museum, St. Petersburg; Museum of Fine Arts, Boston; Fitzwilliam Museum, Cambridge; National Gallery of Australia, Canberra; Art Institute of Chicago; New Carlsberg Glyptotek, Copenhagen; Dallas Museum of Art; Detroit Institute of Arts; National Gallery of Scotland, Edinburgh; Los Angeles County Museum of Art; Courtauld Institute of Art, the British Museum, and The Wallace Collection, London; Thyssen-Bornemisza Museum, Madrid; Musée des Beaux-Arts, Marseilles; Pushkin Museum of Fine Arts, Moscow; Neue Pinakothek, Munich; Chrysler Museum, Norfolk, VA; Philadelphia Museum of Art; Fine Arts Museums of San Francisco; Chi-Mei Museum, Taiwan; National Museum of Western Art, Tokyo; Musée des Augustins, Toulouse; Österreichische Galerie Belvedere, Vienna
News on the artist
July 27, 2011 @ 2:40 PM UTC

Now in Glasgow:

#Millet #Barbizon

Pastel of "The Angelus" Allocated to Kelvingrove Art Gallery and Museum: http://t.co/soF2LMA via

@AddThis

August 1, 2011 @ 3:35 PM UTC

October 6, 2011 @ 3:00 PM UTC

October 20, 2011 @ 9:17 PM UTC

November 1, 2011 @ 3:38 PM UTC

November 3, 2011 @ 4:34 PM UTC

December 12, 2011 @ 10:53 PM UTC

When you visit the new 19th-century galleries

@ngadc

don't miss this

#Rousseau

http://t.co/Qgr6EWp5 and http://t.co/awPyBEDl

#Barbizon

January 30, 2012 @ 10:42 PM UTC

February 7, 2012 @ 10:14 PM UTC

February 28, 2012 @ 9:04 PM UTC

March 16, 2012 @ 7:56 PM UTC

April 10, 2012 @ 2:50 PM UTC

April 10, 2012 @ 3:09 PM UTC

April 13, 2012 @ 9:22 PM UTC

April 13, 2012 @ 9:23 PM UTC

May 30, 2012 @ 7:40 PM UTC

July 2, 2012 @ 4:03 PM UTC

July 16, 2012 @ 8:01 PM UTC

August 29, 2012 @ 10:26 PM UTC

#Courbet

's Majestic Oak Painting Returns to Its Roots After Hometown Museum's $5-Million Purchase http://t.co/y2JTiZXo

#Barbizon #Realism

September 7, 2012 @ 3:07 PM UTC

November 19, 2012 @ 10:19 PM UTC

January 28, 2013 @ 11:44 PM UTC

February 14, 2013 @ 4:00 PM UTC

March 12, 2013 @ 3:27 PM UTC

March 21, 2013 @ 2:55 PM UTC

March 21, 2013 @ 10:04 PM UTC

March 22, 2013 @ 9:14 PM UTC

Happy belated bday Theodore

#Rousseau

http://t.co/7UrhiBahm6 and Jules

#Dupre

http://t.co/ATFe97j3cs. Apr 15 -a great day for

#Barbizon

art

April 16, 2013 @ 4:05 PM UTC

June 10, 2013 @ 3:41 PM UTC

Now at Schiller & Bodo : MASTERWORKS OF THE BARBIZON SCHOOL, on view through November 27 http://t.co/pgDhaUAscc

#Barbizon #exhibitions

November 5, 2013 @ 4:10 PM UTC

April 15, 2014 @ 5:33 PM UTC

And Happy Birthday Jules

#Dupre

- April 15, 1811 - a great day for

#Barbizon

School painters! http://t.co/62PKvhJpN8

April 15, 2014 @ 7:03 PM UTC

May 1, 2014 @ 3:35 PM UTC

Here is our current

#exhibition

catalogue: A Romantic Vision, The

#Barbizon

School and its Contemporaries http://t.co/iemkJ4fmdG

May 5, 2015 @ 5:16 PM UTC

August 11, 2015 @ 2:52 PM UTC

January 14, 2016 @ 5:45 PM UTC

March 10, 2016 @ 5:50 PM UTC

March 15, 2016 @ 3:01 PM UTC

April 15, 2016 @ 7:09 PM UTC

June 17, 2016 @ 8:23 PM UTC

July 15, 2016 @ 7:30 PM UTC

October 14, 2016 @ 8:39 PM UTC

July 13, 2017 @ 9:49 PM UTC

Happy Birthday Jean Baptiste Camille

#Corot

born July 16, 1796. Your landscapes and figure paintings continue to move and inspire us.

July 16, 2018 @ 4:11 PM UTC

October 4, 2018 @ 5:43 PM UTC