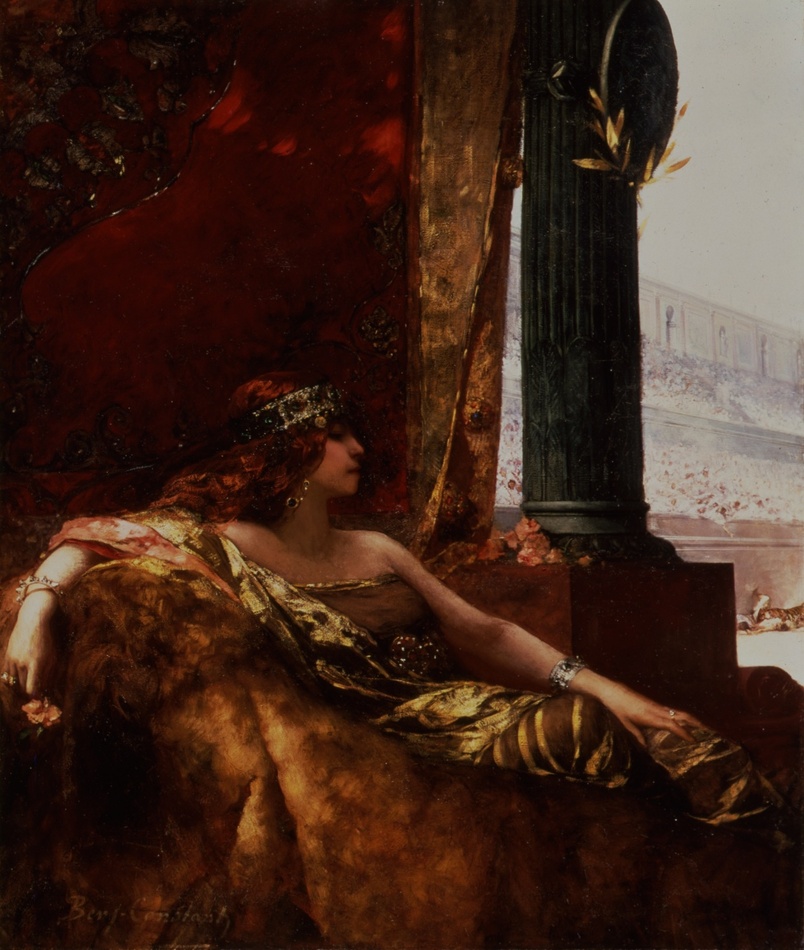 Jean Joseph Benjamin Constant
French, 1845 - 1902
The Empress Theodora at the Coliseum
c. 1889
Oil on canvas
62 x 52 1/2 inches (157.48 x 133.35 centimeters)
SOLD
In the present work, Constant depicts the celebrated Byzantine Empress Theodora as a great beauty who is seated in a relaxed pose that conveys luxurious elegance, dignity and cool composure. In this composition her importance and her powerful command are underscored by the scale of the canvas and her placement in the royal box from where she can view the action in the coliseum's pit below. The reclining Theodora seems unmoved by any drama about to take place in the arena, and more impressed by her power and her own elegant beauty. This is the type of popular Orientalist scene for which Constant was well known, and through which he managed a very successful career.
Jean Joseph Benjamin Constant (French, 1845 - 1902)
Benjamin Constant spent his youth as a student at the Ecole des Beaux-Arts de Toulouse, where he won a municipal prize that allowed him to enter the Ecole des Beaux-Arts de Paris in 1866. The following year Constant entered the studio of Alexandre Cabanel. His first appearance at the Salon de Paris was in 1869. With the declaration of war in 1870, he enlisted. After the war, instead of returning to the Academy, he began to travel, starting out in Spain. He then followed his mentor Charles Tissot to Morocco. From that point on, he abandoned history painting for Orientalist subjects. At the Salon of 1875, he received a third place medal for his painting, Moroccan Prisoners, and in the following year, a second place medal for his Entry of Mohamett II in Constantinople. In 1876, he also produced a portrait of Emmanuel Arago, and then married one of his sitter?s daughters. At the Exposition Universelle of 1878, he obtained a third place medal and later that year was decorated with the medal of the Legion d?Honneur. By 1880, he moved away from Orientalist subjects for portraiture and more decorative works. He was given the commission to paint the ceiling of the Hotel de Ville in Paris with a composition depicting Paris Conquering the World. He also received commissions to paint the allegorical figures of les belles lettres et les sciences for the Sorbonne, and the ceiling of the Opera-Comique. Later, he painted the portraits of Queen Victoria and Queen Alexandra. For much of the latter part of the 19th century, he was the favorite portraitist of English high-society.
Selected Museum Collections:
Metropolitan Museum of Art, New York; Musée d?Orsay, Paris; Aberdeen Art Gallery & Museums, Scotland; Musée des Beaux-Arts de Bordeaux; Brooklyn Museum of Art; Musée Condé, Chantilly; Indianapolis Museum of Art; National Gallery of Canada, Ottawa; Musée des Beaux-Arts de Pau; Hermitage Museum, Saint Petersburg; Musée des Augustins, Toulouse; Musée de Vendôme, Vendôme; Musée national des châteaux de Versailles et de Trianon, Versailles;