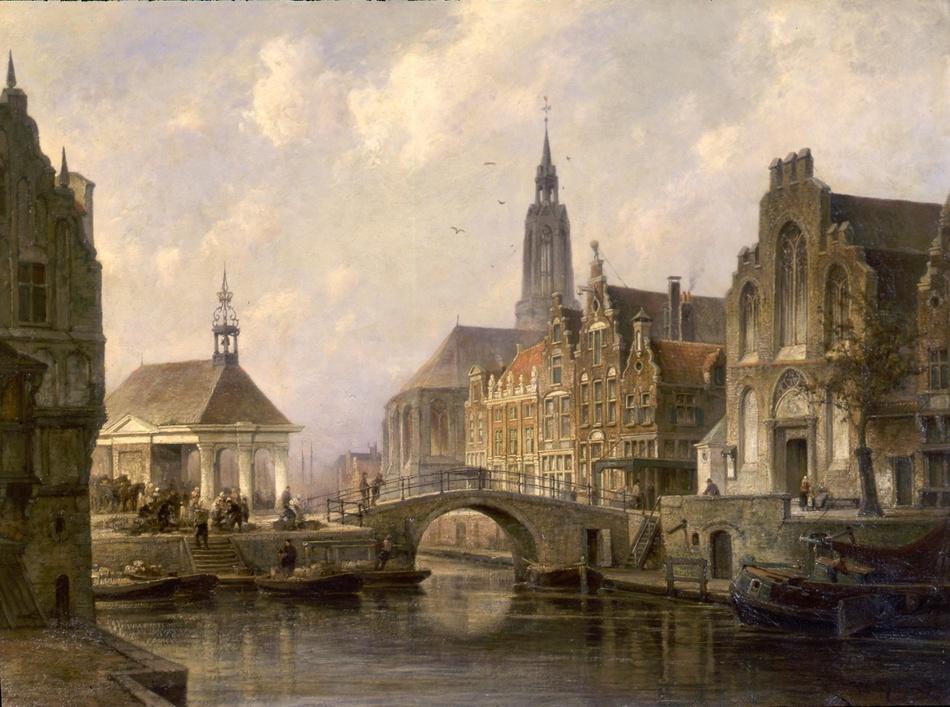 Cornelis Christiaan Dommelshuizen
Dutch, 1842 - 1928
View of Groningen
1898
Oil on canvas
31 1/4 x 41 1/2 inches (79.38 x 105.41 centimeters)
Framed: 39 1/2 x 50 inches (100.33 x 127 centimeters)
Signed lower right: Ch. Dommelshuizen
In the current composition, Dommelshuizen skillfully renders a pastiche of historic buildings from the Dutch town of Groningen, portraying an architectural panorama steeped in the soft light of the late afternoon. The imposing size of the canvas is relieved by the sensitivity with which the artist handles his subject. He has depicted a landscape of stone pathways weaving alongside a canal and tall stone buildings stretching elegantly into the sky. Calm patterns of everyday life are carried out within the space of the picture, organized by way of the architectural lines and planes of the buildings, walkways, and bridge. The light and color grow warmer and brighter as the space within the painting recedes. This use of color, the forms of the buildings and the depictions of the townspeople all lend veracity to Dommelshuizen's depiction of 17th-century Dutch life, as communicated by the artist through the poetic language of his painting.
Cornelis Christiaan Dommelshuizen (Dutch, 1842 - 1928)
Cornelis Christiann Dommelshuizen was born in Utrecht in 1842. He was mostly self-taught, and traveled to America, Belgium, England and France where he became familiar with the major schools of painting in each of these countries. He eventually settled in The Hague and specialized in painting town scenes and scenes on the water and along riverbanks. He exhibited in Amsterdam from 1860 until 1892, as well as in various places throughout Holland. He was also known to have signed his name as C. Dommerson, as well as Chr. Dommelshuizen.
Selected Museum Collections:
Musée national des châteaux de Versailles et de Trianon, Versailles; Russel-Cotes Art Gallery and Museum, Bournemouth, UK;