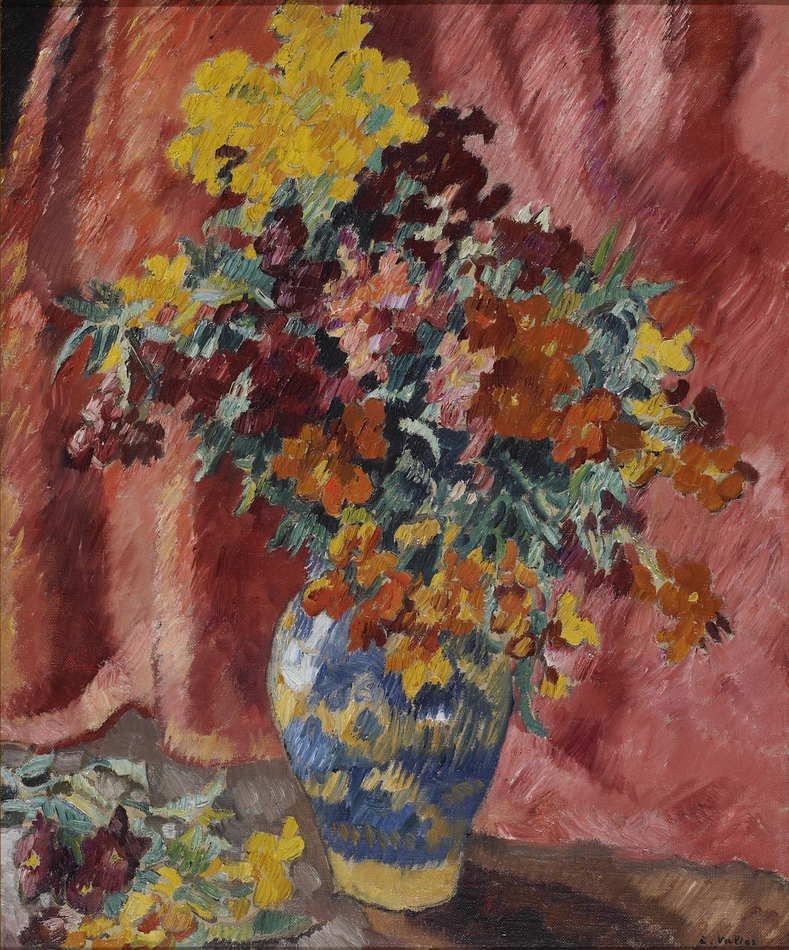 Louis Valtat
French, 1869 - 1952
Vase de fleurs à la tenture rose
Circa 1935
Oil on canvas
25 5/8 x 21 3/8 inches (65.09 x 54.29 centimeters)
Framed: 36 x 31 1/2 inches (91.44 x 80.01 centimeters)
Signed lower right: L. Valtat
A certificate of authenticity from Louis-André Valtat accompanies this work (archives no. 3262, 2003).
Provenance:
Private collection, CA
Private collection, Paris.
Connaught Brown, London
Private Collection, CA
Louis Valtat (French, 1869 - 1952)
A leading founder of the Fauvist movement, Louis Valtat was an independent and versatile painter. Fauvist principles required a total liberation of local color in favor of palette of unmixed paint used straight from the tube, often applied with firm, even violent brushwork. Forms are simplified and flattened, giving precedence to a patterned, decorative surface. Although Valtat had painted in this manner for several years, it wasn't until his exhibition in the 1905 Salon d'Automne that the term "Fauves," meaning "wild beasts," came into use, coined by a prominent critic to describe many of the artists exhibiting that year, including Matisse, Vlaminck, Derain, Manguin, Dongen, Friesz, Puy and Valtat.
Selected Museum Collections:
Musée des Beaux-Arts de Bordeaux; Fogg Art Museum, Cambridge, MA; Musée des Beaux-Arts de Chambéry; Thyssen-Bornemisza Museum, Madrid; Musée des Beaux-Arts de Marseilles; Museum of Modern Art, New York; The State Hermitage Museum, Saint-Petersburg; Musée de l'Annonciade, Saint-Tropez; Tehran Museum of Contemporary Art; Fondation Bemberg, Toulouse; Musée des Augustins, Toulouse; Musée des Beaux-Arts de Troyes; Norton Museum of Art, West Palm Beach, FL
News on the artist
August 13, 2014 @ 3:01 PM UTC

July 10, 2014 @ 3:08 PM UTC

February 21, 2014 @ 10:40 PM UTC

February 10, 2014 @ 8:07 PM UTC

December 2, 2013 @ 4:57 PM UTC

August 8, 2013 @ 8:50 PM UTC

August 8, 2013 @ 8:50 PM UTC

August 8, 2013 @ 8:50 PM UTC

June 3, 2013 @ 10:05 PM UTC

May 6, 2013 @ 3:11 PM UTC

September 26, 2012 @ 8:31 PM UTC

August 16, 2012 @ 3:17 PM UTC

August 16, 2012 @ 3:14 PM UTC

August 8, 2012 @ 8:26 PM UTC

August 6, 2012 @ 4:46 PM UTC

June 26, 2012 @ 10:31 PM UTC

June 11, 2012 @ 8:48 PM UTC

May 21, 2012 @ 5:53 PM UTC

May 4, 2012 @ 7:18 PM UTC

April 27, 2012 @ 4:17 PM UTC

April 12, 2012 @ 7:43 PM UTC

April 10, 2012 @ 3:09 PM UTC

March 30, 2012 @ 8:29 PM UTC

February 6, 2012 @ 4:56 PM UTC

February 6, 2012 @ 4:23 PM UTC

February 2, 2012 @ 4:52 PM UTC

February 1, 2012 @ 4:33 PM UTC

January 31, 2012 @ 4:55 PM UTC

January 25, 2012 @ 5:57 PM UTC

January 19, 2012 @ 3:49 PM UTC

January 17, 2012 @ 3:43 PM UTC

January 3, 2012 @ 5:20 PM UTC

November 16, 2011 @ 3:55 PM UTC

#VanGogh

Museum Says "Not Enough Evidence" That Artist's Death Was Anything But Suicide -ARTINFO.com http://t.co/hQZUmflw

#PostImpressionist

October 24, 2011 @ 7:40 PM UTC

October 20, 2011 @ 9:17 PM UTC

October 17, 2011 @ 3:41 PM UTC

October 14, 2011 @ 3:12 PM UTC

October 10, 2011 @ 4:56 PM UTC

October 5, 2011 @ 5:21 PM UTC

September 16, 2011 @ 3:28 PM UTC

September 12, 2011 @ 5:06 PM UTC

Previously unknown Klimt painting discovered in Netherlands collection: http://t.co/gM4kOKD

#PostImpressionist

September 8, 2011 @ 3:46 PM UTC

August 2, 2011 @ 2:21 PM UTC

July 28, 2011 @ 2:36 PM UTC