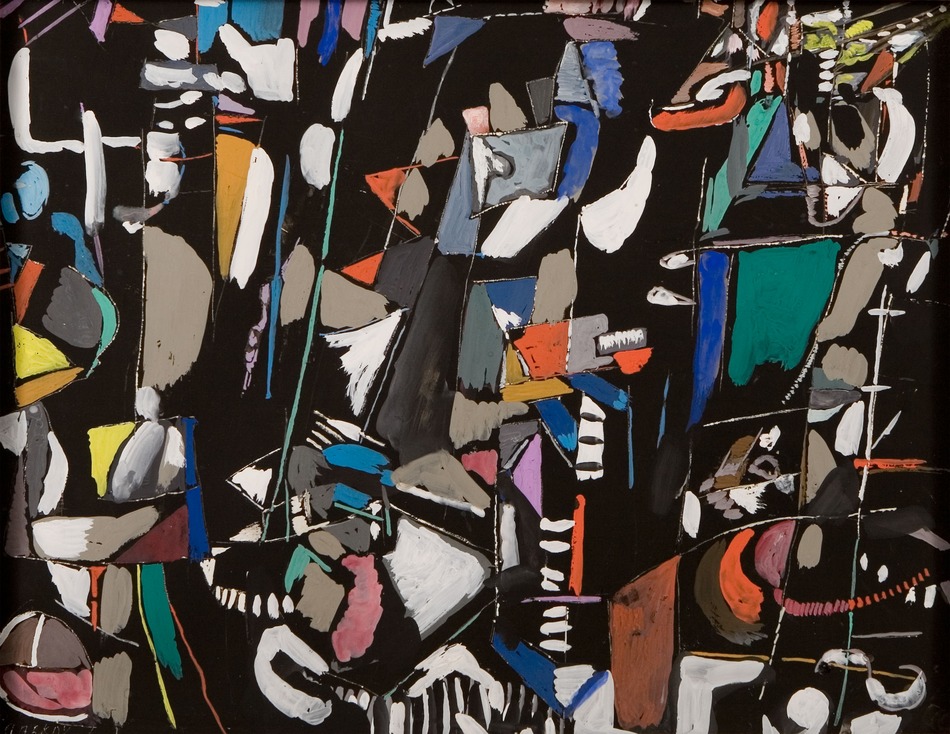 André Lanskoy
French / Russian, 1902 - 1976
Untitled
Gouache on paper
20 x 26 inches (50.8 x 66.04 centimeters)
Framed: 27 1/2 x 33 1/4 inches (69.85 x 84.46 centimeters)
Signed lower left: Lanskoy
The authenticity of this work has been confirmed by André Schoeller.
André Lanskoy (French / Russian, 1902 - 1976)
Born in Moscow the son of a count, Lanskoy became one of the major figures of the School of Paris. He began his artistic studies at the Academy of Fine Arts in St. Petersburg and, in 1919, moved to Paris and attended the Académie de la Grande Chaumière. Within four years he was participating in group shows at Galerie de la Licorne. He was quickly discovered by the famous dealer and critic Wilhelm Uhde, who, in 1928, become the principle organizer of the first exhibition of Naïve Art. Uhde bought a number of Lanskoy's paintings and recommended him to Galerie Bing: the introduction lead to Lanskoy's first solo exhibition in 1925.
Lanskoy was among the early practitioners of abstraction in Europe. He began developing an abstract approach after 1930, and by 1937 had forever abandoned the figure. In 1939 he completed a series of abstract gouaches: by this time it is apparent that his primary focus had shifted away from reality to the expressive capacity of color. Despite his abstract approach, though, Lanskoy separated himself from the vehement proponents of the theoretical abstraction by denying the dichotomy between the figure and the abstract. In 1948 he gained representation at Galerie Louis Carré in Paris. Numerous exhibitions and one-man shows followed in France and abroad, including Antwerp, London, Cologne, Stockholm, Basel, New York, Pittsburgh and Chicago.
Selected Museum Collections:
Centre Georges Pompidou, Paris; Musée d'Art Moderne, Lille; Musée des Beaux-Arts, Nantes; Musée de Grenoble; Musée Cantini, Marseille