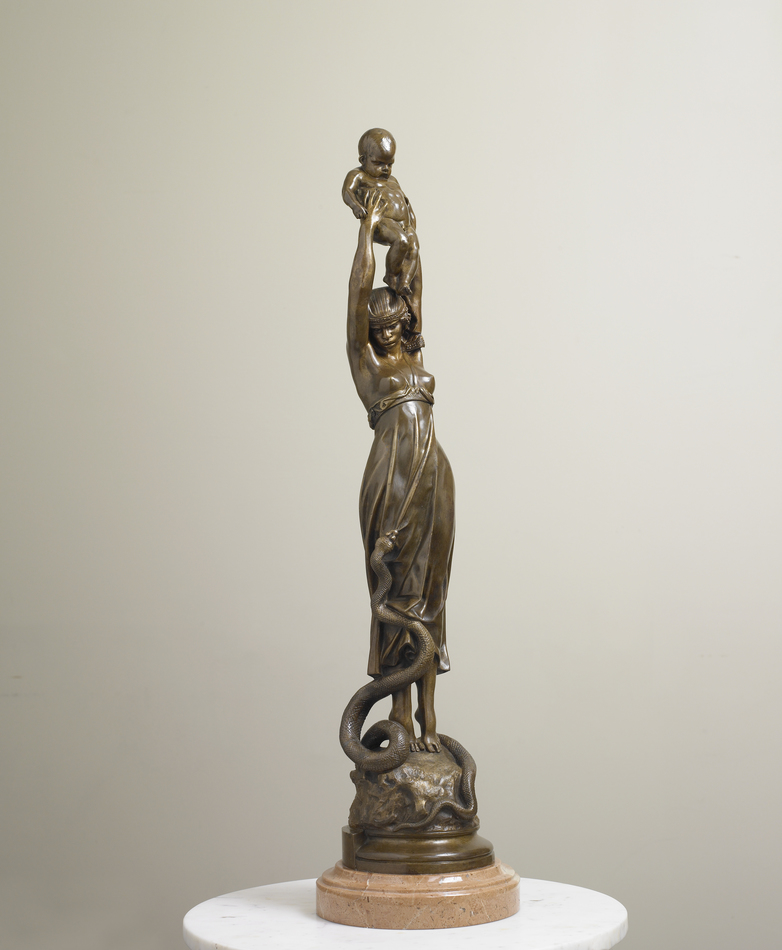 Gustave Doré
French, 1832 - 1883
Terror (Maternal Love)
1879
bronze
22 inches (55.88 centimeters)
inscribed on base: G Doré and stamped #4834
Provenance:
Private Collection, MD, since 2002
Literature:
Eric Zafran, Fantasy and Faith; the Art of Gustave Doré, (Dahesh Museum of Art, NY and Yale University Press, New Haven and London, 2007): illus. p. 139.
Exhibited:
Dahesh Museum of Art, NY, 5 May 2004 – 1 Oct 2005
cf: Philippe Kaenel, ed. Doré, Master of Imagination, (Flammarion with Musée d'Orsay and National Gallery of Canada, 2014): p. 237, a plaster cast of the same subject, 120 x 22 x 24 cm. This work is likely the original plaster of this motif, exhibited at the Paris Salon of 1879
Gustave Doré was already a successful painter, draftsman and illustrator before pursuing sculpture. Self-taught as a sculptor, Doré brought the same virtuosity and Romantic outlook to his sculpture that he had to painting and illustration. The facility with which Doré adopted his new medium impressed his contemporaries. Léon Lhermitte wrote in 1880, "There is nothing more curious than to see him working in his huge studio on the Rue Bayard. Effortlessly, as if he were playing, he moves from chisel to paintbrush, works for a while with his crayons, picks up the violin – an instrument he loves and handles marvellously. And all this simply, calmly, amid the sallies of a conversation that he renders by turn witty, eloquent, ironic or gently poetic." (1) On his death in 1883, Le Monde Illustré paid tribute to his skill as a sculptor: "Everything has been said about the genius displayed by Gustave Doré in all the manifestations of this talent, but in our view thre has been too little emphasis on his talent for sculpture, which has been revealed these past few years in such an ingenious and brilliant manner." (2)
Doré presented his first sculpture at the Salon of 1877, an allegorical image entitled Fate and Love, and included sculpture in his Salon submissions for the remainder of his career. In 1879 he presented a large scale plaster version of the present composition, entitle L'Effroi (Terror). A reviewer for the journal L'Illustration likened the work to a 'sort of illustration in plaster,' an unsurprising remark given Doré's status as an illustrator. The composition appears to be influenced by Carrier-Belleuse's famous 1867 sculpture of The Messiah, in which Mary holds the infant Christ above her head. Indeed, various sources have surmised that the present motif also references a biblical source, that of Hagar and Ishmael in the wilderness.
Doré presented his sculptural works at a grand scale at the Salon, and then produced reductions in bronze and terracotta versions for commercial distribution. Doré was wildly popular in England, and the reduced versions were sent for sale to the Doré Gallery in London. In 1879, Dore sent the London gallery the present composition, now entitled Terror (Maternal Love), as well as Fame Stifiling Genius and Ganymede. In his correspondence with the gallery, he simply describes the subject as a Nubian woman.
Edouard Papet, "Doré, Sculptor" in Philippe Kaenel, ed. Doré, Master of Imagination, (Flammarion with Musée d'Orsay and National Gallery of Canada, 2014): p. 236, rpt. from Léon Lhermitte, "Gustave Doré. Artiste français né en 1833. La Madone, Salon de 1880," in L'Art contemporain: Peintres et sculpteurs (Paris: Atelier de reproductions artistiques, 1880).
Ibid. rpt. from Le Monde Illustré52 (1883), p. 54.
Gustave Doré (French, 1832 - 1883)
Throughout his lifetime Gustave Doré was internationally acclaimed as an illustrator, which often eclipsed his significance as a fine artist; it was not until after his death that critics, collectors, and connoisseurs came to realize the importance of Doré the painter and sculptor. The retrospective at the National Gallery of Canada, travelling from the Muse d'Orsay, titled "Gustave Doré: Master of Imagination" explores Doré's oeuvre from sketches to monuments and takes particular interest in his paintings.
His paintings are influenced greatly by his illustrations, they are theatrical and dramatic; he often employed intense lighting on an isolated object to create a spectacle effect. His style of painting made him wildly popular in England.
Selected Museum Collections:
The Metropolitan Museum of Art, New York; Musée du Louvre, Paris; Musée d'art moderne et contemporain, Strasbourg; Musée d'Orsay, Paris; The Morgan Library & Museum, New York; The British Museum, London; Musée Goupil, Paris; The National Gallery of Canada, Ottawa; Victoria and Albert Museum, London; Museum of London; National Gallery of Art, Washington D.C.; Museé Magnin, Dijon; The Royal Collection, London; Musée d'art Roger-Quilliot, Clermont-Ferrand; Museum of Fine Arts, Boston; Indianapolis Museum of Art; Seattle Arts Museum; Phoenix Art Museum; Museu Nacional de Belas Artes, Rio de Janerio; Statens Msuem for Kunst, Copenhagen; Cleveland Museum of Art