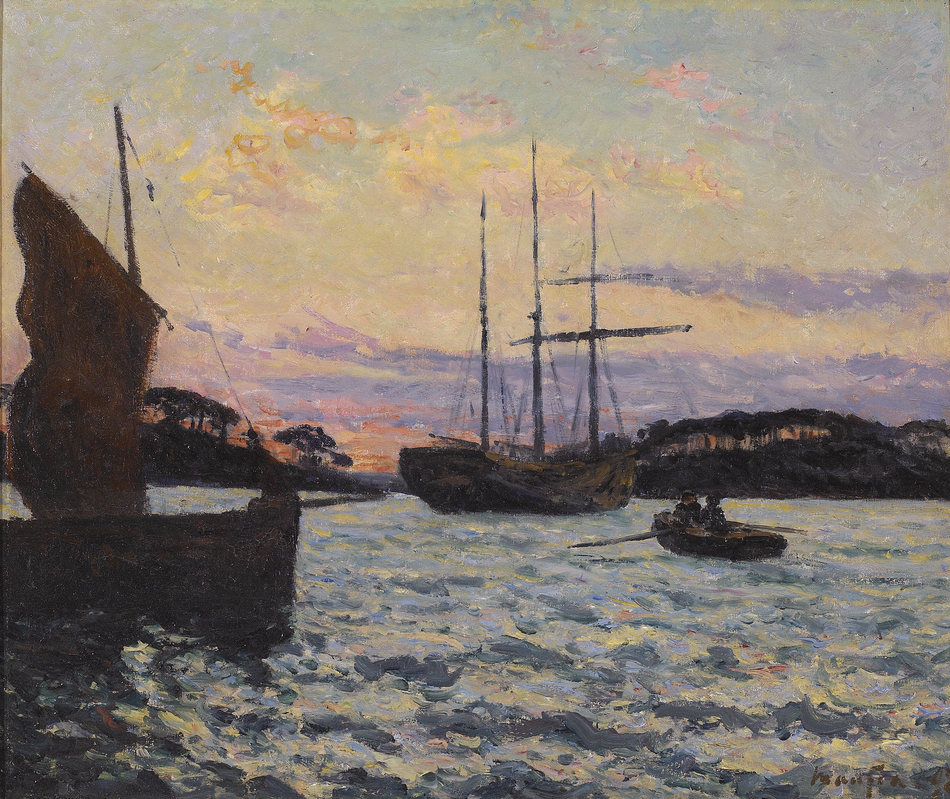 Maxime Maufra
French, 1861 - 1918
Soleil couchant, En rade de Loctudy (Finistere), Bretagne
1898
oil on canvas
21 1/2 x 25 3/4 inches (54.61 x 65.41 centimeters)
Framed: 30 1/4 x 34 1/2 inches (76.84 x 87.63 centimeters)
signed and dated lower right: Maufra 98
Provenance:
Durand-Ruel, no. 4743
Maxime Maufra (French, 1861 - 1918)
Maxime Maufra was born in Nantes, in Brittany, and began to paint at the age of 18, encouraged by the local painters Alfred Leduc and Charles Le Roux. His parents sent him to Great Britain, including Scotland and Wales, in 1881, in the hopes of improving his English and business skills. Maufra viewed the trip as an opportunity to study the landscape and to practice sketching. It was also on this trip that Maufra was exposed to the work of Turner, who was to become a great influence on his work.

Upon his return to France, Maufra began painting from nature on the banks of the Loire. His work was included in an important avant-garde exhibition In Nantes in 1886. Here Maufra exhibited alongside Gauguin, Monet, Sisley, Pissarro, Renoir, Seurat and Signac. This same year, Maufra also debuted at the Paris Salon with two landscapes, Flood at Nantes and Fishing Boat at Haute-Ile.
In 1890 Maufra met Gauguin at Pont-Aven and was influenced by Gauguin's Impressionist paintings. He also maintained a friendship with Emile Bernard and correspondence with Paul Sérusier. The influence of these artists moved him towards Synthetism, with its intense, non-local color and decorative effects. Still, Maufra maintained an independent style, and during a visit to Maufra's studio in 1893, Gauguin commented, "I know that you defend my art, Maufra, and although we are following a different path, yours is a good one. Carry on with it."1 While related to Impressionism, Maufra's goal was not to record an instantaneous impression. He wrote, "I am seeking to express the major sensations, the strange aspects of nature… everything that can be rendered not by an instantaneous impression of an effect but, on the contrary, by condensing everything contained in that effect." 2
Maufra met with great public success after a solo show in 1894 at Le Barc de Boutteville in Paris. The show included twenty five oils, seventy drawings and four lithographs. Gauguin designed the poster for the show, and Pissarro wrote in praise of the show to his son Lucian. His work had a great impact on the modern painters of the time, and perhaps pre-figured the Fauves in his free use of color and constructed compositions.
1 Quoted in Judy Le Paul, Gauguin and the Impressionists at Pont-Aven (New York, Abbeville Press, 1983): p. 167.
2 Arsène Alexandre, Maxime Maufra, peintre marin et rustique (Paris, Georges Petit, 1926): p. 86; rpt. in Ibid. p. 169.
Bibliography:
Le Paul, Judy, Gauguin and the Impressionists at Pont-Aven (New York, Abbeville Press, 1983): pp. 163-175.
Selected Museum Collections:
Metropolitan Museum of Art, New York; Musée d'Orsay, Paris; National Gallery of Art and Smithsonian American Art Museum, Washington DC; Tate Gallery, London; Museum of Fine Arts, Boston; Harvard University Art Museums, Cambridge, MA; Art Institute of Chicago; Cleveland Museum of Art; Dallas Museum of Art; Los Angeles County Museum of Art; Thyssen-Bornemisza Museum, Madrid; National Gallery of Canada, Ottawa; Musée des Beaux-Arts de Pont-Aven; Musée des Beaux-Arts de Quimper; Musée des Beaux-Arts de Rennes; Clark Art Institute, Williamstown, MA;