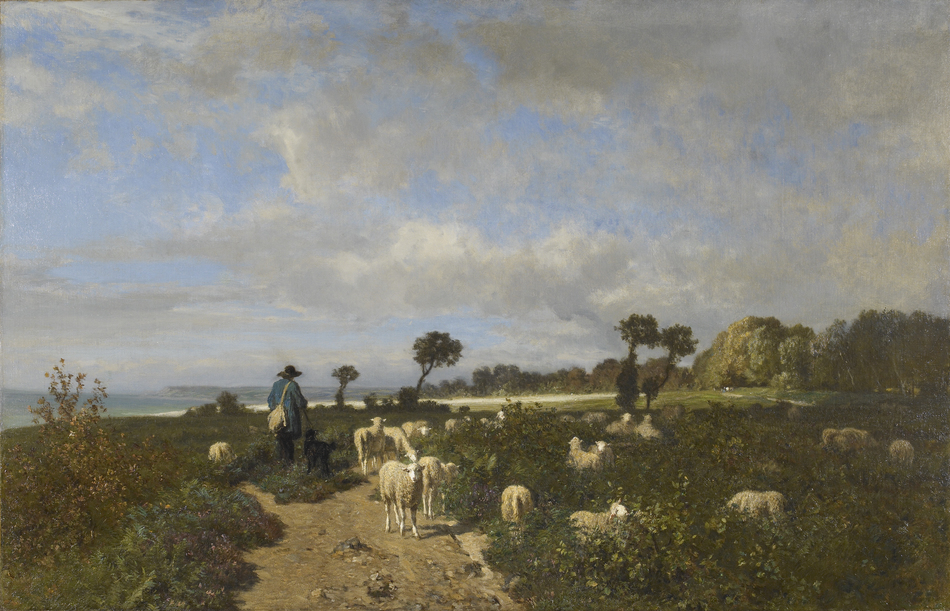 Constant Troyon
French, 1810 - 1865
The Shepherd and the Sea
oil on canvas
33 1/4 x 51 1/4 inches (84.46 x 130.18 centimeters)
Framed: 39 x 57 inches (99.06 x 144.78 centimeters)
Signed illegibly lower right: C Troyon
Provenance:
Dr. and Mrs. Lloyd Vernon Briggs, Boston
By descent to Mrs. Eleanor Briggs Lewis, Hancock, NY
Thence by gift to a mid-Atlantic Museum, circa 1975 (de-accessioned to benefit the acquisition fund)
The present work depicts a shepherd and his sheep dog tending his flock on a sunny path with a view of the sea. The coast appears to be Normandy, and the shepherd's Breton-style hat indicates that he may be far from home. While the central sheep looks directly to the viewer, the shepherd looks off to sea. This motif, with the shepherd gazing off over the sea, may be a reference to La Fontaine's fable The Shepherd and the Sea.
Constant Troyon (French, 1810 - 1865)
Constant Troyon was born August 28, 1810 in Sevres, where both of his parents were employed in The Sevres Porcelain Factory. He was trained by Riocreux, who was in charge of the porcelain museum at the Factory, and worked as a painter on porcelain. He drew and painted from nature in his spare time. In about 1824 he met Diaz, who became a closed friend. He made his debut at the Salon with three conventional landscapes and continued to work as a porcelain decorator. He painted in Sologne, in Brittany and with Jules Dupré in 1843, in the Landes. In the same year he met Rousseau and went to work in Barbizon, where he received his true introduction to landscape painting. Troyon exhibited views of the Forest of Fontainebleau at the Salons of 1844, 1846,and 1848. The decisive moment of his career came in 1847 during a visit to Holland, when he saw the work of Cuyp and Potter for the first time. He began to introduce domestic animals into his own pictures and became as a result a famous animal painter. He continued to paint landscapes, working mainly in Normandy, and the area of Tours, also visiting England and Tours and returning occasionally to the Barbizon region. In 1859 he advised the young Monet to work out of doors. He gained an international reputation via many exhibitions of his work, which were held in collections abroad, and he was swamped with commissions. In his last years he painted seascapes on the Normandy coast; it was during this period that Boudin worked for him. Constant Troyon died March 20, 1865 in Paris at the age of fifty-five.
Reprinted from The Barbizon School and 19th Century French Landscape Painting.
Selected Museum Collections:
Paris, Musée d'Orsay, Musée du Louvre; New York, Metropolitan Museum of Art, Frick Collection, Brooklyn Museum; Boston, Museum of Fine Arts; Buenos Aires, Museo Nacional de Bellas Artes; Cambridge, Harvard University Art Museums; Art Institute of Chicago; Detroit Institute of Arts; Los Angeles County Museum of Art; Pasadena, CA, Norton Simon Museum; Philadelphia Museum of Art; Pittsburgh, Carngie Museum of Art; Fine Arts Muesums of San Francisco; Hermitage Museum, Saint Petersburg; Taiwan, Chi-Mei Museum;Washington DC, National Gallery of Art; Williamstown, MA, Clark Art Museum