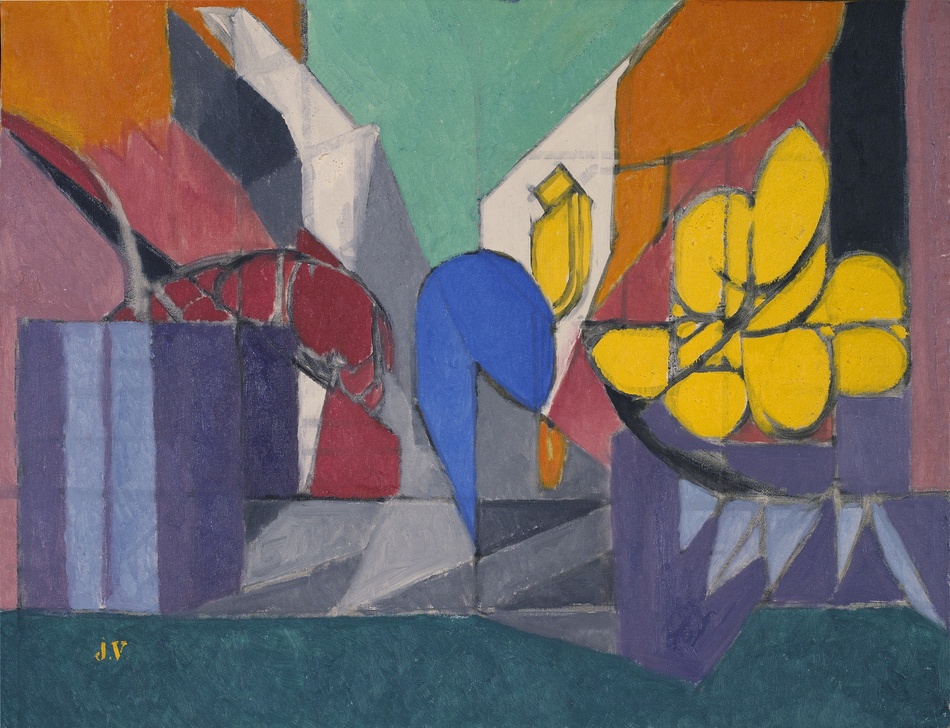 Jacques Villon
French, 1875 - 1963
Nature Morte aux Fleurs Jaunes
1956
Oil on canvas
19 3/4 x 25 5/8 inches (50.17 x 65.09 centimeters)
Framed: 26 1/2 x 32 inches (67.31 x 81.28 centimeters)
monogrammed lower left: JV
signed, dated and inscribed on reverse: Nature morte aux fleurs jaunes / Jacques Villon / 56
Provenance:
Galerie Charpentier, Paris (label)
Galerie Louis Carré & Co., Paris (label)
John A. Pope (d. 1982, former director of the Freer Gallery, 1962-71)
Exhibited:
Paris, Galerie Charpentier, Ecole de Paris, 1956
The present work was owned by John A. Pope, noted scholar on Asian Art, important collector of Chinese and Japanese ceramics and Director of the Freer Gallery of Art in Washington DC, one of the country's most prestigious institutions dedicated to Asian Art.
Jacques Villon (French, 1875 - 1963)
One of the most significant Cubist artists and theorists, Jacque Villon, along with his brothers Raymond Duchamp-Villon and Marcel Duchamp, established the studio in Puteaux outside of Paris that became the meeting place of the Puteaux Group. The discussions of the group, which included Kupka, Gleizes, Metzinger, Picabia, Léger, La Fresnaye, created the fertile ground from which would spring a new approach to Cubism, based on parallels between science, mathematics and a new "pure" approach to art. Villon was instrumental in the development of this new approach, and advocated having the group exhibit under the name "Section d'Or" after the Golden Section of classical mathematics. In addition to painting, Villon also worked extensively in drypoint and print techniques and created significant Cubist contributions in this graphic media.
Villon exhibited at the famous Armory Show in New York in 1913, where European Modern Art was first introduced to the United States. His work proved popular there, expanding his reputation from Europe to the US. A major exhibition of Villon's work was held in Paris in 1944 at the Galerie Louis Carré, which spurred a number of international exhibitions and honors. In 1950 he received the Carnegie Prize, and in 1954 was made a Commander of the Legion of Honor. Villon died in 1963 in his studio in Puteaux.
Selected Museum Collections:
Musée national d'Art moderne – Centre Georges Pompidou, Paris; Metropolitan Museum of Art and Museum of Modern Art, New York; National Gallery of Art, Smithsonian Archives of American Art and Hirshhorm Museum and Sculpture Garden, Washington DC; Musée Rolin, Autun; Kunstmuseum Basel; Musée national Fernand Léger, Biot; Museum of Fine Arts, Boston; Brooklyn Museum of Art; Musée des Beaux-Arts de Caen; Harvard University Art Museum, Cambridge, MA; Art Institute of Chicago; Cleveland Museum of Art; Dallas Museum of Art; Musée des Beaux-Arts de Dijon; Musée de Grenoble; Los Angeles County Museum of Art; Musée des Beaux-Arts de Lyon; Musée des Ursulines, Mâcon; Currier Museum of Art, Manchester, NH; Minneapolis Institute of Arts; Musée des Beaux-Arts de Nantes; Philadelphia Museum of Art; Carnegie Museum of Art, Pittsburgh; North Carolina Museum of Art, Raleigh; Musée des Beaux-Arts de Rouen; Musée municipal, La Roche-sur-Yon; Fine Arts Museums of San Francisco; Musée d'Art moderne et contemporain, Strasbourg; National Gallery of New South Wales, Sydney; Musée d'Art moderne, Troyes; Musée Jenisch, Vevey, Switzerland;