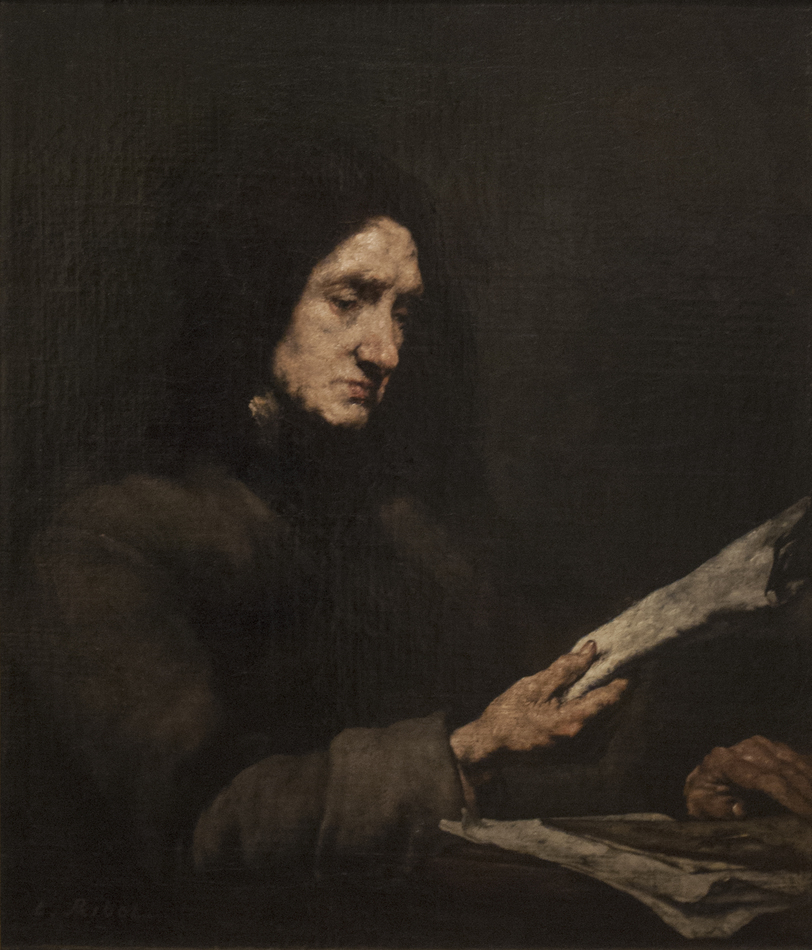 Théodule Augustin Ribot
French, 1823 - 1891
Les Titres de Famille
1890
oil on canvas
28 7/8 x 23 7/8 inches (73.34 x 60.64 centimeters)
Framed: 36 1/4 x 31 inches (92.08 x 78.74 centimeters)
signed lower left: T Ribot
Provenance:
Mme. R. Michel
François Lespinasse, Rouen
Private Collection, USA
Exhibited:
Paris, Salon de la Société Nationale des Beaux Arts, 15 May - 30 Jun 1890, no. 742
Paris, "Exposition Th. Ribot," Palais National de l'Ecole des Beaux Arts, 3-31 May 1892
Saint-Nicolas-d'Attez, France, "Theodule Ribot," Eglise de Saint-Nicolas-d'Attez, 16-25 May 1982
Literature:
Jules Claretie, Les Artistes Contemporains, ; pp. 54-57.
Jules-Philippe Heuzey, La Normandie et ses peintres (Librairie Nationale, Paris): p. 131.
Mme. N. N. Oursel, Nouvelle Biographie Normande (Bibliotheque de Rouen); p. 391.
Théodule Augustin Ribot (French, 1823 - 1891)
Théodule Augustin Ribot began his studies at the École des Arts et Métiers de Chalons. Upon his father's death in 1840, he went to Paris where he worked as a store decorator and studied in the studio of Glaize. After a three-year period of travel through Algeria, he returned to Paris in 1851. Debuting at the Salon of 1861, he received medals in 1864 and 1865, as well as a third class medal in 1878, the same year in which he received the Chevalier de la Legion d'Honneur. In addition to the Paris exhibitions, he also showed works in Amsterdam, Munich, Vienna and numerous provincial Salons. Ribot was one of the founders of the Salon du Champs de Mars, along with Alphonse Legros, Henri Fantin-Latour, and James McNeill Abbott Whistler. Like these artists, Ribot shared an admiration for Gustave Courbet and Realism. In addition, his works show an affinity with seventeenth-century Dutch and Spanish painting, especially Ribera and Franz Hals. Known as an artist who took an independent approach to his trade, in 1884 a group of friends, including Fantin-Latour, Jules Bastien-Lepage, J. C. Cazin, François Raffaëlli, and Claude Monet gave him a medal of honor inscribed: A Théodule Ribot, le peintre indépendant. As a painter of a myriad of subjects including genre, history, still lifes, and portraits, Ribot shows a rich concern with the effects of painting plein air and the psychological effects of contrasts between darks and lights.
Selected Museum Collections:
Metropolitan Museum of Art, New York; Musée d'Orsay and Musée du Louvre département des arts graphiques, Paris; Rijksmuseum, Amsterdam; Musée Rolin, Autun; The Walters Art Museum, Baltimore; Musée Baron Gérard, Bayeux; Musée départemental de l'Oise, Beauvais; Museo de Bellas Artes de Bilbao; Musée des Beaux-Arts de Bordeaux; Museum of Fine Arts, Boston; Musée de Brou, Bourg-en-Bresse; Museo Nacional de Bellas Artes, Buenos Aires; Musée des Beaux-Arts de Caen; Art Institute of Chicago; Cleveland Museum of Art; Musée Magnin, Dijon; Musée de l'Ancien Evêché, Evreux; Musée de Grenoble; Finnish National Gallery, Helsinki; Indianapolis Museum of Art; Musée du Vieux Château de Laval; Musée des Beaux-Arts de Lille; Musée des Beaux-Arts de Lyon; Musée Cantini, Musée Grobet-Labadié and Musée des Beaux-Arts, Marseilles; Minneapolis Institute of Art; Musée Fabre, Montpellier; Kröller-Müller Museum, Otterlo; Ashmolean Museum, University of Oxford; Musée des Beaux-Arts de Pau; Musée des Beaux-Arts de Rouen; Musée Antoine Lécuyer, Saint-Quentin; Musée d'Art, d'Archéologie et de Sciences Naturelles, Troyes; Musée de Vendôme; Norton Museum of Art, West Palm Beach;