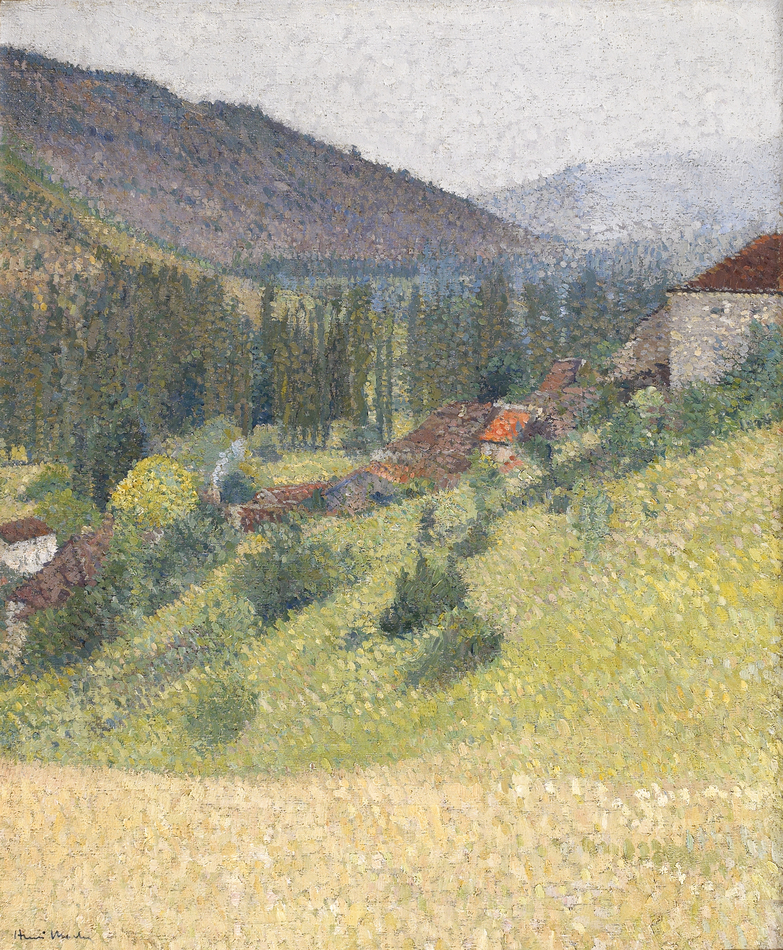 Henri Martin
French, 1860 - 1943
Les Hauts de la Bastide-du-Vert avec la maison de M. Pellet, vue depuis la loge de Marquayrol
oil on canvas
31 7/8 x 25 7/8 inches (80.96 x 65.72 centimeters)
Framed: 38 1/2 x 32 1/2 inches (97.79 x 82.55 centimeters)
signed lower left: Henri Martin
Provenance:
Private Collection, FL
Thence by descent
The authenticity of this painting has been confirmed by Cyrille Martin.
In 1900 Henri Martin purchased the home known as Marquayrol overlooking the Village of La Bastide du Vert not far from his native Toulouse. Henri Martin would produce many of his most memorable paintings in these environs during the remainder of his life. The ancient arched bridges, charming stone buildings and stands of poplar trees along banks of the river would become to Henri Martin what Giverny was to Claude Monet: an unending source of inspiration, wonder and beauty.
Henri Martin (French, 1860 - 1943)
Henri Martin was born August 5, 1860 in Toulouse. His early works were devoted to poetic and allegorical themes reflecting his training at the Ecole des Beaux-Arts in Toulouse. After winning the Grand Prix he moved to Paris in 1879 to study at the Ecole des Beaux-Arts under Jean-Paul Laurens. Martin exhibited at the Salon des Artistes Français in Paris from 1880, winning a medal at the 1883 Salon.
A visit to Italy in 1885 brought a new lyrical freedom to his work. On Henri Martin's return to Paris in 1889, he began experimenting with pointillism and turned almost exclusively to landscape. In the 1890's his work showed links with Symbolism. He was an associate of the Symbolists and exhibited at their acclaimed showcase -- the first Salon de la Rose Croix in 1892. Under the influence of Georges Seurat and Paul Signac, Martin adopted the pointillism that is exemplary of his most successful works - those rendered in the latter part of his career after having found the technique at which he excelled. In 1889 Henri Martin exhibited at La Fête de la Federation where he was presented with a gold medal. He was named Chevalier of the Legion of Honor in 1896, and in 1900 won the grand prize at the Exposition Universelle. Martin was named Commander of the Legion of Honor in 1914, and became a member of the Institut in 1918.
Selected Museum Collections:
Musée Bonnat, Bayonne; Musée départemental de l'Oise, Beauvais; Musée des Beaux-Arts de Bordeaux; Musée des Beaux-Arts de Caen; Musée de la Chartreuse, Douai; Musée de Grenoble, Grenoble; Musée des Beaux-Arts de Lille; Thyssen-Bornemisza Museum, Madrid; Musée Cantini, Marseille; Minneapolis Institute of Arts; Musée Ingres, Montauban; Musée des Beaux-Arts de Nantes; Musée d'Orsay, Musée du Petit Palais, Musée des Arts Décoratifs & Musée d'art moderne de la ville de Paris, Paris; Musée Crozatier, Le Puy-en-Velay; Musée Antoine Lécuyer, Saint-Quentin; Musée d'Art Moderne et Contemporain, Strasbourg; Musée des Augustins, Musée du Vieux-Toulouse & Faculté des letters, Toulouse; Musée d'art moderne, Troyes; Musée des Beaux-Arts de Valenciennes