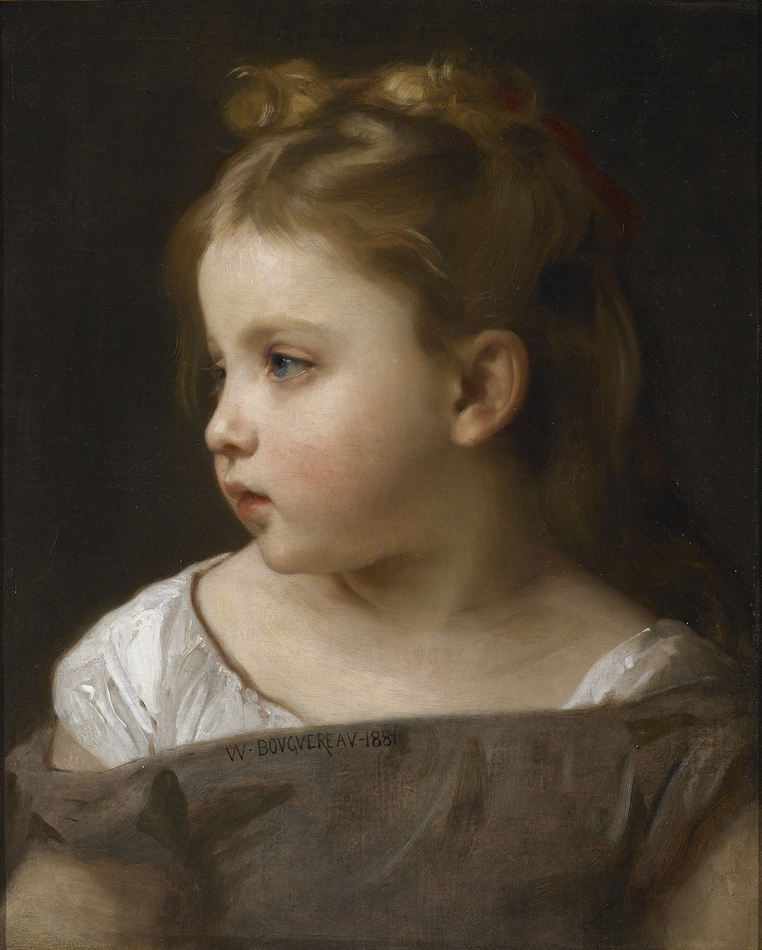 William Adolphe Bouguereau
French, 1825 - 1905
A Young Girl in Profile
1881
Oil on canvas
15 3/4 x 13 inches (40.01 x 33.02 centimeters)
Framed: 22 1/4 x 19 1/4 inches (56.52 x 48.9 centimeters)
signed and dated on pinafore: W. Bouguereau 1881
SOLD
Provenance:
Private Collection, South America, until 2016
This work is accompanied by a certificate of authenticity from Frederick Ross and will be included in the upcoming third edition of the catalogue Raisonné as catalogue no. 1881/15, Head Study of a Little Girl. Mr. Ross notes that this model appeared in several works between 1881 and 1888, including Bouguereau's 1883 Alma Parens.
William Adolphe Bouguereau (French, 1825 - 1905)
William Adolphe Bouguereau was born in the seaport city of La Rochelle and spent much of his youth with an uncle who was a nearby parish priest. This uncle not only gave Bouguereau a religious education but also encouraged his interest in the arts and arranged for him to receive lessons at the college at Pons from a former student of Ingres. As a young man his father encouraged him to help in his business in Bordeaux. Bouguereau however, enrolled himself in the École des Beaux-Arts there, supporting himself by painting portraits. In 1846 he went to Paris where he entered the studio of Picot and after two months was admitted to the École des Beaux-Arts. His first Salon showing was in 1849 and the following year he won the Prix de Rome. Bouguereau remained in Italy for four years where he studied the Italians, especially Raphael and Giotto. The young artist's career was launched upon his return with numerous successive Salon entries and private commissions. He became one of the ost highly sought after portraitists, figure painters and teachers in 19th-century Paris.