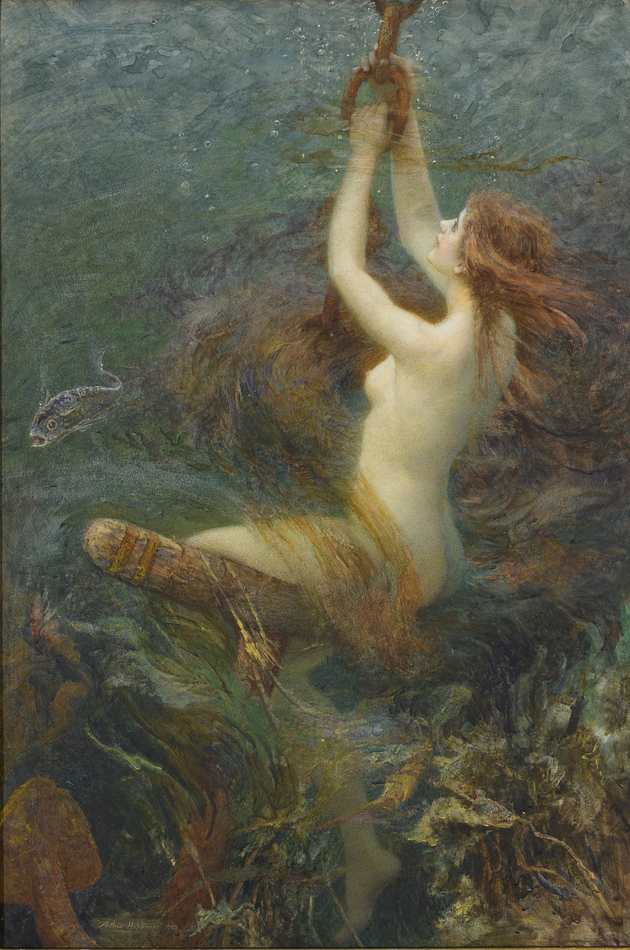 Arthur Hopkins
British, 1848 - 1930
A Fantasy of the Deep
1903
watercolor on paper mounted
38 1/8 x 26 inches (96.84 x 66.04 centimeters)
Framed: 49 1/2 x 38 inches (125.73 x 96.52 centimeters)
signed and dated lower left: Arthur Hopkins 1903
Provenance:
Christopher Wood, London
Private Collection, South America
Exhibited:
Royal Watercolor Society, 1903, no. 175
Arthur Hopkins (British, 1848 - 1930)
Arthur Hopkins painted portraits and figurative subjects. From a highly artistic family, his grandfather was a university colleague of John Keats and a close friend of the eccentric philanthropist Ann Thwaytes, and his father, Manley Hopkins, in addition to founding a marine insurance firm and acting as the Hawaiian consul general in London, was also a published poet and poetry critic for The Times. His older brother Gerard Manley Hopkins became a leading Victorian poet, and younger brother Everard was also an artist.
Hopkins entered the Royal Academy schools in 1872 and exhibited at the Royal Academy beginning in 1875. He was also a regular exhibitor at the Royal Watercolor Society, where he exhibited a total of 106 works, including the present work in 1903. Hopkins also worked as an illustrator, contributing to The Graphic, Punch, and The Illustrated London News.
Bibliography:
Johnson, Jane, Works Exhibited at the Royal Society of British Artists, 1824-1893 and The New English Art Club, 1888-1917 (Antique Collectors Club, 1975): p. 340.
Wood, Christopher, The Dictionary of Victorian Painters (Antique Collectors Club, Woodbridge, Suffolk, 1978): p. 234.