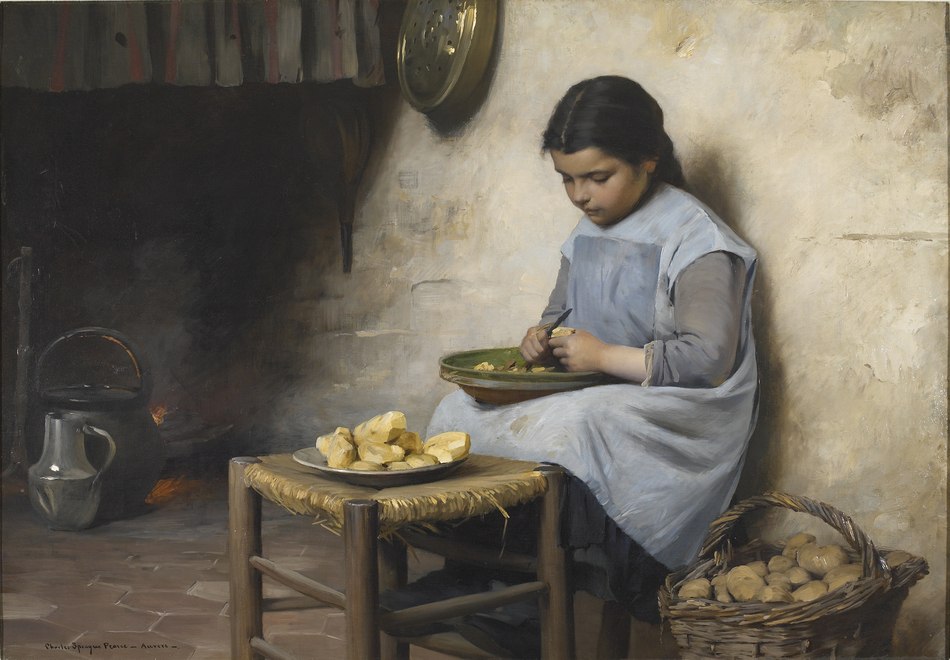 Charles Sprague Pearce
American, 1851 - 1914
Peeling Potatoes
c. 1885
Oil on canvas
30 x 42 3/4 inches (76.2 x 108.59 centimeters)
Framed: 37 x 50 inches (93.98 x 127 centimeters)
Signed and inscribed lower left: Charles Sprague-Pearce / Auvers
Provenance:
Maxwell Galleries, San Francisco
Private Collection, CA (acquired from the above, 1981)
Exhibited:
New York, The Jordan-Volpe Gallery, "A Rare Elegance: The Paintings of Charles Sprague Pearce," Oct-Dec 1993, no. 17.
Literature:
Lublin, Mary, A Rare Elegance: The Paintings of Charles Sprague Pearce (1851-1914) exh. cat. (New York: The Jordan-Volpe Gallery, 1993): no. 17, pp. 29, 81, illus. in color p. 66.
Charles Sprague Pearce (American, 1851 - 1914)
Like many of the ambitious American painters of his time, Charles Sprague Pearce left his native Boston to study painting in the Parisian art capital. In 1873, shortly after arriving in Europe, he entered the atelier of Leon Bonnat, a successful portraitist and history painter with a strong, Realist approach. Spending the warm months studying in Paris and the winter traveling to warmer climates in southern Europe and North Africa lead Pearce to include a variety of themes into his production: from Orientalist paintings of Cairo to Classical and Biblical themes, to Naturalistic images of the French peasantry. He exhibited these regularly at the Salon from 1876 until 1900, often sending the works to for exhibition at major institutions in the United States after the Salon's close.
Rather than returning to the United States after his studies, in 1884 Pearce purchased a farm in the village of Auvers-sur-Oise, northwest of Paris, where he resided with his wife until his death in 1914. The 1880s presented the pinnacle of the taste for Naturalist painting, and artists such as Léon Lhermitte, Jules Bastien-Lepage, P. A. J. Dagnan-Bouveret set the standard for an international movement. Naturalistic practice combined Academic principles of draughtmanship with modern, impressionistic paint handling and an attention to light and color that resulted in the use of photographic studies and outdoor or glass studios. After his move to Auvers-sur-Oise, Naturalistic scenes of peasants in the silvery, northern fields and rolling hills of the area became predominant in the Pearce's oeuvre.