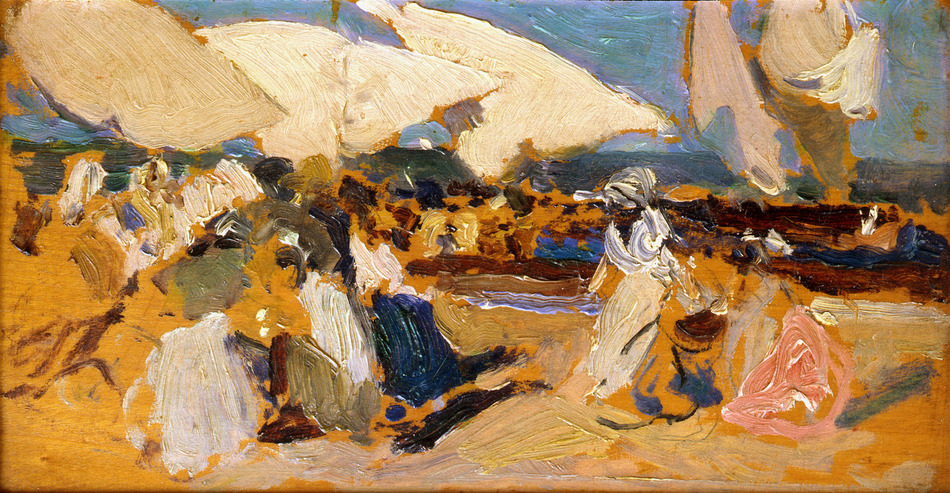 Joaquin Sorolla y Bastida
Spanish, 1863 - 1923
Playa de Valencia
c. 1903
Oil on panel
5 1/4 x 9 3/4 inches (13.34 x 24.77 centimeters)
Framed: 13 x 17 3/4 inches (33.02 x 45.09 centimeters)
Signed in brown ink, lower left: J Sorolla
SOLD
Provenance:
George S. Keyes, Concord, MA (purchased 1909 after the Hispanic Society Exhibition)
Baron Cassel van Doorn (d. 1952)
Private Collection, Mexico
Exhibited:
Exposition Sorolla y Bastida, Galerie Georges Petit, Paris, 12 Jun – 10 Jul 1906 (probably)
Paintings by Joaquin Sorolla y Bastida, Hispanic Society of America, NY, 4 Feb – 9 Mar 1909, no. 204. (Note: This was the first exhibition at the Hispanic Society and was a highly important event.)
Literature:
"Eight Essays on Joaquin Sorolla y Bastida" Vol. II (New York, Hispanic Society of America, 1909): p. 425, No. 204, ill. p. 103.
This painting is accompanied by a certificate of authenticity from Blanca Pons-Sorolla.
Although Joaquin Sorolla is best known for his large canvases depicting the various provinces of Spain, small sketch-like works, such as Playa de Valencia, make up a large part of his oeuvre and were exhibited at his most major exhibitions. Blanca Pons-Sorolla has dated the current work to circa 1903. From the late 1890s until about this time, Sorolla was frequently working on such small panels, exploiting the hard surface of the bare panel to create works with exceptionally fresh and dynamic brushwork.
Playa de Valencia was most likely exhibited in the 1906 Exposition Sorolla y Bastida held at Galerie George Petit, as is evinced by the signature in ink: numerous works from the George Petit exhibition were signed in this manner. Three years later it was included in the exhibition of Sorolla's works held at the Hispanic Society of America in New York and was illustrated in the catalogue Eight Essays on Joaquin Sorolla y Bastida (no. 204), published at the close of the exhibition. The Hispanic Society had only recently been established by Archer Huntington, and the Sorolla show was the first exhibition held at the new museum. One of the major artistic events of the year, the exhibition was open seven days a week from 10am until 10pm and attracted nearly 170,000 attendees, including nearly 29,500 people on its closing day. The exhibition resulted in major commissions for the artist, including a portrait of President Taft, and a majority of the works on display were sold to American collectors and major museums.
Playa de Valencia was sold during the Hispanic Society exhibition to George S. Keyes of Concord, Massachusetts. Keyes came from a respected Concord family that was influential in the intellectual and artistic culture of Massachusetts. In 1923 Keyes helped to found the Concord Art Center, and became the Center's Vice-President, with renowned American sculptor Daniel Chester French as President. The painting was later sold to Baron Cassel van Doorn, a Belgian banker whose extraordinary collection of works from the 12th to the 19th centuries was housed at a villa in Cannes.