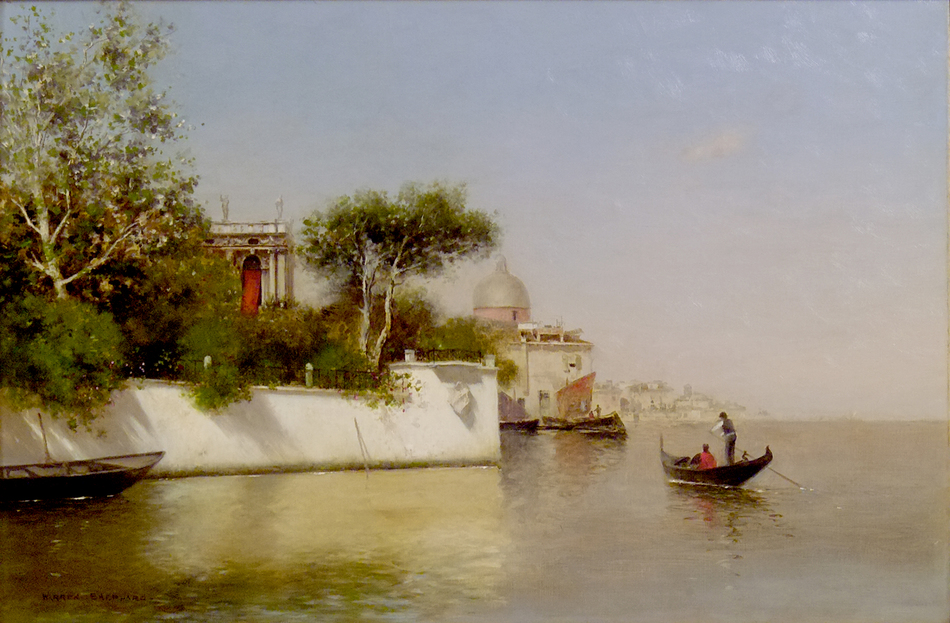 Warren Sheppard
American, 1856 - 1937
View of a Venetian Villa and Gondola
Oil on canvas
16 x 24 inches (40.64 x 60.96 centimeters)
Signed lower left: Warren Sheppard
Warren Sheppard (American, 1856 - 1937)
Warren Sheppard was a student of the renowned Dutch/American marine artist, Mauritz de Haas. He built two successful careers around his love of the sea, one as a renowned marine painter and another as a designer of yachts. He was born in Greenwich, New Jersey, a town on the Delaware River below Philadelphia, which has been associated with ships and shipping since the earliest Colonial times. His father was a sea captain and the young Sheppard took many voyages with his father to make artistic studies. He learned perspective drawing at Cooper Union in New York City in addition to his studies with De Haas.
In 1879 he spent four months sketching Mediterranean port cities including Gibraltar, Genoa, Naples and Messina in Sicily and between 1888 and 1893 he studied painting in Venice and Paris. During this time Sheppard spent several years painting in Venice producing a major body of work. He is extremely well known for his Venetian subjects. Many of the great Spanish painters of the day influenced Sheppard as they were painting in Venice while he lived there, such as Martin Rico Y Ortega, Rafael Senet Perez and Antonio Maria de Reyna Manescau.
Sheppard was also an expert navigator and sailed a number of famous yachts in races. Twice he was to command the Tamerlane when it won the New York to Bermuda run. His book, Practical Navigation, was used for many years by the United States Naval Academy. Though he retired from the sea, Sheppard continued to paint until his death in Brooklyn, New York in 1937.
Exhibited:
Denver Exposition 1884-Gold medal
Chicago Exposition - 1892
St. Louis Exposition-1904
Brooklyn Allied Artists Group Shows - 1874-1881
National Academy of Design - 1880-1899
Selected Museum Collections:
Albright-Knox Art Gallery, Buffalo, NY; Toledo Museum of Art, OH; Mystic Seaport Museum, Mystic, CT; Addison Gallery of American Art (MA); Phillips Academy, Andover; Springfield Public Library, MA