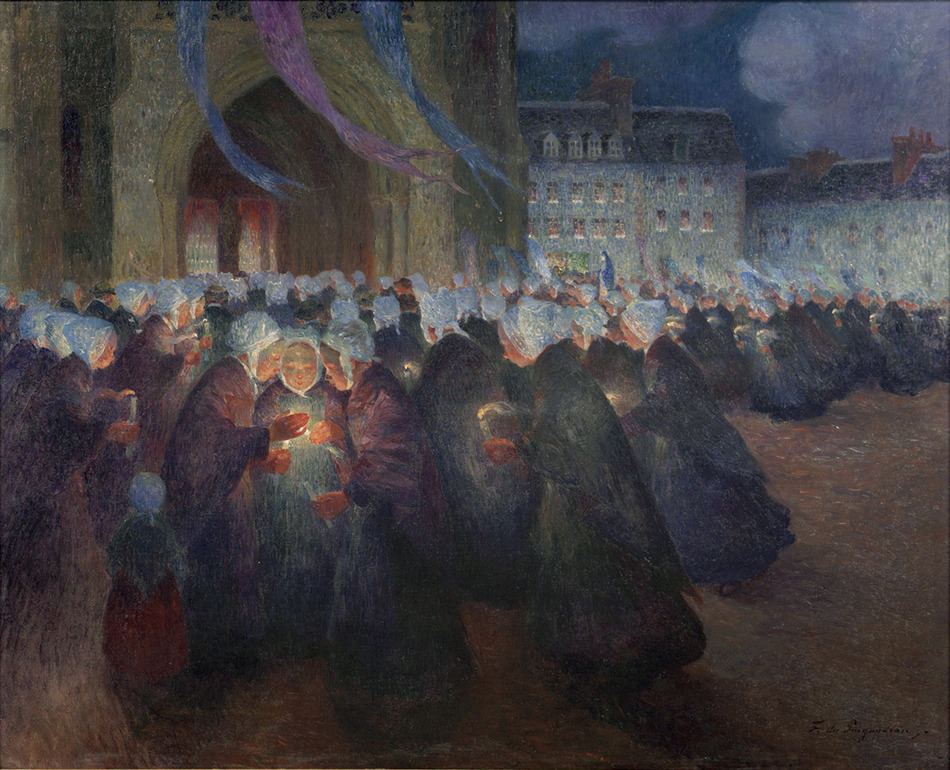 Ferdinand Loyen du Puigaudeau
French, 1864 - 1930
Procession de Nuit à Saint-Pol-de-Léon
c. 1898
Oil on canvas
32 x 39 3/8 inches (81.28 x 100.01 centimeters)
Framed: 41 x 48 1/2 inches (104.14 x 123.19 centimeters)
Signed lower right: F. du Puigaudeau
SOLD
Provenance:
M. Clément Bouquet
Didier Imbert, Paris
Exhibited:
Nantes, Exposition de la Société des Amis des Arts de Nantes, Feb. 1903, no. 335.
Paris, Galérie Dru, Retrospéctive Ferdinand du Puigaudeau, March – April 1931.
Pont-Aven, Musée de Pont-Aven, Ferdinand du Puigaudeau, March – June 1998.
Morlaix, Musée des Jacobins, Ferdinand du Puigaudeau, Nov 1998 – Jan 1999.
New York, Hammer Galleries, Ferdinand du Puigaudeau, Mar – Apr 2002.
Literature:
M. Antoine Laurentin, Ferdinand du Puigaudeau Catalogue Raisonné, Tome I, (Paris, Editions Thierry Salvador, 1989): N° 20, page 258 (as Procession de Nuit)(Reproduced in color page 62).
Ferdinand du Puigaudeau, 1864-1930, Ex. Cat., (Musée de Pont-Aven and Musée des Jacobins, Morlaix, 1998): ill. p. 34 and on cover.
In Procession de nuit à St. Pol de Léon Puigaudeau treats to outstanding effect one of his favorite themes: the mystical qualities of a candlelight procession in a nocturnal setting. Saint Pol de Léon is situated on the northern coast of Brittany, almost directly north of Pont Aven. A famous Breton spiritual center since the 13th century, the first railways to the village were built in 1883, giving access to the growing number of artists working in Brittany. Drawn by the devout traditional religious practice of the region, artists traveled from Breton village to village, recording the many processions and pardons. The Processions began in Europe during the middle ages, the three most famous Processions were associated with the the Tro Breizh Pilgrimage in Brittany, the Santiago de Compostela Pilgrimage in Spain, and the middle-age pilgrimages to Jerusalem. The Processions were part of traditional religious ceremonies called Pardons, which, in Britanny, celebrate the patron saint of a church or chapel and involve the granting of indulgences. The Pardons begin in March and end in October, but the majority are between Easter and Michaelmas on Sept 29. Pilgrims from all over Brittany attended these Pardons, clad in their best costumes which were often only worn for these occasions and at weddings. The Pardon began with early mass at 4 AM, and the greater part of the day was spent in prayer. After the religious service, a great procession took place around the church. This was the most picturesque part of the Pardon and the event that drew artists from around France to Breton villages. For example, the Procession at Ste-Anne d'Auray was said to be especially impressive, attended by all of those who believed that the intercession of St. Anne had saved them from danger: Sailors carried fragments of their shipwrecked vessels; the injured carried their crutches on their shoulders; those rescued from fire carried the ropes or ladders which they had used to escape the flames. Processions were followed by a large feast in honor of the corresponding saint.
The Procession de nuit depicts the culmination of one such procession outside of the Saint-Pol-de-Léon Basilica-Cathedral. Groups of women, each participant holding a lit taper, congragate outside of the cathedral. Blue and violet banners wave above the Basilica for the occasion and an icon of the virgin is carried towards the lit entrance. Every element of the composition has a flowing, unstable quality, from the shifting masses of women to the long banners and billowing clouds. The candelit scene is painted with an overall blue cast flecked with warm dashes of light and color which give even the solid walls of buildings and the Cathedral arch a fluid, ethereal disposition. A critic commenting on the painting during its 1903 exhibition in Nantes wrote:
The Procession de nuit à Saint Pol de Léon, no. 335 by M. du Puigaudeau is quite striking. If one was standing in front of the church one would believe that the girls and the women were pushing and bumping into each other having a great time blowing out and then lighting their candles. It is a real symphony of blues. Everything is blue, the sky, the houses, the head-dresses, the gowns. For tackling such a difficult composition M. du Puigaudeau is due praise as he has captured movement, light and space within the confused and disorganised mass of bodies. 1
While multiple Pardons may have occurred at a given location during the course of a year, the primary Pardon at Saint-Pol-de-Léon was part of a broader pilgrimage called the Tro Breizh (Tower of Brittany). This is a tour of Brittany that passes through seven towns where Christianity was founded by the Breton Saints: St Brieuc, St Malo, Dol-de-Bretagne, Vannes, Quimper, St Pol-de-Léon and Tréguier. Tradition has it that the walk was done in order to guarantee entry into Heaven. The Pilgrimage dates to the 9th-century, and Bretons of the time considered it as important as the Santiago de Compostela and the pilgrimage to Jerusalem.
1 "Le procession de nuit à Saint Pol de Léon no. 335 de M. du Puigaudeau est très curieuse a voir. Si l'on n'était devant une eglise on croirait que les femmes se pressant, se bousculant, s'ammusent a souffler et a allumer des cierges. Comme facture, c'est une véritable symphonie de bleu. Tout est bleu dans le tableau, le ciel, les maisons, les coiffes, les robes. Comme difficulté vaincue M du Puigaudeau a droit a des elogés car il y a du movement, de l'air, dans cette foule confuse et desordonéee. " B.S. Le Populaire, 12 February 1903.
Ferdinand Loyen du Puigaudeau (French, 1864 - 1930)
Ferdinand du Puigaudeau is often known for his mystical scenes of processions and carnivals around Pont Aven and by his association with the Gauguin and the Pont Aven School. Still, after Gauguin moved on to the Pacific and many of the other artists of the group to Paris, Puigaudeau remained on the coast, moving an estate called Kervaudu at Le Croisic, near the mouth of the Loire. Once there, he turned his attention to the beautiful landscape of the region: coastal cliffs with twisting fig trees, flowering fields dotted with small villages.
Beginning in the 1850s, the religious traditions, mystical practices and culture of Pont-Aven gave birth to a new pictorial style in French painting. By the 1880s, numerous artists of a modern tendency worked in the region and adopted vivid color use and created compositions that utilized simplified space with sharply defined forms, influenced by a new interest in Japanese art. Puigaudeau was part of this colony and hence contributed to the birth of the ?Pont-Aven School.? He developed close relationships with Paul Gauguin, Edgar Degas, Theo van Rysselberghe, James Ensor and Emile Bernard. Degas often affectionately referred to Puigaudeau as l?ermit of Kervaudu (Kervaudu being the estate near Nantes where Puigaudeau settled after the break-up of the Pont-Aven group), and the two painters exchanged letters throughout their lives.
Puigaudeau?s distinctive impressionistic style is evident in his variations of color and depictions of light. Throughout his career, Puigaudeau maintained a systematic search for vivid, luminous color. Following this interest, he chose subjects that would allow him to play with the extremes of color and light: sunsets, fireworks, candlelight, and the transitory effects of flickering sun or moonlight on water or windy fields. In each case, the fleeting effects of light and color are his true subject. Puigaudeau claimed to believe in ?color above all else,? and his scenes sparkle with vivid shades of blue, green, gold, and red.
Selected Museum Collections:
Madrid, Thyssen-Bornemisza Museum; Morlaix, Musée Jacobins; Nantes, Musée des Beaux-Arts; Quimper, Musée des Beaux-Arts; Musée Saint Nazaire;
Bibliography:
Laurentin, Antoine, Ferdinand du Puigaudeau Catalogue Raisonné, Editions Thierry Salvador, Paris, 1989.
LePaul, Judy, Gauguin and the Impressionists at Pont-Aven, Abbeville Press, New York, 1987.
Ferdinand du Puigaudeau, 1864-1930, Ex. Cat., Musée de Pont-Aven and Musée des Jacobins, Morlaix, 1998.