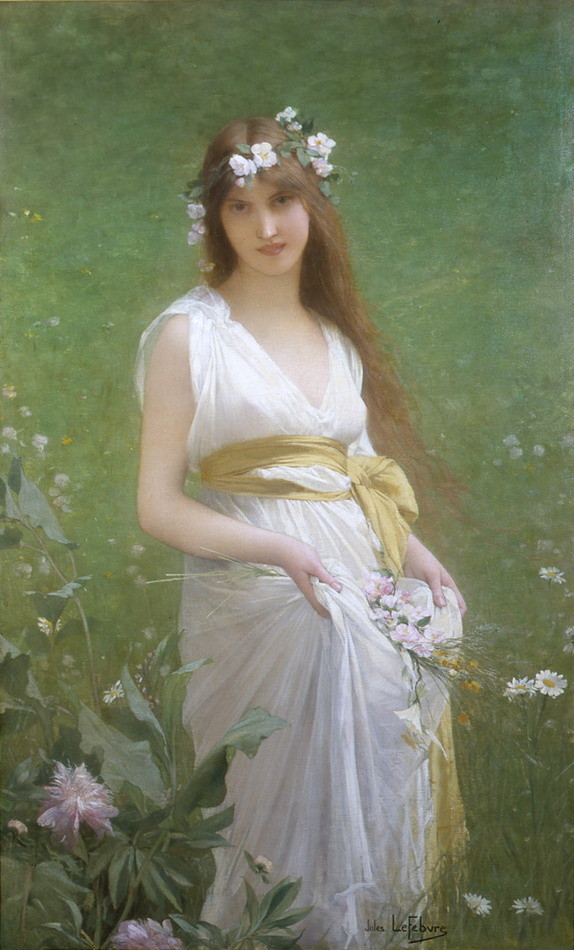 Jules-Joseph Lefebvre
French, 1834 - 1911
Springtime
Oil on canvas
55 1/2 x 34 inches (140.97 x 86.36 centimeters)
Framed: 67 x 45 inches (170.18 x 114.3 centimeters)
Signed lower right: Jules Lefebvre
SOLD
cf: similar work of 1890 entitled Ophelia, Springfield Museum of Fine Arts, Springfield, Massachusetts.
While elegant young women remained Lefebvre's preferred subject throughout his long and distinguished career, his beautiful sitters remained sensitive to the dominant esthetic tastes of the day. In the late 1880s and 1890s, as the Symbolist and Classicist mode of artists such as Puvis de Chavannes or Gustave Moreau supplanted the Naturalist or exotic tendencies of earlier decades, Lefebvre's work shifted accordingly. The present work, most likely of this period, presents an allegorical figure of Springtime crowned with a wreath of pale blossoms and carrying fresh stems in the folds of her classical gown. Despite the idealized, symbolist subject, Lefebvre's commitment to painting from life is evident in the very specific, crisply painted flowers and foliage and in the translucent tones of flesh and fabric.
Jules-Joseph Lefebvre (French, 1834 - 1911)
Jules-Joseph Lefebvre is best known as a romantic allegorical painter who specialized in genre scenes, portraits, and nudes. His father, a baker, encouraged his sons artistic career and sent him to Paris at age sixteen. There he studied with Léon Cogniet and entered the Ecole des Beaux-Arts in 1852. He competed for the Prix de Rome, winning a second place in 1859 and first place in 1861 with his painting of The Death of Priam. While living in Rome he painted his first nude, a Bather, which was sent to Paris in 1863. During his stay in Italy he also painted many works with ancient subject matter, investing them with an elegant or amusing quality. When he returned to Paris, Lefebvre became disenchanted with the academic focus on working from memory and sought to paint directly from life. The result was a series of statuesque women, both nudes and draped, which passed from his studio under the guises of such characters as Pandora, Diana, Sappho, Mary Magdalene and Ophelia.
Lefebvre made a distinguished career as a painter of women. One reviewer wrote in 1881,
It is sufficient to just mention his name in order to immediately evoke the memory and the image of the thousand adorable creature of which he is the father?. An unusually skilled draughtsman, Jules Lefebvre better than anyone else caresses, with a brush both delicate and sure, the undulating contour of the feminine form. 1
Lefebvre won medals at the Salons of 1865, 1868, and 1870. After the last, where he exhibited his famous nude Truth, now in the Musée d?Orsay, he was made a Chevalier of the Legion of Honor. His success only grew and he won a first class medal at the Exposition Universelle of 1878 and the grand prize in 1889. In 1891 he became a member of the Institute and in 1898 was made a Commander of the Legion of Honor.
Selected Museum Collections:
Musée des Beaux-Arts de Amiens; Harvard University Art Museums, Cambridge; Musée des Beaux-Arts de Lyon; Metropolitan Museum of Art, New York; Musée du Louvre and Musée d?Orsay, Paris; Musée des Beaux-Arts de Rouen; Hermitage, Saint-Petersburg;
1 L. Enault, Paris-Salon 1881; rpt. in Equivoques, Paris, 1973, n.p.; rpt. in Eric M. Zafran, French Salon Paintings from Southern Collections, Atlanta, GA: High Museum of Art, 1982, p. 138.