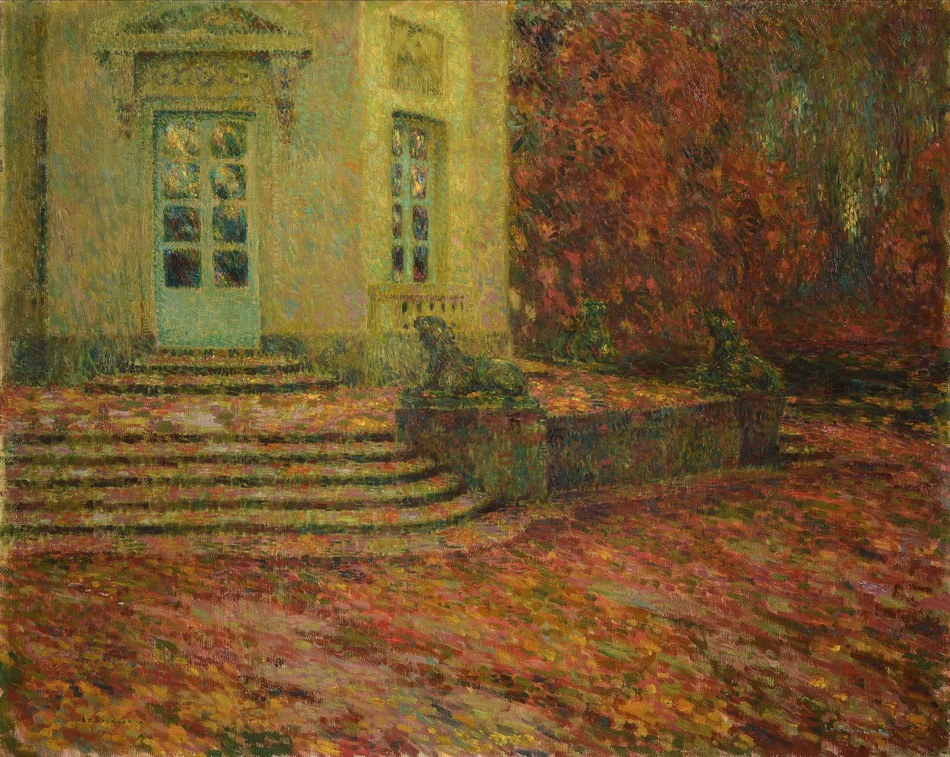 Henri Le Sidaner
French, 1862 - 1939
Le Pavillon de musique. Automne, Versailles
1912
Oil on canvas
25 5/8 x 31 7/8 inches (65.09 x 80.96 centimeters)
Signed lower right: Le Sidaner
Provenance:
Galeries Georges Petit, no. 1779 and 9112
Private collection, Argentina
Exhibited:
1912, Salon de la Société National des Beaux-Arts, Paris, no. 860
Literature:
Farinaux, Yann and Remy Le Sidaner. Le Sidaner: L'oeuvre peint et gravé, (Milan: Edition André Sauret. Elli and Pagini, 1989): pg. 131. no. 292.
Henri Le Sidaner (French, 1862 - 1939)
Henri Le Sidaner was an accomplished painter and pastelist who is best known for his misty or twilit scenes worked with broken, patterned brushstrokes.
Born on the island of Mauritius, Le Sidaner studied with academic painter Alexandre Cabanel at the Ecole des Beaux-Arts, but his zeal for the innovations of Impressionism led him to reject the conventions of his training in favor of the avant-garde movements of fin-de-siècle France. Early in his career, he was linked with both the Pre-Raphaelites and the Symbolists. He began his public career at the conservative Salon des Artistes Français, where he was recognized with a third-class medal and travel grant in 1891. From 1892 Le Sidaner exhibited at the newly-founded Salon of the Société Nationale, a Société directed by Puvis de Chavannes and known for its acceptance of modern tendencies. By 1930, Le Sidaner, already an officer of the Legion of Honor, was elected a member of the Institut, gaining a position at the Académie des Beaux-Arts.
In 1898 Le Sidaner visited Bruges, where he was exposed to the strongly symbolist and monochromatic tendencies of the Belgian painters. By about 1900 he developed the motifs that defined his career: scenes of buildings and gardens with strong geometric compositions and sparkling, close tonalities. Le Sidaner specialized in tableaux with mysterious, waning light effects and poetic twilit scenes. Their subtle tones recall the work of James McNeill Whistler, and like Whistler's work, the scenes' luminous palettes and dappled surfaces create a quiet, atmospheric world.
Selected Museum Collections:
Musée d'Orsay, Musée du Petit-Palais and Musée Bouchard, Paris; Musée de Picardie, Amiens; Musée départemental de l'Oise, Beauvais; Bilbao Fine Arts Museum; Groeningemuseum, Brugge; National Museum of Wales, Cardiff; Art Institute of Chicago; Cleveland Museum of Art; Wallraf-Richartz Museum, Cologne; Musée national du château and Musée Antoine Vivenel, Compiègne; Detroit Institute of Arts; Musée des Beaux-Arts de Dijon; Musée de la Chartreuse, Douai; Museum voor Schone Kunsten, Gent; Indianapolis Museum of Art; Musée des Beaux-Arts, Lille; Tate Gallery, London; Musée des Beaux-Arts de Lyon; Museo Thyssen-Bornemisza, Madrid; Musée des Beaux-Arts, Nantes; Ashmolean Museum, University of Oxford; Norton Simon Museum, Pasadena; Musée des Beaux-Arts, Pau; Philadelphia Museum of Art; Musée des Beaux-Arts, Rennes; Memorial Art Gallery of the University of Rochester, NY; Palazzo Ruspoli, Rome; Musée Antoine Lécuyer, Saint-Quentin; Chi-Mei Museum, Taiwan; Musée des Beaux-Arts, Tourcoing; Musée d'art, d'archéologie et de sciences naturelles, Troyes; Musée des Beaux-Arts, Valenciennes; Musée Lambinet, Versailles;