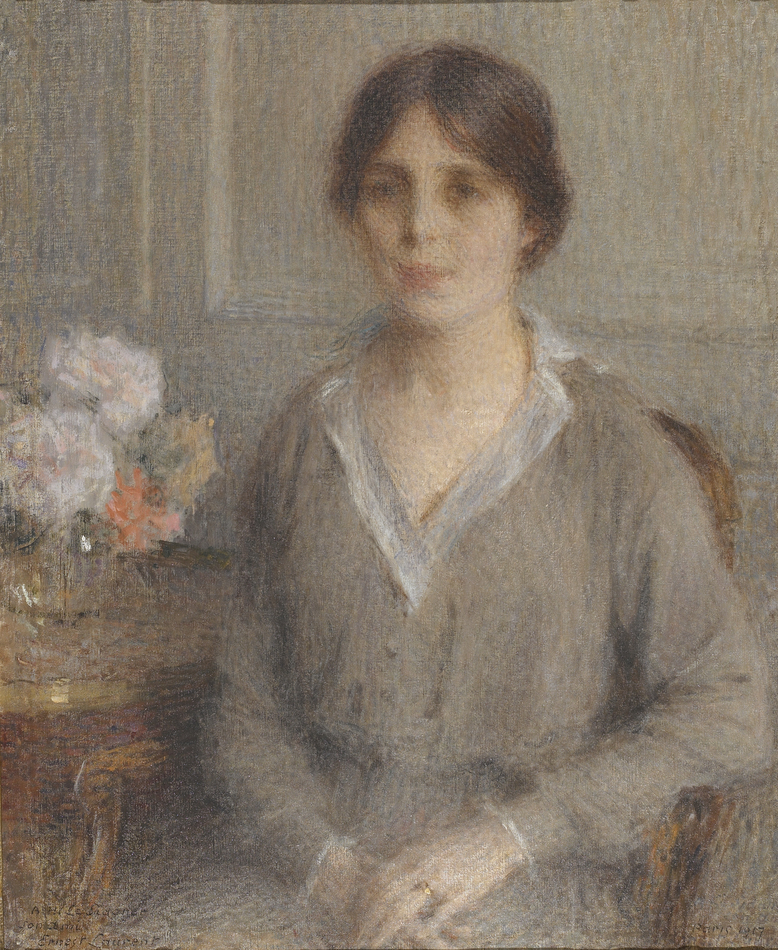 Ernest Laurent
French, 1859 - 1929
Madame Le Sidaner
1917
Oil on canvas
28 3/4 x 24 1/2 inches (73.03 x 62.23 centimeters)
Framed: 35 x 29 1/2 inches (88.9 x 74.93 centimeters)
signed and inscribed lower left: A H. Le Sidaner, son ami, Ernest Laurent
and inscribed lower right: Paris 1917
Provenance:
Henri and Camille Le Sidaner
Thence by descent
Louise d'Argencourt, Paris
Exhibited:
possibly exhibited at Musée de l'Orangerie, "Exposition Ernest Laurent," Paris, 1930, no. 168 as Portrait de Mme. H. L. S. 1917 (à Mme. Henri Le Sidaner)
The current work was in the collection of the family of Henri Le Sidaner for many years. Yann Farinaux-Le Sidaner, descendant of Henri and Camille Le Sidaner and expert on Le Sidaner's work, commented on the painting:
For many observers, Ernest Laurent captured in the difficult art of portraiture, a fairly close, similar feeling toward nature to that his friend Henri Le Sidaner. In 1917, Laurent came to visit [Le Sidaner and his wife Camille] at Versailles to admire his friend's paintings. The couple was so pleased to receive their good friend and beloved artist, that he offered to paint the portrait of Camille. The sittings in the lounge of the Rue des Reservoirs were most pleasant. Laurent sat with his sketchbook in hand, conversing with Camille, who he asked to move at will. A few days later, [Laurent] returned with his painting completed, to correct a few details. I believe that an exchange was agreed with [the view of] Le Pavilion français sous la neige, Versailles (1916) that Le Sidaner had just finished.
The portrait of Camille Sidaner remained in our family until recent years. 1
1 Pour beaucoup d'observateurs, Ernest Laurent montrait dans l'art difficile du portrait, une manière assez voisine, une même émotion de la nature que son ami Henri Le Sidaner. En 1917, Laurent vint en visite à Versailles contempler les toiles de son camarade. Le couple avait tant plaisir à recevoir cet ami si agréable et l'artiste qu'ils aimaient tant, qu'il lui fut proposé de réaliser le portrait de Camille. Les séances de pose dans le salon de la rue des Réservoirs étaient des plus plaisantes. Son seul carnet de croquis en main, Laurent conversait avec Camille, à qui il était demandé de se mouvoir à son gré. Quelques jours plus tard, il revint avec sa toile terminée, pour corriger quelques détails. Je crois qu'un échange fut entendu avec un Pavillon Français sous la neige que Le Sidaner venait d'achever.
Le portrait de Camille Le Sidaner est resté dans notre famille jusqu'à ces dernières années.