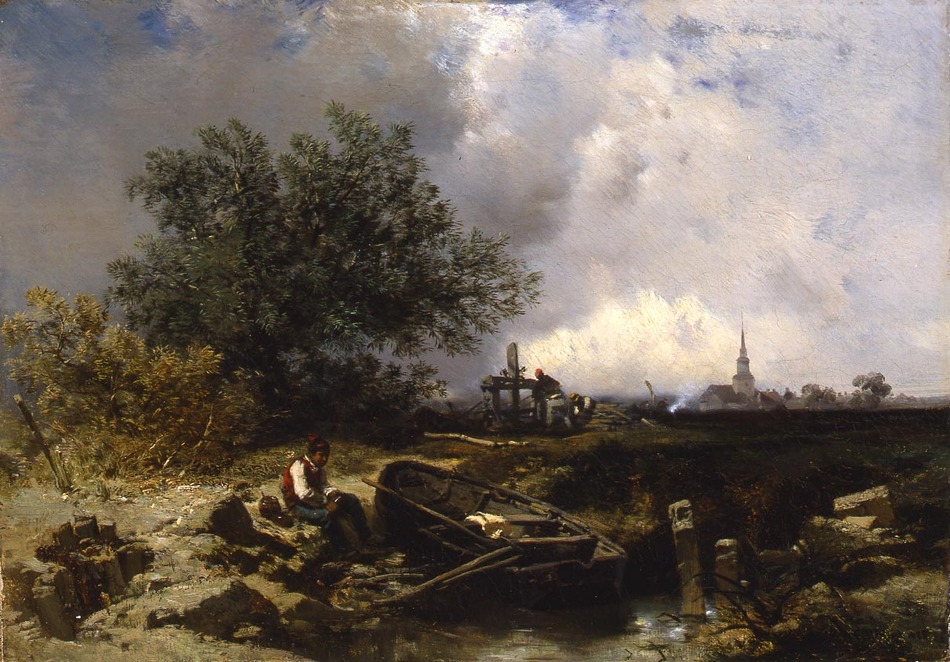 Charles Hoguet
French, 1821 - 1870
The Fisherman's Lunch
Oil on canvas
13 x 18 1/4 inches (33.02 x 46.36 centimeters)
Signed and illegibly dated lower right: C Hoguet 185(?)
SOLD
In The Fisherman's Lunch, Hoguet depicts an open, flat landscape where a young fisherman has moored his rowboat along the edge of a shallow lake. Seated on the smooth shoreline, he finishes a simple lunch of bread and stew. The vivid red vest and cap of his rustic costume anchor him at the center of the composition and make him the focus of the broad scene. In the distance, two more figures are hard at work, and further still a third stands over the smoke of a small bonfire. The steeple of provincial church dominates the landscape at the rear of the composition and, although the canvas was completed during Hoguet's German period, establishes the French character of the view. The picture is typical of Hoguet's oeuvre, painted with a cloudy turbulent sky and completed in the cool, monochromatic palette for which the artist is known.
Charles Hoguet (French, 1821 - 1870)
Charles Hoguet was born in Berlin to French parents. He began his studies with the marine painter Wilhelm Krause in Berlin. In 1839 the artist moved to Paris where he continued his studies with the landscape painter Bertin, who had also been the master of Corot, as well as with the Barbizon painter Eugène Cicéri, and finally with Louis-Gabriel-Eugène Isabey, a landscapist and one of the leading proponents of Romantic school. After his sojourn in Paris, he traveled extensively, briefly stopping to sketch in England, Holland, and along the Belgian and Norman coasts. He returned permanently to Berlin in 1848.
Hoguet was known primarily as a painter of landscape and genre scenes. Having absorbed the spirit of the Romantic school from his teacher Isabey, Hoguet often depicted broad landscape views with menacing skies. Despite this tendency towards dramatic views, Hoguet was also of the same generation as Charles Daubigny and embraced the principles of the Barbizon school. The result was a penchant for stormy landscapes painted in a brushy, realistic style. This unique blend of influences gained him the title the ?Raphael of windmills.? Even after the 1850s, while Courbet lead French landscape painting towards greater Realism, Hoguet continued to work in a more Romantic vein, giving his work greater affinities with that of Diaz, Corot, and the first generation of Barbizon painters than to that of his more Realist contemporaries. He exhibited his landscape scenes at the Paris Salon from 1842 to 1853, medalling at the Salon of 1848, a year notable for the dominance of the Barbizon School. After 1848 he continued exhibiting in Berlin, where he medalled in 1859, and gained membership to the Berlin Academy in 1869.
Selected Museum Collections:
Berlin Nationalgalerie; Breslau; Hamburger Kunsthalle; Königsberg; Leipzig; Victoria and Albert Museum, London; Lübeck; Musée Fabre, Montpellier; Tretyakov Gallery, Moscow;
Literature:
Barbizon to Brittany: Landscape and Realist Painting in Nineteenth-Century France. (New York, Jack Kilgore & Co, Inc. 2001.) no. 15-16.
Nationalgalerie Berlin, Verzeichnis der Gemälde und Skulpturen des 19. Jahrhunderts. (Berlin: Staatliche Museen, Preußischer Kulturbesitz, 1976): pp. 173-174.
Bellier de la Chavignerie and Auvray, Dictionnaire general des artistes de l?école française, rpt. (Paris: Galerie Laurentin, 1997): p. 773.
Bénézit, vol. 5, 1976.
Lydia Harambourg, Dictionnaire des peintres paysagistes Français au XIXe siècle. (Neuchâtel, Switzerland: Edition Ides et Calendes, 1985): p. 185.
Gérald Schurr, 1820-1920, Les petits maitres de la peinture valeur de demain. (Paris: Les Éditions de l?Amateur, 1982): vol. II, p. 32.
Thieme-Becker
News on the artist
July 27, 2011 @ 2:40 PM UTC

Now in Glasgow:

#Millet #Barbizon

Pastel of "The Angelus" Allocated to Kelvingrove Art Gallery and Museum: http://t.co/soF2LMA via

@AddThis

August 1, 2011 @ 3:35 PM UTC

October 6, 2011 @ 3:00 PM UTC

October 20, 2011 @ 9:17 PM UTC

November 1, 2011 @ 3:38 PM UTC

November 3, 2011 @ 4:34 PM UTC

December 12, 2011 @ 10:53 PM UTC

When you visit the new 19th-century galleries

@ngadc

don't miss this

#Rousseau

http://t.co/Qgr6EWp5 and http://t.co/awPyBEDl

#Barbizon

January 30, 2012 @ 10:42 PM UTC

February 7, 2012 @ 10:14 PM UTC

March 16, 2012 @ 7:56 PM UTC

April 10, 2012 @ 2:50 PM UTC

April 10, 2012 @ 3:09 PM UTC

April 13, 2012 @ 9:22 PM UTC

April 13, 2012 @ 9:23 PM UTC

May 30, 2012 @ 7:40 PM UTC

July 2, 2012 @ 4:03 PM UTC

July 16, 2012 @ 8:01 PM UTC

August 29, 2012 @ 10:26 PM UTC

#Courbet

's Majestic Oak Painting Returns to Its Roots After Hometown Museum's $5-Million Purchase http://t.co/y2JTiZXo

#Barbizon #Realism

September 7, 2012 @ 3:07 PM UTC

November 19, 2012 @ 10:19 PM UTC

January 28, 2013 @ 11:44 PM UTC

February 14, 2013 @ 4:00 PM UTC

March 12, 2013 @ 3:27 PM UTC

March 21, 2013 @ 2:55 PM UTC

March 22, 2013 @ 9:14 PM UTC

Happy belated bday Theodore

#Rousseau

http://t.co/7UrhiBahm6 and Jules

#Dupre

http://t.co/ATFe97j3cs. Apr 15 -a great day for

#Barbizon

art

April 16, 2013 @ 4:05 PM UTC

June 10, 2013 @ 3:41 PM UTC

Now at Schiller & Bodo : MASTERWORKS OF THE BARBIZON SCHOOL, on view through November 27 http://t.co/pgDhaUAscc

#Barbizon #exhibitions

November 5, 2013 @ 4:10 PM UTC

April 15, 2014 @ 5:33 PM UTC

And Happy Birthday Jules

#Dupre

- April 15, 1811 - a great day for

#Barbizon

School painters! http://t.co/62PKvhJpN8

April 15, 2014 @ 7:03 PM UTC

May 1, 2014 @ 3:35 PM UTC

Here is our current

#exhibition

catalogue: A Romantic Vision, The

#Barbizon

School and its Contemporaries http://t.co/iemkJ4fmdG

May 5, 2015 @ 5:16 PM UTC

August 11, 2015 @ 2:52 PM UTC

March 10, 2016 @ 5:50 PM UTC

March 15, 2016 @ 3:01 PM UTC

April 15, 2016 @ 7:09 PM UTC

June 17, 2016 @ 8:23 PM UTC

July 15, 2016 @ 7:30 PM UTC

July 13, 2017 @ 9:49 PM UTC

October 4, 2018 @ 5:43 PM UTC