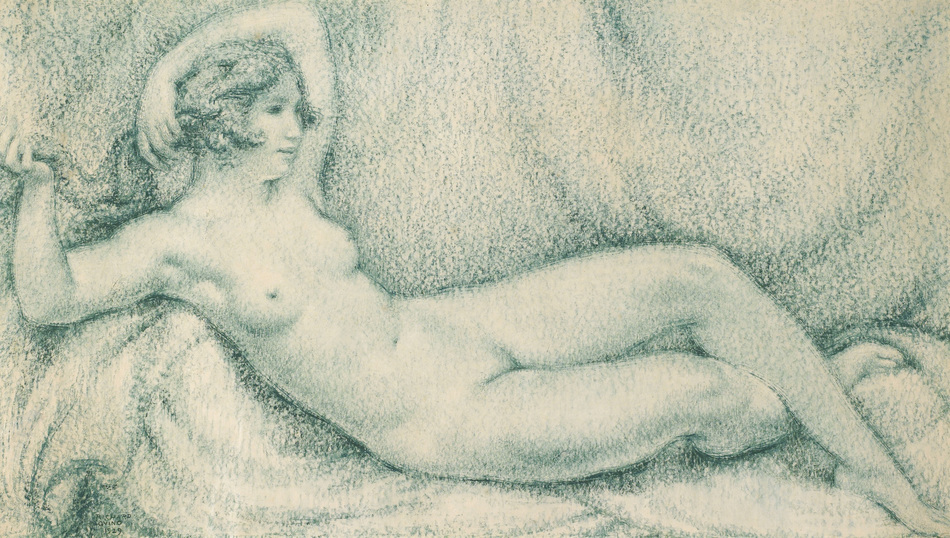 Richard Guino
French/Catalan, 1890 - 1973
Reclining Nude
1929
Green wax pencil on woven paper
21 x 37 1/8 inches (53.34 x 94.3 centimeters)
Framed: 28 x 43 1/2 inches (71.12 x 110.49 centimeters)
Signed and dated lower left: Richard Guino 1929
Provenance:
Private Collection, Paris
Richard Guino (French/Catalan, 1890 - 1973)
Richard Guino was born on May 26, 1890 in Girona, Catalonia, Spain. As prodigal sculptor he entered the Art School of Girona at a very young age and later attended the Superior School of Fine Arts in Barcelona. He participated in two group exhibitions while in school was "discovered" by French sculptor Aristide Maillol, who considered Guino "the most gifted European sculptor of his generation". Maillol brought Guino to France to work by his side. Guino also attended the Ransom Academy in Mountmartre while working with Maillol.
Guino was later selected as assistant to Pierre-Auguste Renior by Ambroise Vollard, art dealer to both Renior and Maillol. Guino lived in Renior's homes for four years, winters at Cagnes and summers at Essoyes. Guino and Renior had a very special and intimate artistic relationship; Guino could transform and sculpt materials into Renior's visions as if he were Renior himself.
It is suspected that Vollard was wary of how the market and public would react to the close relationship between Guino and Renior, thus he suppressed the role of Guino in their collaborative works. It is now well known that, due to rheumatism, Renior's fingers were paralyzed and disfigured by the time the works in question were created; therefore he could not have completed them himself.
Once Guino left Renior in 1918, he pursued a career in sculpting himself. He began to change his style and try new techniques to distinguish his works from his collaborations with Renior. Guino is known for creating beautiful and feminine sketches and sculptures that represent Mediterranean ideals of beauty. In 1919 he signed a contract with Galerie Hebrard in Paris for three solo exhibitions in 1921, 1922, and 1923.