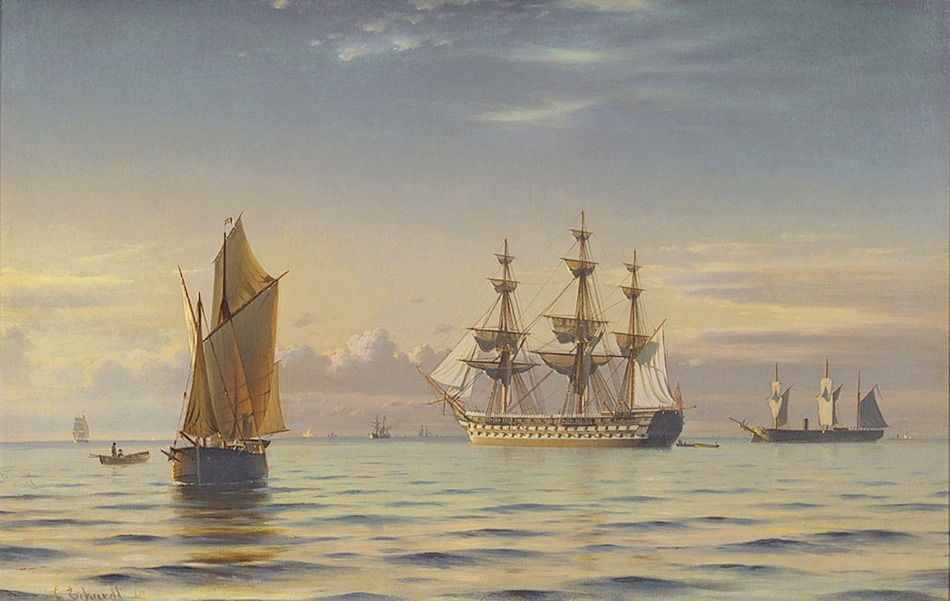 Christian Frederic Eckardt
Danish, 1832 - 1914
A Frigate, Calm Seas
1867
Oil on canvas
22 3/4 x 36 1/4 inches (57.79 x 92.08 centimeters)
Framed: 33 x 46 inches (83.82 x 116.84 centimeters)
Signed and date lower left: C. Eckardt 67
Provenance:
Elisabet Lomberg, from 1923 (inscribed on stretcher: Elisabet Lomberg geborig 2 VI 23)
A strong classical tradition of firm draftsmanship and clear light and color held sway over Danish painting of the second half of the 19th century, as is evident in A Frigate, Calm Seas. Eckardt depicts ships floating quietly upon a glassy sea at sunset. Warm light shines through the sails of a small ship in the foreground and causes a row of cannons emerging from the side of a large frigate to cast long shadows upon the warship's worn sides. Tones of pink and gold fall on billowing clouds and reflect on gentle waves in the foreground, giving the work an overall sense of serene calm.
Christian Frederic Eckardt (Danish, 1832 - 1914)
Born during the Golden Age of Danish art, the period of such Danish thinkers and artists as Hans Christian Andersen, Søren Kierkegaard, and Bertel Thorvaldsen, Christian Frederic Eckardt became a painter of luminous marine views. Eckardt began his artistic studies in Copenhagen at the young age of thirteen. Munich, Dresden, Venice and Rome provided a greater attraction for Danish artists than Paris, and at the age of 21, he traveled to Germany and Italy to perfect his marine views. Eckardt made his Paris Salon debut in 1856 with a View of Venice, and became a perennial exhibitor after 1859. Success came shortly thereafter, and he was awarded Neuhausen prizes in 1863 and 1871.