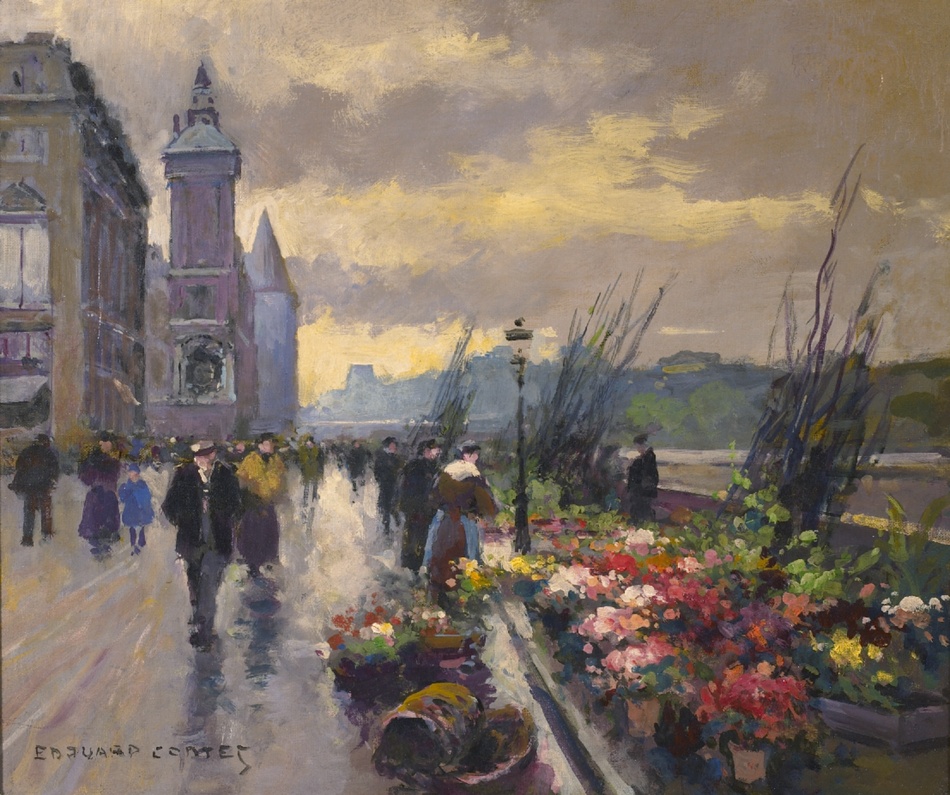 Edouard-Léon Cortès
French, 1882 - 1969
Marché aux fleurs, Quai de l'Horloge
oil on canvas
18 1/2 x 21 3/4 inches (46.99 x 55.25 centimeters)
Framed: 27 1/4 x 30 3/4 inches (69.22 x 78.11 centimeters)
signed lower left: Edouard Cortes
Provenance:
Wally Findlay Galleries, Palm Beach and Chicago, 1968 (no. 29013)
Collection of Mr. Robert C. Barbato, NY, purchased from the above, 1969
Cf: Two similar views of the Quai de l'Horloge in the Edouard Cortès Catalogue Raisonné, vol. 1, by Nicole Verdier, both dated 1920-25: no. 278, 38 x 55 cm and no. 279, 13.5 x 17.3 cm.
This painting is to be included in the forthcoming Edouard Cortès catalogue raisonée, vol. III in preparation by Nicole Verdier.
Edouard-Léon Cortès (French, 1882 - 1969)
Born in Lagny in August of 1882, Edouard-Léon Cortès is known for his extensive oeuvre, consisting primarily of Parisian street scenes. Day or night, in winter, fall, spring and summer; in rain, snow, sleet or shine, Cortès depicted Parisians strolling on the Place Madeleine, Place Saint Michel, Place de l'Opera, or Place de la Republique; past Notre Dame, the Moulin Rouge, the Theatre du Vaudeville, or the Metro George V; on the Rue Royale, the Porte Saint Denis, the Boulevard des Capuccines or along the Seine.
In 1907, Cortès became a member of the Société des Artistes Français. He was also a member of the Salon de la Société Nationale and figured prominently in the Salon des Independents.